Neighborhoods in the South Bronx, North Brooklyn, and southeast Queens are disproportionately impacted by diesel emissions from garbage trucks, Gothamist reports, making residents particularly vulnerable to respiratory ailments like asthma. A report released by the Transform Don't Trash NYC coalition found that the routes of private waste disposal trucks are concentrated in these corners of the city, releasing particulate matter to a degree that threatens the well-being of locals and the drivers themselves. (Private sanitation companies, rather than the city Department of Sanitation, handle much of the trash from NYC businesses—as much as 10,000 tons a night, says Politico.)
According to the report, the South Bronx in particular is adversely impacted by the number of diesel trucks passing through via the Brooklyn-Queens Expressway and Long Island Expressway, and in fact, researchers found that 304 commercial trucks, half of which were carrying waste, passed through the area every hour. The City Council confirms that 80 percent of the city's waste is processed at stations in the South Bronx, north Brooklyn, and southeast Queens, and last year proposed legislation to cut that proportion by 20 percent, writes the New York Environment Report.
The abundance of garbage trucks is not only a nuisance, but also poses dangers to public health. Per the Union of Concerned Scientists, the exhaust from diesel-powered vehicles contains nitrogen oxides and particulate matter, both of which irritate human respiratory systems and lead to illnesses like asthma; even more troubling, the EPA considers diesel exhaust a potential carcinogen, and it has been linked to lung tumors in rats.
Asthma is rampant in Bronx County, too: NYU's Institute for Civil Infrastructure Systems found that the Bronx has the highest pediatric asthma hospitalization rates in the city; on a broader scale, asthma-related hospitalizations in the Bronx are five times higher than the national average, and asthma-related deaths are three times higher.
It's difficult to identify precise correlations between air pollution and asthma, the ICIS acknowledges, but it also writes that particulate matter from diesel exhaust penetrates deeply into our lungs, and that it is "of particular concern to residents of the South Bronx because a large number of diesel trucks drive to and from waste transfer stations and other commercial destinations in the area."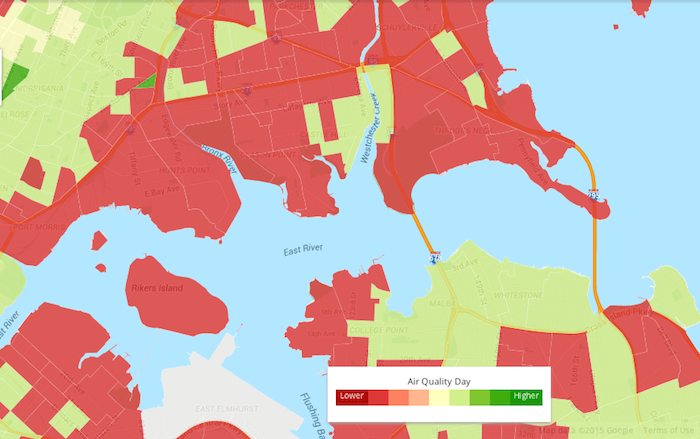 Last year, UpOut published a series of maps measuring air quality throughout the city, calculating the concentration of pollutants and grading on a scale of "Good" to "Hazardous." The results revealed pockets of poor air quality across all five boroughs, with a huge swath of the South Bronx rated particularly negatively.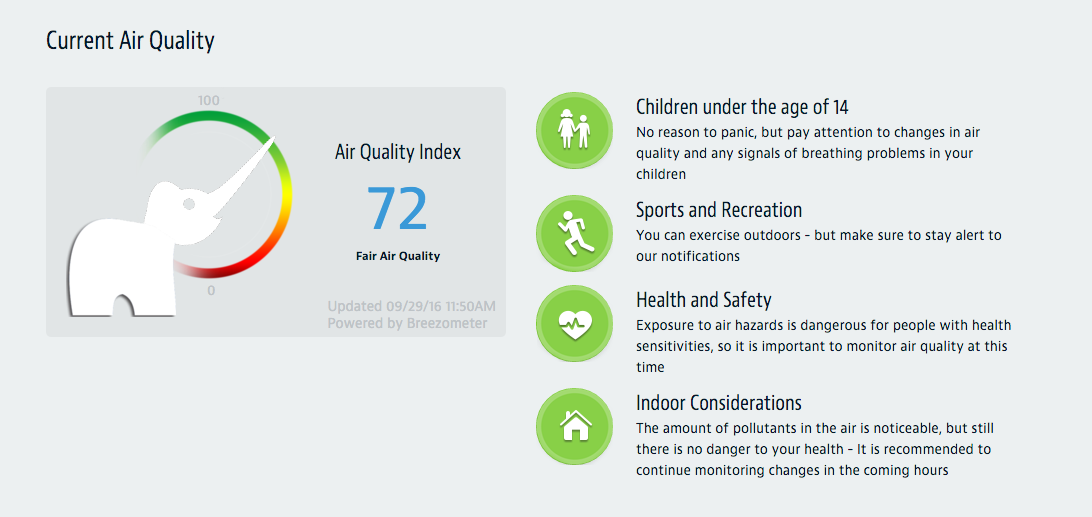 And Address Report, which offers "background checks" of NYC properties based on factors like transportation, crime, and 311 complaints, rates the air quality for one South Bronx property as "fair," cautioning that the amount of pollutants present is "noticeable."
To contend with this, the Transform Don't Trash NYC campaign recommends making investments in cleaner trucks to reduce diesel emissions, establishing more efficient truck routes to cut down on the number of miles traveled through the city, and constructing more evenly dispersed waste processing facilities.
Mayor Bill De Blasio is on board with some of these ideas: Politico reports that the city intends to launch a streamlined, zoned-collection system that will prevent multiple private sanitation companies from visiting the same area for trash pick-up; instead, these companies will bid to be the only ones that service a particular sector. The De Blasio administration estimates that this will significantly cut hazardous emissions, hopefully providing some relief to hard hit areas like the South Bronx. 
Brick Underground articles occasionally include the expertise of, or information about, advertising partners when relevant to the story. We will never promote an advertiser's product without making the relationship clear to our readers.