"Hearts Beat Loud," an indie drama newly released this month on video, prides itself on "keeping it real." The movie takes place in Red Hook, Brooklyn, with some notable actors (hello Ted Danson, Blythe Danner, and Toni Colette!) and features an aging, bearded hipster named Frank Fisher (played by Nick Offerman) who is forced to close his shop, Red Hook Records, because of rising rents. That certainly sounds familiar.
There really is a record shop in Red Hook that's called, simply enough, Record Shop, and it opened in 2015. According to StreetEasy, the storefront was renting for $3,250 per month back in 2011. While the movie doesn't state exactly which street the music store is located on, a 1,500-square-foot storefront would run at least $5,000 to $6,000 per month today.
It makes sense that the closure would deeply impact Fisher, a no-frills, but cool sort of guy—someone who would stock up on ironic tees. The sparse foot traffic shown in the film can't support a fairly large storefront shackled to today's high rents.
The movie brings to mind Karla and James Murray's book, "Store Front: the Disappearing Face of New York," which chronicles the shuttering of many iconic retail shops throughout New York City. (Fun Fact: The duo recently photographed my own apartment.)
The movie focuses on Fisher's hard time letting go—not of just the shop, but also of his biracial teen daughter, Sam (played by Kiersey Clemons), who is about to leave to study pre-med at a university on the West Coast. He implores her to skip college and start a band with him instead. She smartly declines.
Fisher, a single parent (his wife is deceased) lives with Sam in a rundown loft building with exposed brick and two makeshift bedrooms. We don't know if he rents or owns, but it is unlikely he would be able to afford market prices. The median rent in Red Hook for a two bedroom is $2,500, according to StreetEasy.
Still, supporting two people—he says he has to pay $12,000 a year for his daughter's tuition—would be really hard to do owning a small record shop in a neighborhood that's not easily accessible by subway, especially when most people buy their music online. In the painful opening scene, a frustrated patron orders a record the shop sells right in front of Frank, explaining it is cheaper online.
In this way, the movie stays on point about what it costs to live here in NYC and how tough some people have it—and how cruelly oblivious other people can be.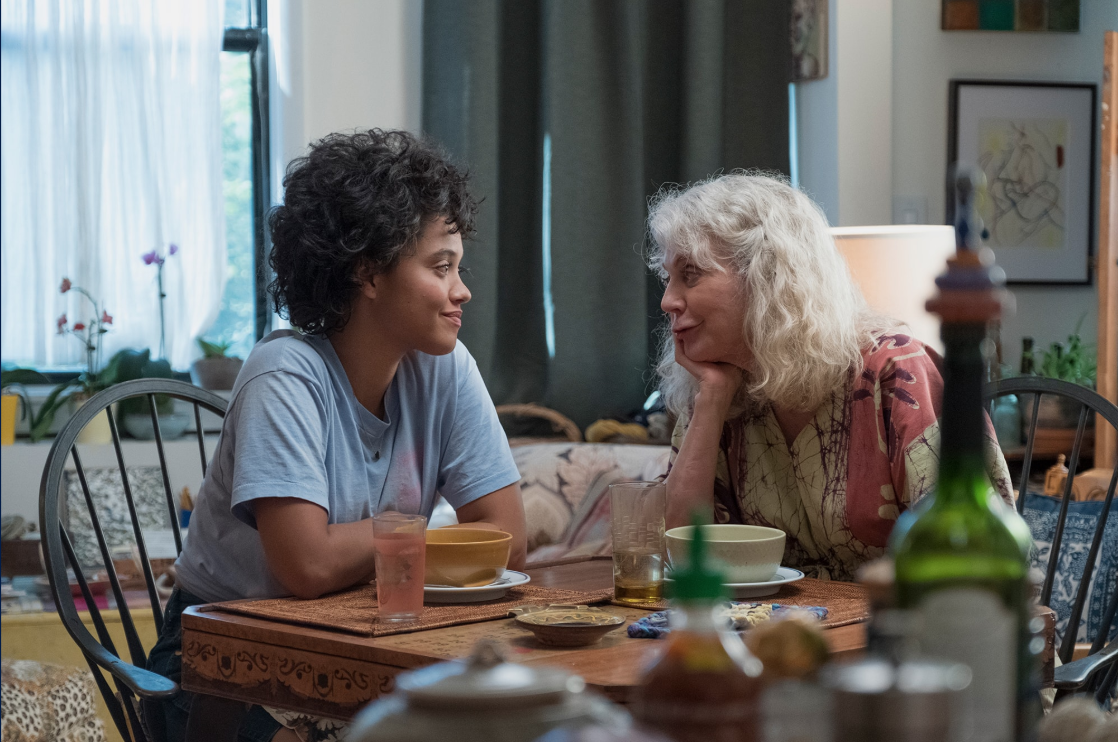 Frank's increasingly infirm and forgetful mother, played by Blythe Danner, also keeps it very real when she explains she will not leave her own apartment to move in with him in Red Hook (although it's not clear where she lives). "This place is rent controlled. I'm not going to move. There are no trains that go to Red Hook." I could see how an aging New Yorker would not see the allure of this brave new Brooklyn everyone seems to be chirping about.
His friend, a dive bar owner (played by Ted Danson) also in the nabe, is faring far better and realistically so. He explains he just got a new weed dealer and has the luxury of just getting stoned all day because his 30-year-old business is flourishing since "New York Magazine" touted it as "a destination for young people looking for a taste of the real Red Hook."
Naturally, Red Hook itself is a character in the movie, which tends to happen when you have a distinctive place. Long sweeping shots from the water as well as the low rows of storefronts smack of reality.
So real, in fact, that Frank pops out to get his daughter an artisanal strawberry Whoopie pie at a bakery with a twee sounding name, "Baked." How very par for the course in hipster Brooklyn! There really is a Baked on Van Brunt Street serving those same treats.
Overall, I'd say when it comes to real estate reality, "Hearts Beat Loud" hits a near-perfect score. Don't just take my word for it, apparently locals agree.
However, I'd have to offer up one minor complaint: Frank's landlord—the one raising his rent to market rate—takes him to a fancy dinner because she feels bad about raising his rent. I don't know too many property owners who would soften the blow with a tasting menu, but hey, if my management company is reading, I'll see you at Sugarfish for a new lease signing.
The landlord then takes it a step further and offers to partner with him and co-own the shop, so he can stay afloat. Talk about adding insult to injury! It might not have been the most fiscally prudent move, but I cheered for him when he turned her down, choosing to bartend at his friend's hotspot instead. Sometimes, when your world shifts upside down, being independent is the only way to exert control.
Brick Underground articles occasionally include the expertise of, or information about, advertising partners when relevant to the story. We will never promote an advertiser's product without making the relationship clear to our readers.