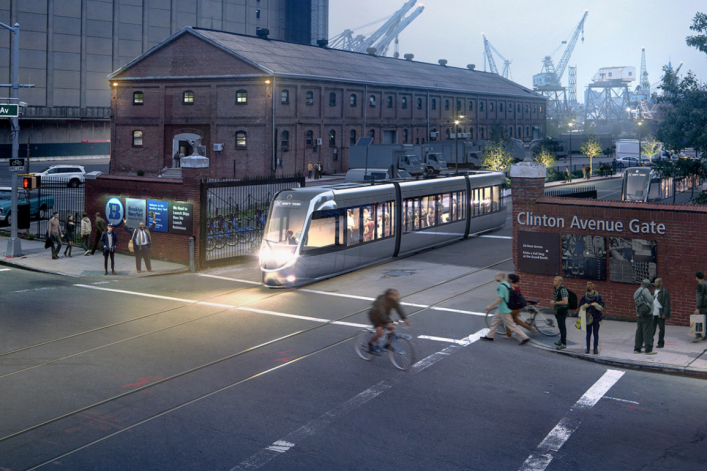 New Yorkers have been burned by the city's big transit proposals many times before (hello, Second Avenue subway!), but it looks as though the Brooklyn-Queens Connector (BQX)—the proposed streetcar that will run along the East River waterfront, linking the two boroughs—is actually going to happen.   
The New York City Economic Development Corporation (NYCEDC) has released a plan outlining potential routes for the streetcar, as well as other factors that include infrastructure, power sources, funding, and more. The plan lays out how the streetcar would run along the center of roads and make about 30 stops on its route between Red Hook and Astoria; many of the areas it would serve are transit deserts, as well as home to 400,000 New Yorkers. 
According to DNAInfo, construction on the new form of transportation will begin in 2019, and the BQX is anticipated to be completed by 2024. Although the streetcar would provide quick connections to several booming business districts, and help simplify travel between Brooklyn and Queens, there are concerns about the plan.
Some Red Hook residents, for instance, would rather their neighborhood remain difficult to reach, as the lack of public transit may serve as protection against over-development. Others blanch at the BQX's hefty price tag—estimated to be $2.5 billion—and in Jacobin, Samuel Stein laid out how the project would serve as a stimulus to real estate developers, hastening gentrification and displacement along the East River waterfront. 
That said, the Department of Transportation commissioner indicated at a Williamsburg community meeting that the BQX is happening, like it or not, reports Patch. And now, the EDC is looking at other cities that have streetcars, like Toronto, Paris, and Dublin, for ideas about its implementation. 
Route planning is an essential aspect of that process, and the EDC is weighing several potential pathways within the neigborhoods that will be served.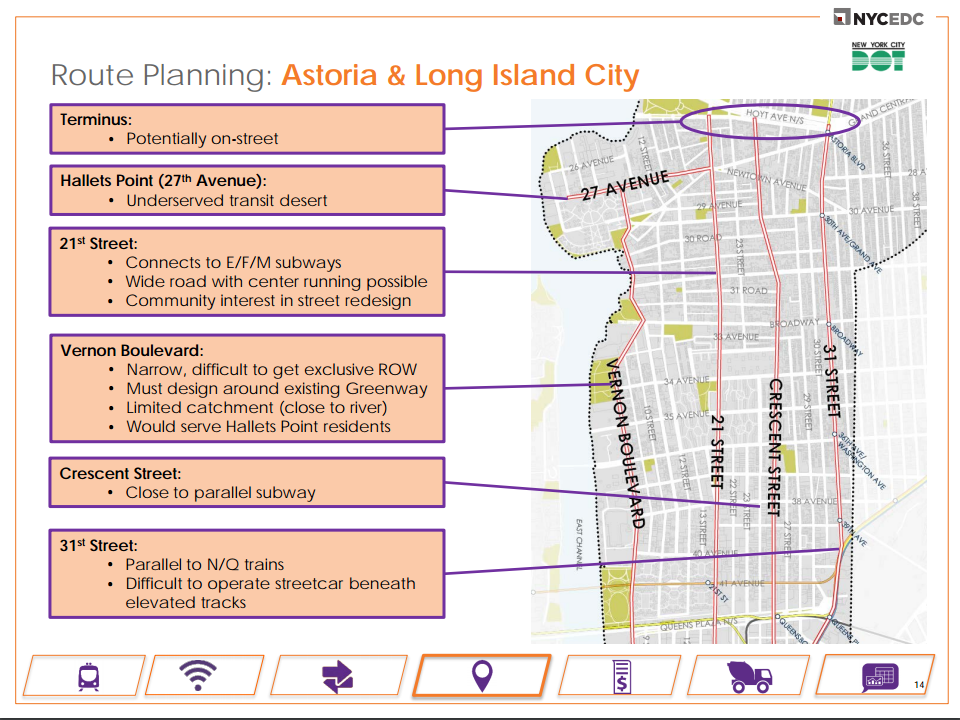 In Astoria, for instance, there's no one obvious path to take, although DNAInfo reports that locals at "visioning sessions" were most interested in the 21st Street and Vernon Boulevard options.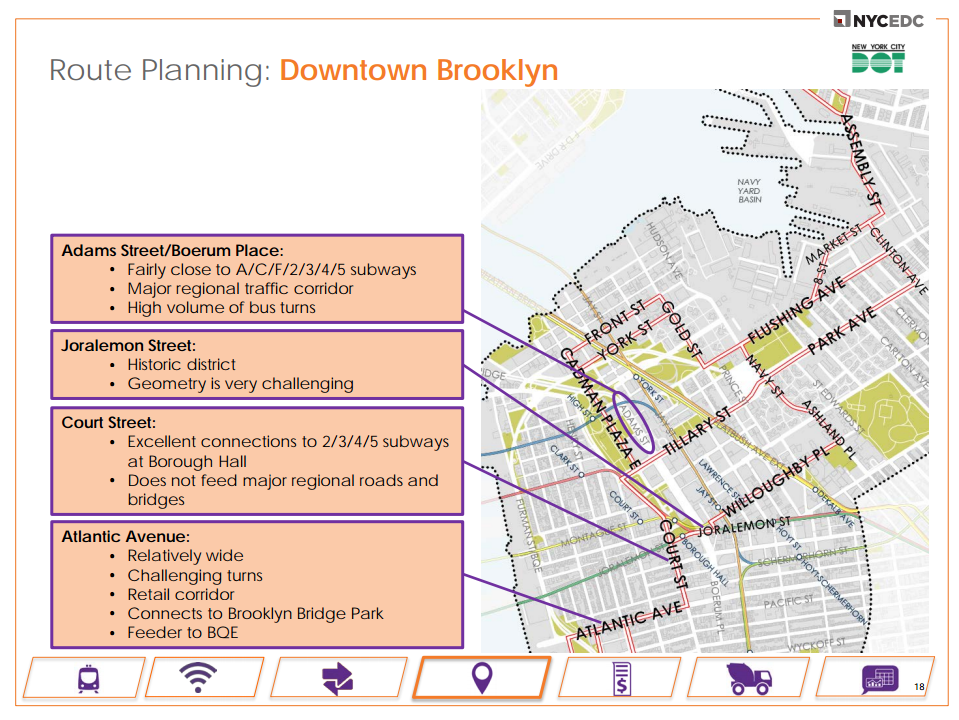 Each potential route in downtown Brooklyn presents its own set of pros and cons; because the area is already a bustling business district, and has a relatively intricate network of streets, there's a lot to hash out here.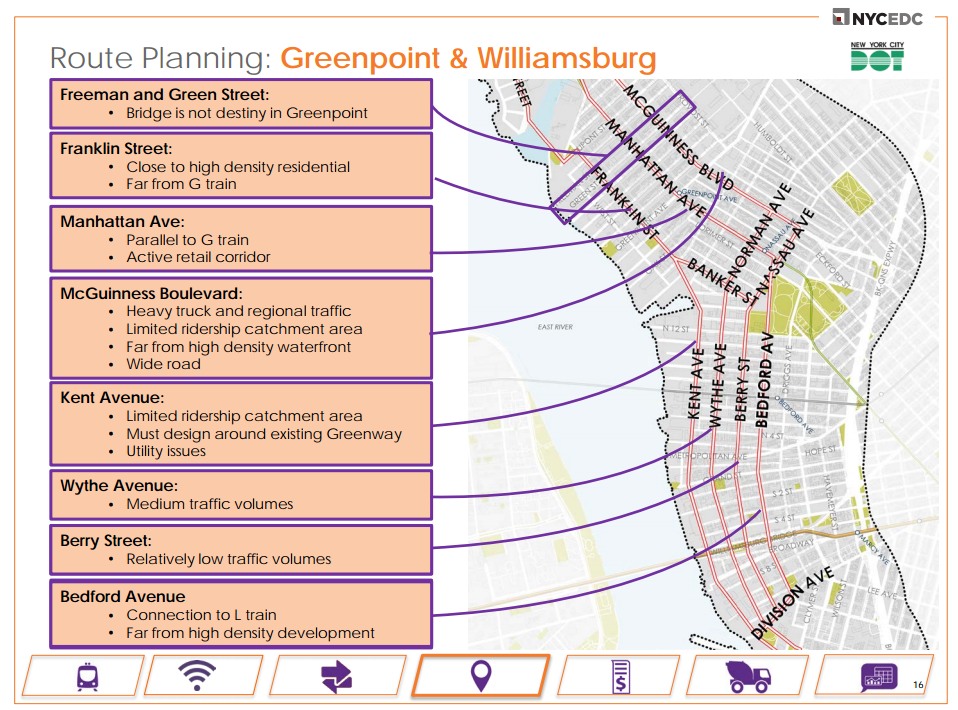 And in certain neighborhoods, new streetcar routes could drastically change the existing transit flow. According to AM New York, one option proposed for Williamsburg is closing Berry Street to regular vehicle traffic and using it solely for the BQX instead. And it's hard to picture another potential route—along the already incredibly busy Bedford Avenue—having the bandwith to support an additional form of transportation.
According to the planning schedule on the NYCEDC's page, there will be further engagement with community stakeholders this winter, so hopefully locals will have more opportunities to weigh in on the future of the BQX. 
Brick Underground articles occasionally include the expertise of, or information about, advertising partners when relevant to the story. We will never promote an advertiser's product without making the relationship clear to our readers.