It's not news that housing costs in New York City have vastly outpaced increases in income lately. People have been raising the alarm for years—Occupy Wall Street protesters took over a foreclosed house in East New York and disrupted a Bronx foreclosure auction; Sen. Bernie Sanders pointed to Brownsville's struggles when he pledged to create affordable housing for all during the presidential campaign; and Mayor de Blasio has focused much of his efforts on preventing evictions and creating arguably affordable housing. And of course, mustachioed perennial long-shot candidate Jimmy McMillan got New Yorkers' attention with the simple slogan "The Rent Is Too Damn High."
Still, you might not expect to find wage stagnation and out-of-reach rents high on the list of discussion topics at a real estate conference in Midtown. And yet, there it was, a centerpiece of a panel discussion right after the keynote at this week's New York Multifamily Summit, an annual gathering of big-building developers, landlords, property managers, and vendors trying to sell them stuff.
"The issue's not housing, it's income," said David Schwartz, a principal of Slate Property Group, a developer and landlord in Manhattan, Brooklyn, and Queens, as slides showing the gap between rent increases and wage increases flashed behind him and the other panelists. "It's causing so much unrest," he said later in the talk. "Every rezoning we go into it's crazy because people are so interested in affordability."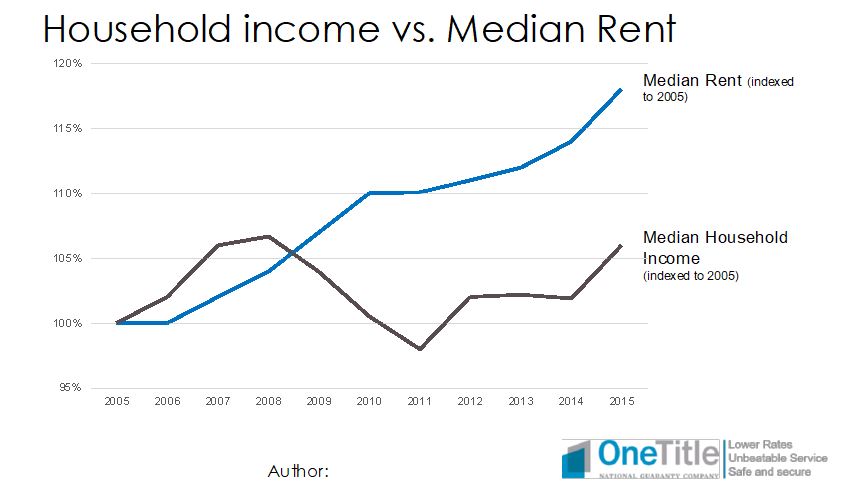 New York City's median household income, $53,000 in 2015, is the same as it was in 2000 when you account for inflation, so if anything, the modest gains shown on the charts seem a bit optimistic. Median rent, on the other hand is $1,255, and more than half of tenants are spending more than 30 percent of their income on rent. Median rent in 1999 was $648, or $929 in 2015 dollars, so it has gone up by over a third when adjusted for inflation. Sale prices, too, have spiked dramatically.
Most alarming for the panel's purposes was a slide showing the minimum incomes required to rent or buy in both blue-chip neighborhoods, like the Upper East and West sides, and those seeing a lot of development and speculation, like Harlem.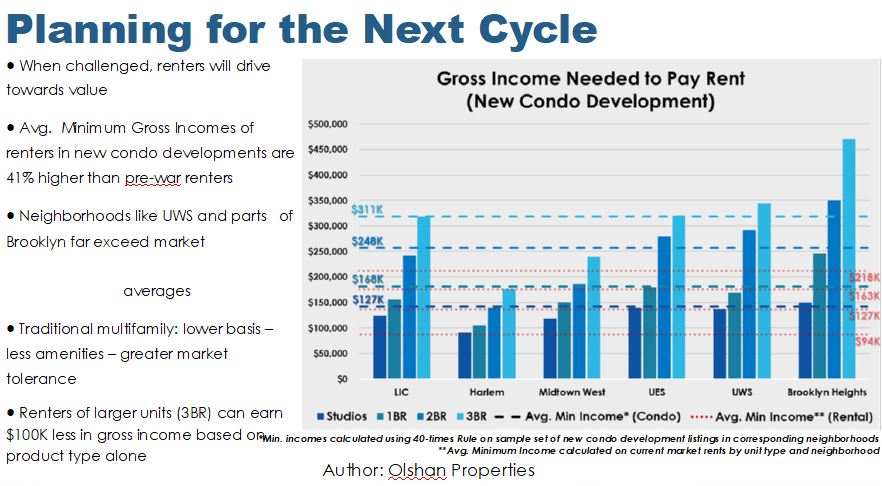 The message was the same one that the occupiers and Bernie Sanders had been raising, only viewed through the opposite end of the telescope. It was, basically: if something doesn't change, not enough people will be able to afford the increasing prices we want to charge.
On average, for example, according to data compiled by Olshan Properties, one needs to make around $150,000 a year to afford the average new-construction condo studio in Brooklyn Heights. For an average new three-bedroom in Long Island City, a family needs to make at least $311,000, according to the analysis.
Schwarz offered no specific policy prescriptions, but did suggest that there has been too much focus in recent years on encouraging the construction of units set aside for poor people (housing activists have the opposite criticism of the mayor's affordable housing plan and its precursors under Michael Bloomberg).
"There has been a big focus on low income," Schwarz said. "We need to look at middle income. We've left out a lot of the middle class—what anywhere else would be called very rich."
On the flip side, Olshan CEO Andrea Olshan said that her family's portion of the 12,000-apartment Parkchester complex in the Bronx is seeing an influx of renters priced out of areas closer to the city's office centers. To keep the new, higher-paying people coming, the company is doing more elaborate renovations of vacated apartments, she said.
"As people are getting pushed out, rents [further out] are not rising as fast as incomes," she said. "We've had to diversify the housing stock" at Parkchester.
Rents at the complex currently start at $1,290, placing it just about at the middle of the market. Olshan thinks that in Parkchester and in other comparably far-out areas there is room for the rents to go higher still, but only for so long.
Brick Underground articles occasionally include the expertise of, or information about, advertising partners when relevant to the story. We will never promote an advertiser's product without making the relationship clear to our readers.