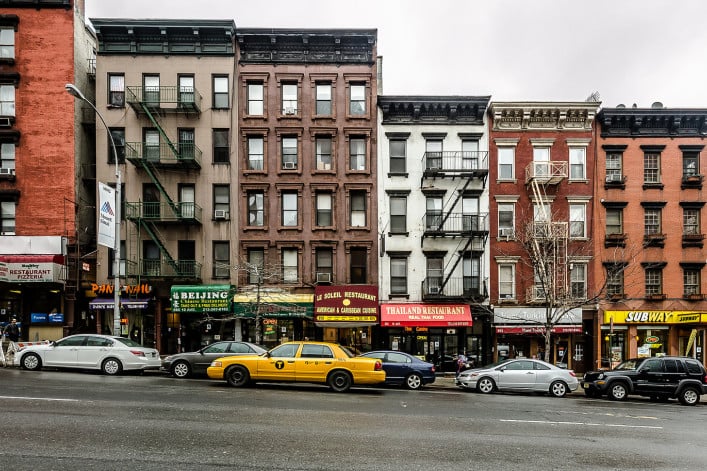 There's a certain euphoria that comes with moving to a new neighborhood—at least for me. My most recent move, just four months ago, was extra energizing. My husband, son, and I left our apartment on Riverside Boulevard (AKA Nowheresville), where we had lived for three years. Our new apartment, which is in the heart of Hell's Kitchen, places us in the center of more action than we could ever have imagined, and we couldn't be more thrilled.
It's been that way since day one: I won't forget signing our new lease and standing outside our building and marveling, like a tourist, at the amount of activity just outside the revolving doors.
I can only describe the sensation as feeling like I had woken up after a long slumber. Sure, we were technically living in the city on Riverside Boulevard, but that little micro-neighborhood of former Trump buildings has to be one of the sleepiest in town. Over there, it feels like the only things to do are to walk in Riverside Park, shop in the neighborhood's one supermarket, order takeout from the sole Chinese restaurant or get a latte from the one café that shares space with a real estate brokers' office.
And then there was the distance from the subway. We dreaded days that were windy, rainy, or snowy. While the M72 runs regularly around our former far West neighborhood and yes, we put the bus schedule in our phones to make sure we could get to the stop in time, there were still days we would miss it and have to make an icy trudge to Broadway.
Now we've got access to so many subway and bus lines—so if one route is not running we have options—which has dropped our transportation stress exponentially.
It's clear to us that there's something very special about our new neighborhood, a place we had always loved for its many restaurants with cuisines from all over the globe. It's also thrilling to be near so much talent in the Theater District. We're close to the Richard Rodgers Theatre, where "Hamilton" is being performed, and regularly see Broadway actors learning their lines at cafés like Ground Central.
Somehow, it feels friendlier than other neighborhoods we've lived in. When we start talking to people sitting next to us in a restaurant, no one gives us a look. That's how we got our favorite Chinese food recommendation, Mee Noodle Shop, which is now on speed dial, and found out that Steven Stiles Farmer's Market has some of the best prices for produce. 
Other finds include Fine & Dandy, a haberdashery shop that has been in the neighborhood since 2008 owned by a local couple who want to know your story (Enrique, I'm talking about you), and the Poseidon Bakery, which has been dishing out spinach pies and local neighborhood lore since 1923. At the risk of sounding like a Hell's Kitchen publicist, we even have W42ST, a magazine that profiles people who live in the neighborhood. 
Is it loud here? You betcha. Is it a miracle if you can get a table at a restaurant, especially the ones on Restaurant Row, during the pre-theater hours or during prime-time brunch? For sure. And is it nutty? This place is in a league of its own, as we discovered when we downloaded the Citizen app that gives you real-time updates about crime in your immediate area. To say that things can get hairy around here is nothing short of an understatement (and that's not even counting how manic it was on New Year's Eve).
But it doesn't take away from the excitement and admiration we feel this part of town.
So the very first thing I tell people when they come over to visit, "It's loud here and I love it." So keep on keeping on, Hell's Kitchen. You can count on this small family of three to tell every single person we know about the joys of living in a neighborhood with so much heart—and honking horns.
Brick Underground articles occasionally include the expertise of, or information about, advertising partners when relevant to the story. We will never promote an advertiser's product without making the relationship clear to our readers.