March 2020 will be remembered in the U.S. as a turning point. From that time onward, life here ceased to be normal. That's especially true for New York City's universities, because when the pandemic hit, students scrambled to vacate their dormitories as fast as possible. Many were left in difficult positions with few living options.
Now, six months into our "new normal" lives, New York universities have begun anticipating the logistics for the fall semester. One solution for many campuses is to house students in single occupancy rooms in dormitories, which would raise costs for students. 
Similarly, companies are finding themselves having to make tough staffing decisions. 
Interns and young professionals are unfortunately first in line when it comes to layoffs or pay cuts. They also need to find housing to meet their newly restricted budget. 
Fortunately, there's a solution for both kinds of renters.
AYA - Live Together, a dynamic co-living company, offers trendy, private rooms in the most desirable areas of New York City with a wide selection of flexible living options for young professionals, students, and interns. The company has locations in the East Village, Midtown, Harlem, Williamsburg, Bushwick, and there are private rooms for any budget, starting at $800 per month. 
AYA tenants can rent a room month to month or for longer terms. The rent includes complementary services such as housekeeping, Internet, fully designed and furnished rooms in comfortable and spacious apartments.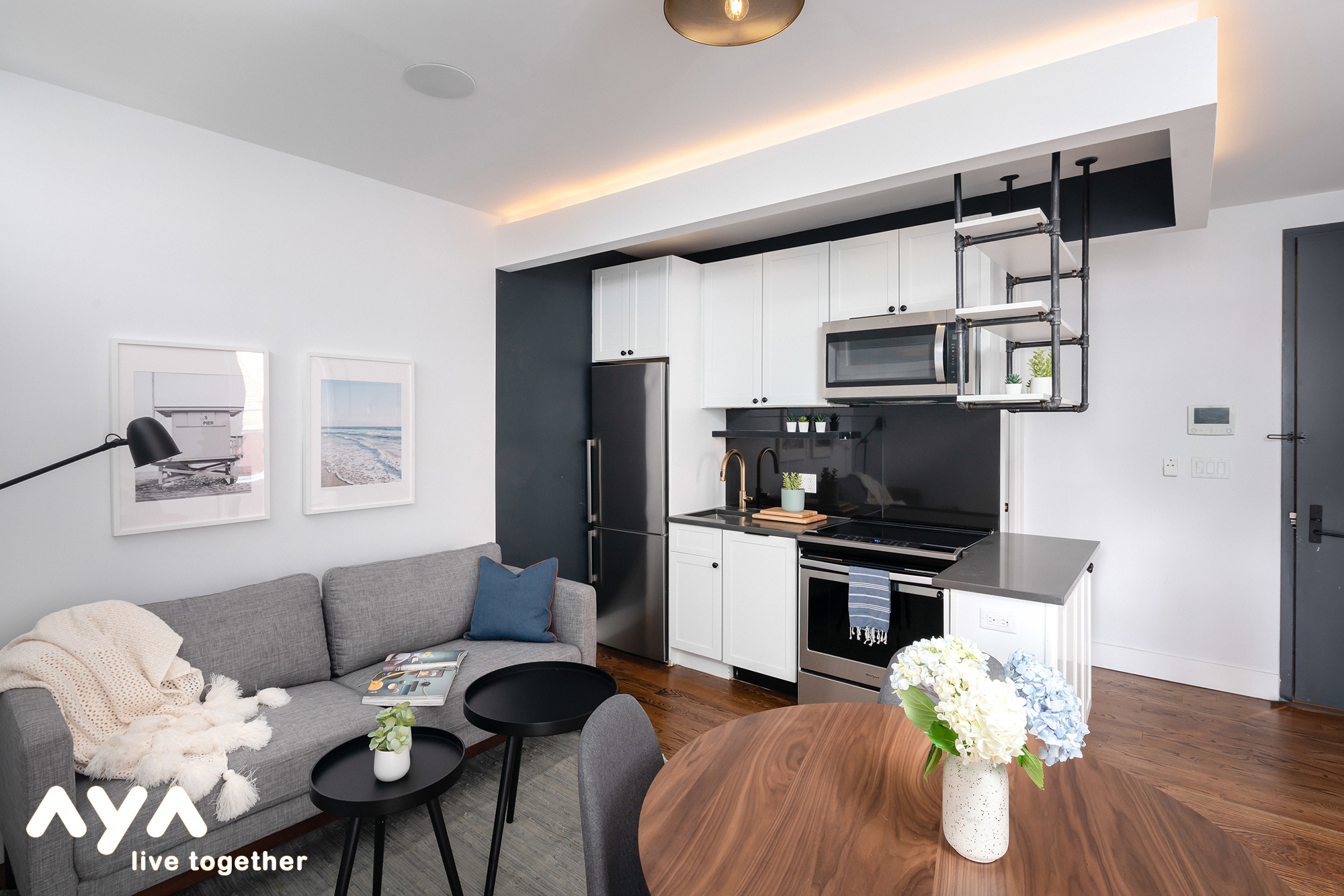 Pandemic precautions
The team at AYA completely reorganized its showing processes in compliance with CDC guidelines to protect tenants and staff. Booking is done online, similar to booking a hotel room. 
"Over the past five months, 95 percent of our rentals are done completely online without an in-person tour," says Ryan Blum, vice president of AYA.
New focus on affordability
The PEW Research Center found that in a survey of the oldest Generation Zers ages 18 to 23, half reported that they or someone in their household had lost a job or taken a pay cut as a result of the pandemic. 
It's clear that many in NYC are suffering financially. In response, AYA has reorganized its inventory to provide rents you would find on Facebook Marketplace or Craigslist. 
"We've always focused on affordable prices, which have differentiated us from other options in the market. While other companies had difficulty adapting we've been able to successfully service new tenants at accessible rates during this difficult time," says Eli Moyal, COO of AYA.
What living at AYA is like
Tomas V. is a current tenant at AYA's Bushwick location. He's from Ommen, a small town in the Netherlands and has been interning in Manhattan for the past six months. The pandemic changed his life drastically, but being at AYA meant he didn't feel isolated.
"The sudden stop to my social life was the hardest aspect for me to manage during Covid-19. I was asked to work remotely for the remaining months of my internship but being able to connect with other AYA residents in my building was a relief. It's been nice to have a community, especially as we all feel so isolated at times while working from home," he says. 
Co-living is here to stay. The flexible nature of this model, ideal for young professionals, students, and interns, requires minimum commitment while creating an ideal environment to build new social connections, is the answer to housing in uncertain times.