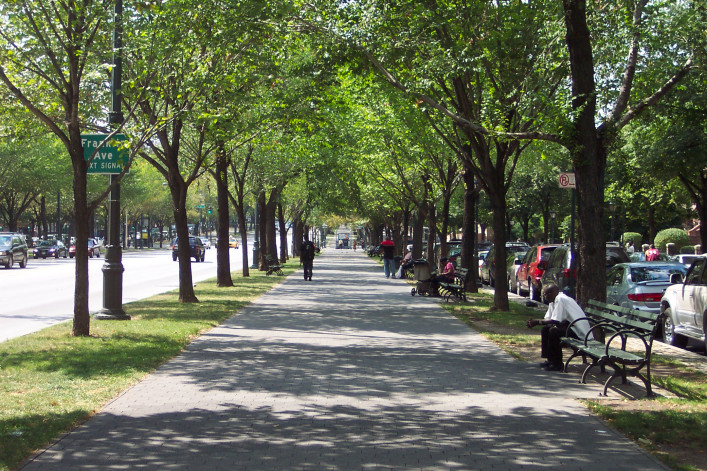 Crown Heights is one of the city's fastest gentrifying neighborhoods, with rents skyrocketing by almost 30 percent within the past decade, a recent Furman Center study revealed. Now, Gothamist reports that a new short documentary called Degentrify America tackles the national issue of gentrification, using the Brooklyn neighborhood as its focus. 
The film was commissioned as part of the SundanceNow Doc Club's series "Take 5: Justice in America," which looks at some of today's most pressing social problems, including incarceration and voting rights. 
In Degentrify America, filmmaker Nelson George speaks with a scholar and an activist to investigate how Crown Heights has changed in recent years, and what's being done to halt the displacement of longtime residents. Martine August, who has a Ph.D. in urban planning, says that gentrification causes neighborhoods like Crown Heights to become "increasingly unaffordable for those working class families that have lived there for generations and have built that community."
Donna Y. Mossman is one such community member, having lived in the area for nearly 40 years, and has personally been displaced by a landlord eager to renovate and rent at a higher rate. In the 1970s, she recalls, her family lived in a rent-controlled unit, but were forced to leave after the landlord failed to do necessary repairs. "And they re-did that building and we were not allowed to move back in," Mossman says.
Years later, she says, Crown Heights has benefited from numerous enhancements, including better bus service and remodeled subway stations. Augusts notes other improvements, like local beautification and expanded policing. Of these changes, Mossman says, "We appreciate the gentrification. I say about time. But why can I not stay where I lived all my life?" She refers to stories of rampant harassment of tenants, whose landlords repeatedly pressure them to accept buyouts. 
It's important to note that this brand of bullying is illegal. Under the city's tenant harassment laws, there are strict regulations as to how landlords can propose buyouts to renters, and they're technically forbidden from repeated attempts at persusasion. The negligence of Mossman's landlord was also against the law: Failing to make essential repairs is in violation of the city's housing codes. 
But taking a shady landlord to housing court requires time and resources, and many tenants, Mossman says in the film, eventually cave to pressure and move out. (To combat this, Mayor de Blasio has started a program that provides free legal advice to low-income renters who are being harassed.) Mossman decided to take matters into her own hands by co-founding the Crown Heights Tenants Union, which brings together the residents of neighborhood buildings to advocate for better protection of tenants' rights. 
The CHTU, formed in 2013, has made some headway through its collective bargaining approach: Per Brooklyn Magazine's interview with Mossman, CHTU's members are beginning to resist buyout coercion, file complaints with the city's Housing Preservation & Development department, and even advocate in Albany for better rent regulations. By harnessing the power of a group, the union may serve as a model for renters facing the pressures of gentrification in other parts of the city.
Brick Underground articles occasionally include the expertise of, or information about, advertising partners when relevant to the story. We will never promote an advertiser's product without making the relationship clear to our readers.