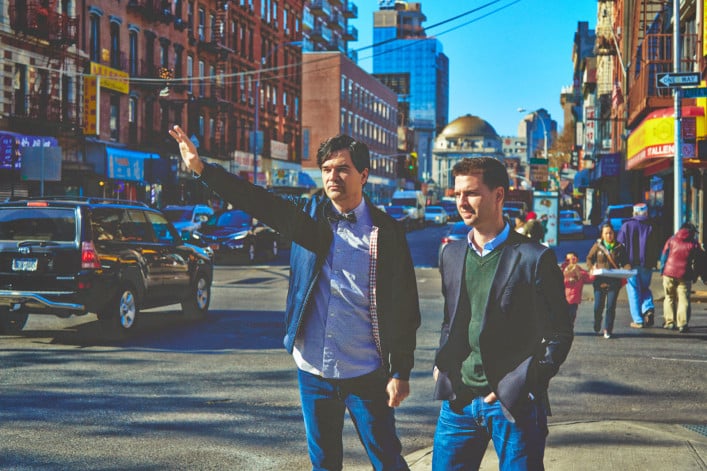 Benjamin Stone Photography
Fans of New York City history will be happy to hear that podcasters the Bowery Boys have a new book coming out this month called Adventures in Old New York: An Unconventional Exploration of Manhattan's Historic Neighborhoods, Secret Spots and Colorful Characters. The Bowery Boys, who are Greg Young and Tom Meyers, have produced more than 200 podcasts about New York City that regulary draw in 70,000 listeners. An upcoming theme: The Lenape tribe—aka the oldest New Yorkers. 
The Bowery Boys' distinctive moniker comes from the nativist, anti-Catholic, and anti-Irish gang that dominated the Bowery section of Manhattan in the mid-19th century (you may remember them from Gangs of New York). We went to the book launch party at the Museum of the City of New York late last week, and discovered a few interesting tidbits about the boys and the city:
New Yorkers have forgotten some major tragedies.
Young says that until now they've purposely avoided doing a podcast on 9/11. But he says he's particularly interested in the idea of memory. When it comes to September 11, the tagline is "Never forget," but what's interesting is that people do forget a lot of difficult history, he says. He pointed to the second largest loss of life in NYC history, the General Slocum tragedy in 1904, in which over 1,000 people, many of them children, drowned on a passenger steamboat.
Of couse, there was also the Triangle Shirtwaist Factory Fire in which nealy 150 people died in the deadliest industrial disaster of the city, and the case of the African Burial Ground, in which an important cemetery was built right over. (There are podcasts on all three of these tragedies).
There's a spot in Harlem you don't know about, but should.
"We like to focus on the 'B team'," says Young, choosing to explore lesser-known spots around the city in their book. "Every one knows the Apollo, but I'd say that the "Hotel Theresa is just as interesting," says Young. Never heard of it? The building at 125th Street and Seventh Avenue was "where all black entertainers stayed in 1930s and '40s…. because they couldn't stay at other places."
The now-landmarked building, which fell under hard times during the 1950s and 1960s, currently holds offices and "tells the larger story of Harlem," says Young.
This city was always full of interesting characters.
Some well-known, others less so: among the people the Bowery Boys think are worth exploring are polarizing NYC planner Robert Moses, urban planning and preservation activist Jane Jacobs, eccentric inventor and New Yorker Nikola Tesla and Dorothy Arnold, a wealthy woman who vanished in the city the early 20th Century and whose story is one of the most interesting unsolved mysteries in NYC history.
There's a lot of NYC reading to sate your information thirst.
Young and Meyers say they couldn't do their job without archives from the Library of Congress, the New York Public Library, and the Museum of the City of New York archives. "They are all required reading," says Meyers. But the books they keep coming back to are Gotham by Edwin G. Burrows and Mike Wallace, Robert Caro's The Power Broker (about Moses and his steps and mis-steps) and Edward Robb Ellis's  The Epic of New York City.
The Bowery Boys then and now.
The Bowery Boys' podcast started in 2007, when Greg and Tom had some wine, Greg had a new laptop (the old Apple kind "that kind of looked like a kids computer") and they both had an insatiable interest in NYC stories. They plugged in a karaoke microphone and started recording with Garage Band. The rest, as they say, is history.
Brick Underground articles occasionally include the expertise of, or information about, advertising partners when relevant to the story. We will never promote an advertiser's product without making the relationship clear to our readers.