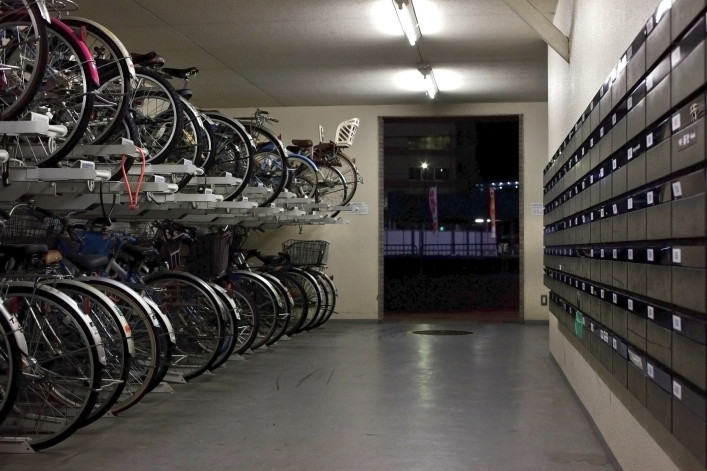 The dearth of car parking spaces has been a thorn in New Yorkers' sides forever, but in recent years so has the shortage of places in which to store their bikes. (Up against the wall in an already crowded apartment is a less-than-popular option, unsurprisingly.)
But according to a recent New York Times article, bikers may have reason to rejoice. Developers and property managers are making moves to keep bike enthusiasts happy—and quite possibly keep attracting new residents. 
"Bike rooms are something that people have come to expect, especially younger customers," says Roberta Axelrod, director of residential sales and marketing, of Time Equities. In fact, Time Equities' 50 West has a bike lending program (including Porsche-brand bikes, according to Axelrod) in addition to storage rooms and air pump stations.
According to the Times, one new rental, 535W43 in Midtown is offering an 850-square-foot ground-floor bike room with large windows; the first 25 buyers of a condo at Nine52 will get a complimentary single-speed Joulvert bicycle—there's a fixed-gear asking $450 on eBay, and electric ones start at $895 on their website—in addition to a room in which to store the two-wheeled rides.
Perhaps unsurprisingly,  both of these buildings are on the far west side and near bike lanes.
It's all part of the increasing bike-friendliness of the city (which includes the addition of those aforementioned bike lanes). In fact, a zoning amendment passed in 2009 that requires one bike space for every two units in structures of more than 10 apartments. The law applies to new buildings, buildings being enlarged by 50 percent or more, and those being converted to residential use. As part of the ordinance, the spaces have to be enclosed, secure, and accessible.
But plenty of older buildings, too, are making way for bike rooms (empty spaces in parking garages or other unused basement spaces are being made over). "They're retro-fitting to changing consumer values," says appraiser Jonathan Miller. "For a co-op, it shows a pro-active board that's looking ahead, and that's helpful for the building's reputation in the market," he says.
Miller says "to keep up with the market you have to have them." Plus, they require "very little maintenance and oversight, so it's generally a no-brainer, especially as the city moves toward becoming more bike-able," he says. "For a building to seem current, it's certainly better than a pet spa."
"As younger families come in to older buildings, they want space for bikes," adds Mark Levine of Excel Bradshaw Management Group, which has a portfolio of about 60 buildings in NYC. "It's also provides soft income for buildings that choose to rent out the spaces." About three quarters of buildings charge for bike storage, he says, and it's usually not more than $10 a month.
Brick Underground articles occasionally include the expertise of, or information about, advertising partners when relevant to the story. We will never promote an advertiser's product without making the relationship clear to our readers.