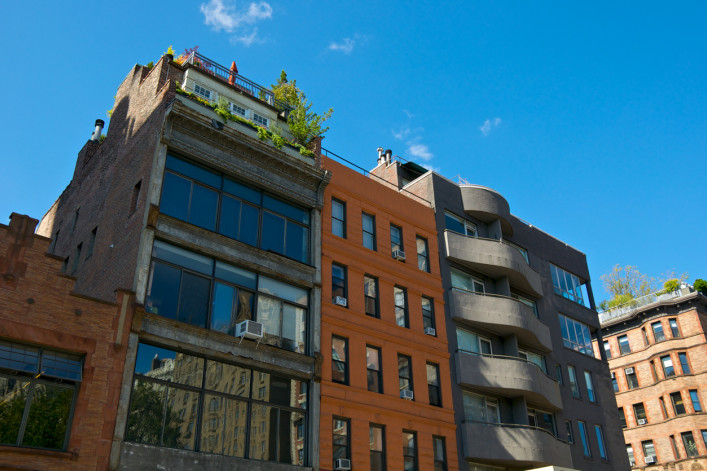 For New York City's co-op and condo boards, it's anything but business as usual during the coronavirus crisis.
"Board operations for both condos and co-ops are affected by multiple executive orders issued by the governor as a result of the coronavirus," says Steve Wagner, partner at the Manhattan law firm Wagner, Berkow & Brandt, who represents co-op and condo owners and is board president of his own 420-unit co-op building. 
"At this point there are 28 executive orders related to the pandemic and for the most part, each one doesn't clearly say what's allowed and what's not allowed but references the laws modified by the executive order. You need to refer to the law to determine the full meaning of the executive order," he says. 
Consequently, it's worth speaking with your building's attorney concerning annual meetings, closings, and move-in policies. 
Annual meetings can be entirely virtual—or postponed
"Many New York City buildings hold their annual meetings in mid-May and it's possible, as a result of the pandemic, these meetings have been postponed," Wagner says. The governor, through executive order, allows corporations operating under the business corporation law to postpone annual meetings. The order also suspends rules regarding the location of the shareholder meetings. This allows virtual shareholder meetings, although it raises the question of whether that's feasible and everyone can access remote software. 
"In normal times, the business corporation law provides for a procedure to compel a meeting to take place and it would need to be conducted in a physical location even though virtual participation is allowed. Now, under executive order by the governor, the meeting can be held entirely virtually and even have virtual voting," he says. 
The question might then become, how do you vote anonymously? 
"Maybe there can be a password or a code to identify genuine ballots. They can be photographed or scanned and sent via email," Wagner says. "These things are still being worked out but, can you have a virtual meeting? Yes, you can."  
The executive orders are being renewed one month at a time so it remains to be seen how long these measures will remain in place. 
Escrow closings are the new norm
Closings can now be done in escrow in order to avoid the in-person meetings that would traditionally facilitate a sales transaction.
"You have an escrow agreement which the parties sign—whether it's a lender or the title company acting as the escrow agent—and basically the escrow agent collects all the documents and either authorizes or confirms the funds have been transferred. When the money flows, the escrow agent releases all of the other documents to the appropriate party," Wagner says. "They can collect move-in, move-out fees, transfer fees, flip taxes, and acknowledgments for receipt of house rules too."
If it's a condo, the board needs to give a waiver of the right of first refusal and make sure they get a power of attorney. With a co-op there's the share certificate and the proprietary lease to sign and buyers are typically asked to sign a recognition agreement, but Wagner says it can still be done in the same way where "documents are pre-signed and forwarded to an escrow agent." 
Wagner points out that an executive order also allows for virtual notarization of documents, although you need to check with your title company and bank to confirm virtual notarization will be accepted.
New policies for move-ins and move-outs  
Moving companies have been declared essential services during the pandemic, and allowing closings and moves during the pandemic will give buildings a competitive advantage on sales transactions over those that don't.
"If you reduce the number of buildings that are allowing transactions and closing and demand remains at its current, pre-coronavirus levels, more people are going to be fighting for a smaller number of apartments," Wagner says. "The forces of supply and demand will certainly create more activity for the available apartments, stabilize prices in those buildings and may even increase prices."
Accordingly, Wagner encourages boards to find ways to "get to 'yes' without endangering the health and safety of others, and develop a smart move in and move out policy for the pandemic."
To that end, in addition to requiring movers have their temperatures taken on site, insisting they wear masks and gloves, and limiting the number of workers on the job, some buildings are also requiring both the parties moving out and in to pay for additional sanitation services in the areas that are accessed—places like hallways, the stairs to basement, and service elevators. "The cost is not exorbitant given the value of apartments," Wagner says.
If your building is allowing closings but not move ins, you'll likely have to consider a post closing occupancy agreement.  
"With a condo you have to get the waiver of right of first refusal on the extended stay after the property is sold and with a co-op it's subletting, which also requires approval," Wagner says. He points out, "blanket approvals to do this for reasonable periods of time can cover this issue and there are forms of agreement for both."
When and how to permit utilities and repairs
An issue related to move ins is whether buildings will permit cable companies and telephone companies to set up utilities. "Given the importance of work-from-home capabilities installing these types of services are very important," Wagner says. 
Boards will need to establish whether there are separate sanitation requirements for teams installing services or carrying out repairs. Wagner points out "at the very least, masks and gloves should be worn and all of the social distancing requirements should be observed."
New York City real estate attorney Steven Wagner is a founding partner of Wagner, Berkow, & Brandt, with more than 30 years of experience representing co-ops, condos, as well as individual owners and shareholders. To submit a question for this column, click here. To arrange a free 15-minute telephone consultation, send Steve an email or call 646-780-7272. 
Brick Underground articles occasionally include the expertise of, or information about, advertising partners when relevant to the story. We will never promote an advertiser's product without making the relationship clear to our readers.