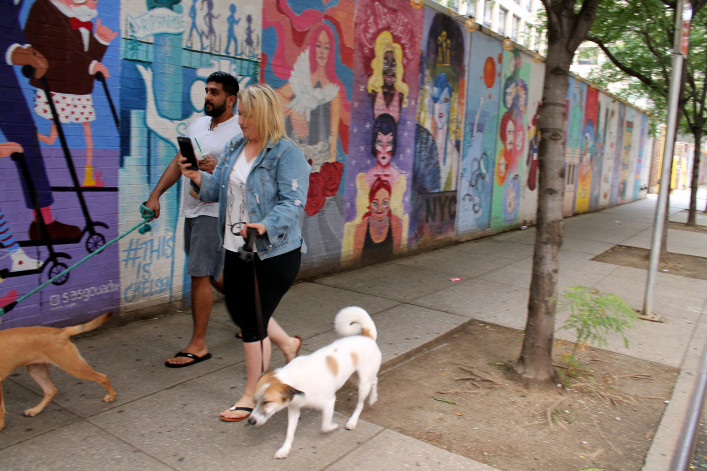 Do you keep your eyes glued to your phone while you walk around New York City? You might want to watch where you going to avoid stepping in dog excrement, especially in Manhattan, where complaints to 311 about dog poop are the highest in the city.
That's the scoop, according to a report from RealtyHop, which looked at 311 poop complaint data for New York City and other cities. With over 84,000 registered dogs in the city (which the city's Department of Health estimates is just 20 percent of the total dog population), there were 2,458 poop complaints logged in 2017, a decrease from the prior year.
The report found the Bronx was the dirtiest borough in 2017 when looking at poop complaints per square mile. However, so far in 2018, there has been more poop complaints in Manhattan. As of August 31st, Manhattan saw on average 9.6 complaints per square mile. Staten Island had the fewest complaints.

The report also found that the higher the median home value, the fewer the poop complaints. And in addition, RealtyHop also found that neighborhoods farther away from the city center logged more complaints. Conversely, Stuyvesant Town, followed by Chinatown was the cleanest neighborhood in Manhattan.
On the whole, complaints have been decreasing since 2011, when the city first started collecting 311 data.
Worst neighborhoods by borough 
Average yearly complaint per 10,000 households in 2017
Soundview-Bruckner (the Bronx) 46 
Ozone Park (Queens) 20.3.
Cypress Hills-City Line (Brooklyn) 19.1 
Mariner's Harbor-Arlington-Port Ivory-Graniteville (Staten Island) 18.0 
Hamilton Heights (Manhattan) 11.5 
Cleanest neighborhoods by borough
Average yearly complaint per 10,000 households in 2017
Stuyvesant Town-Cooper Village (Manhattan) 0.8 
Brooklyn Heights-Cobble Hill (Brooklyn) 1.0 
Co-op City (the Bronx) 2.1 
Springfield Gardens North (Queens) 3.1 
Grymes Hill-Clifton-Fox Hills (Staten Island) 6.9 
Brick Underground articles occasionally include the expertise of, or information about, advertising partners when relevant to the story. We will never promote an advertiser's product without making the relationship clear to our readers.