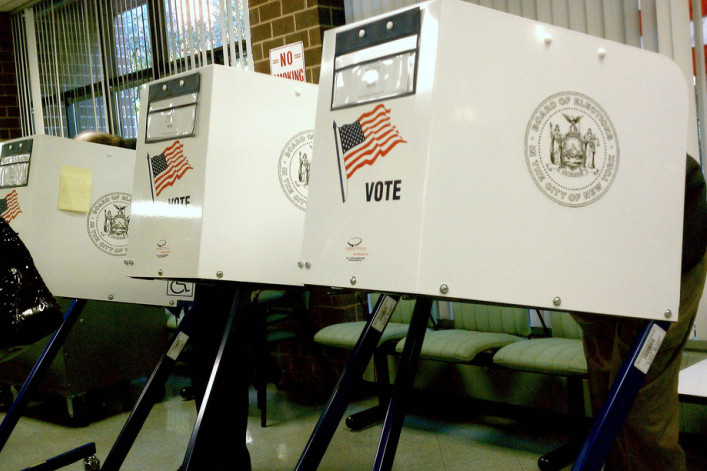 When you vote in New York City's elections tomorrow, don't forget to flip your ballot over to vote on three propositions, including Question #3, which proposes changes to the city's community boards that play an important role tied to real estate development in New York City neighborhoods.
These boards can speak for a community and get developers to modify their plans. And they are a way to get involved in the NYC civic life, that is if you can navigate the system: There are 59 community districts in the city, and members are appointed by borough presidents and city council representatives to two-year terms.
According to the ballot language, Question #3 would amend the City Charter to impose term limits of a maximum of four consecutive, full two-year terms, and require borough presidents to seek out persons of diverse backgrounds for appointments to community boards. If approved, the new term limits would be phased in starting in April 2019.
This Curbed post calls Question #3 the most contentious of the three proposals on the ballot (the other two concern campaign finance and creating something called the civic engagement commission.) 
Proponents like Brooklyn Borough President Eric Adams (the only borough president in favor) and City Council member Ben Kallos say the measure is necessary to bring in new voices that reflect the demographics of the neighborhood, according to Curbed.
In Medium, the pro argument is characterized as an attempt to create a mechanism to replace board members—typically old, white, and male—who currently can remain on the board for life. 
The writer, Memo Salazar, who is in favor, notes that "there is not a lot of turnover" and "vacancies are rare" on community boards.
"They are our first line of defense against contractors looking to develop their luxury apartments and drive real estate prices up—I'd rather see the people most affected by gentrification be on those boards rather than people who bought their properties decades ago and want to see that land value rise," he writes.
Manhattan Borough President Gale Brewer is strongly opposed. She emailed her constituents this morning to share with them a New York Times editorial that also recommends New York voters vote no on the proposal. 
"This could weaken community boards by stripping them of their most seasoned members, replacing them with novices more susceptible to appeals from high-powered developers," the editorial board writes.
Brewer says that she's joined by New York City Comptroller Scott Stringer, as well as the other borough presidents and 16 council and assembly members in opposition to the measure.
Brick Underground articles occasionally include the expertise of, or information about, advertising partners when relevant to the story. We will never promote an advertiser's product without making the relationship clear to our readers.