Boards & Buildings
>
Finance
[ SPONSORED ]
NY apartment buildings could get up to $80,000 to come up with plans to prevent heat loss
Applications are open until Nov. 17th, 2025, or until the $12 million in funds run out
Multifamily affordable housing could get the full cost of heat assessments covered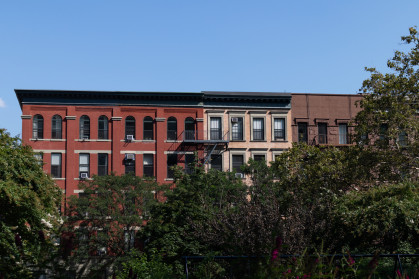 A new $12 million New York state program is offering up some cash to buildings looking for ways to save money on heat.
Applications are open for the Heat Recovery Program, an initiative from the New York State Energy Research and Development Authority (NYSERDA), which will partially fund heat recovery assessments or plans for heat recovery projects, Governor Kathy Hochul announced Monday.
Buildings can score up to $40,000 to evaluate heat waste, or up to $80,000 to design ways to better retain heat through Nov. 17th, 2025, or until funds run out, according to NYSERDA. The funding is available on a first-come, first-serve basis and is open to any multi-family building, including condos and co-ops.
"Through this new initiative using heat recovery, we will help increase the adoption of heat recovery solutions, make building operations more affordable, and promote a healthier living environment for more New Yorkers across the state," Hochul said.
The state program could help New York City buildings prevent heat loss and improve energy efficiency ahead of the implementation of Local Law 97, the city's landmark climate legislation that requires buildings to curb their carbon emissions or face escalating fines. (Buildings can also invest in cost-efficient upgrades like LED lighting.)
Industrial, commercial, and multifamily building owners can apply, but affordable multifamily buildings can score additional cash. NYSERDA will cover up to 100 percent of the cost of heat recovery assessments or designs for low-to-moderate income housing, defined as properties with five or more units where at least 25 percent of the apartments are occupied by residents earning no more than 80 percent of the area median income. 
NYSERDA will dedicate $3 million of the Heat Recovery Program's funds to affordable multifamily housing assessments or plans.
Heat recovery projects will include capturing wasted heat to lower the amount of energy used by other building systems, such as capturing heat from ventilation exhaust, said Doreen Harris, NYSERDA president and CEO.
"Buildings, even those that are well-run, waste heat through a variety of processes including ventilation, cooling and wastewater," Harris said. "Applying heat recovery to building operations lowers costs by recapturing energy that has already been paid for and reduces overall greenhouse gas emissions, resulting in safer, more sustainable living conditions."
The Heat Recovery Program is paid for by the state's clean energy fund, a $7.64 billion pot that supports projects to reduce greenhouse gas emissions in the state by 85 percent by 2050 under New York's climate goals.