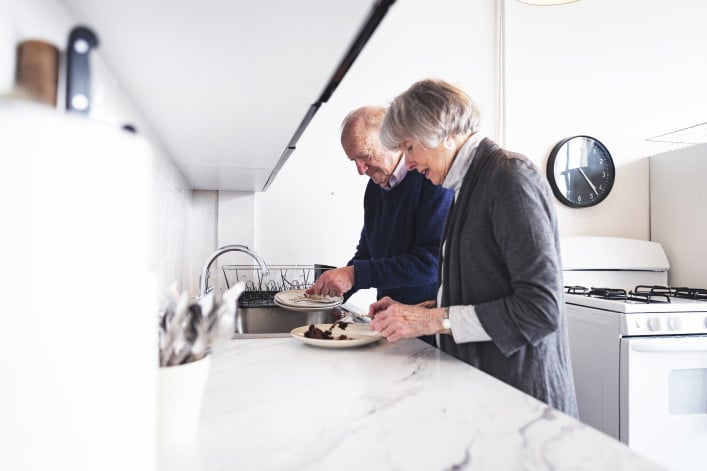 It should come as no surprise that Americans have a complicated relationship with aging. Beyond the emotional and physical weight of what it means simply to get older, the journey in this country comes with a steep price tag. According to Fidelity, the price to live comfortably in your golden years is skyrocketing: the average couple will likely spend $275,000 on healthcare expenses alone.
Over 1.1 million adults over the age of 65 call New York City home, according to a report from the New York City Comptroller's office. And when you dig into the census data, it's clear that most New Yorkers are renting—except for homeowners over the age of fifty. When New Yorkers get older, they're more likely to own their properties than any other age group. And in a city as vibrant and accessible as ours, it's no surprise that many choose to age in place—particularly in a market where people want to keep their home in the family, passing it on for generations to come.
So what should New Yorkers consider when aging in place? Simply put: a lot. But when it comes to creating a functional and accessible home, or when designing a home that can easily adapt to fit future needs, Bolster architect, Michael Fasulo, has some recommendations. Bolster, a New York City company that empowers homeowners to control their major renovation by delivering industry-leading expertise and a radically transparent online platform, is committed to helping homeowners spend intelligently from the beginning.
"We're here to help New Yorkers invest more strategically while considering their needs now and going into their future," adds co-founder, Anna Karp.
Going up?
Before you get into design, choose an elevator building to buy into. Many charming pre-war apartments come with steps in the entryway or in the lobby, making life with a walker or a wheelchair much more difficult. "Of course, this piece of advice presupposes that you're buying with the intention of aging in place," says Michael. "But for older homebuyers or families looking to move a relative nearby, this is a crucial consideration—if the choice is available to you."
Pro Tip:
Whether you're renovating a two-bedroom prewar co-op or a 4,000-square-foot brownstone, Bolster guarantees a beautifully designed home renovation risk-free and on-budget. "Expect flawless communication, white-glove service, and absolutely no surprise costs," says Bolster's CEO and co-founder Anna Karp. Ready to start your renovation? Learn more >>
Design for future accessibility
New York City building code requires renovated apartments to have a basic level of accessibility whenever you renovate. That means living spaces, hallways, doorways, and closets must be handicap accessible or adaptable. So if you're working with an up-to-code baseline, life is certainly easier.
"If you know you're living in a home that you don't intend on leaving, careful thought about the design is key. Strategic pre-planning primes kitchens and bathrooms for future advancements in accessibility, without feeling messy or improvised," says Michael.
For instance, it may make sense for you to plan ahead for fully accessible bathrooms. This means homeowners should consider including bathrooms in their renovation scope of work and pre-installing sturdier bathroom walls to support future grab bars in convenient locations.
Include a stall shower
Sure, tubs can feel luxurious, but if you have the option, plan for something a bit more practical as well. (Showers and tubs aren't mutually exclusive!) If you have the ability and the budget during a bathroom renovation, install a stall shower: it's easier to negotiate than a tub. "Be sure the shower is big enough to fit a seat within easy access to a handshower," Michael notes.
Think in a tactical and tactile manner
During a home renovation, you might not be paying as much detail to the little things such as cabinet and door hardware. (But you should!) "Give some thought to how you'd grab something with limited mobility or vision," says Michael. "I'd recommend choosing lever hardware and cabinet pulls that are easy to grasp."
Light sufficiently
Of course we all like a bit of moodiness, but you should always err on the side of more light–what young eyes consider ambiance can be tough on eyes that have seen far more than most.
Be smart with appliances—but not too smart
Choose appliances with tactile buttons that are easy to use if you have arthritis or if you're vision impaired. We're in an age of touch screens and smart surfaces, but they really don't need to be so ubiquitous, as these technologies can be difficult to maneuver later in life.
Every year, New Yorkers waste over $700M following the usual renovation process.
Bolster has uncovered the drivers behind these inefficiencies and has developed a proprietary solution that applies to every home renovation project. Bolster is the first company to bring radical transparency, analytics, and accountability to the entire process. They promise that every project is thoughtfully designed and beautifully delivered for a fair price, on time, and on budget. To start your major home renovation project, visit bolster.us  
Brick Underground articles occasionally include the expertise of, or information about, advertising partners when relevant to the story. We will never promote an advertiser's product without making the relationship clear to our readers.