Brick Underground supports our readers with product recommendations specifically curated for New Yorkers. If you buy something through our links, we may earn an affiliate commission.
This Yorkville two bedroom, 444 East 86th St., #30G, is "spacious" and gets "lots of light," but looks like it hasn't been renovated in decades, says architect Ritu Saheb of Saheb Architecture. The co-op is asking $1,395,000.
Curiously, there are also "way too many paintings on the walls," she says. "It looks like a bachelor's apartment."
---
[Editor's Note: In Brick Underground's Reno Ready column, an architect looks at a listing for a NYC fixer-upper currently on the market and suggests how to improve it.]
---
In this week's Reno Ready, Saheb offers up a number of ideas as to how to update this space, including refreshing the walls, getting rid of the wall-to-wall carpeting, and making the walk-in closet smaller in order to make the master bathroom bigger.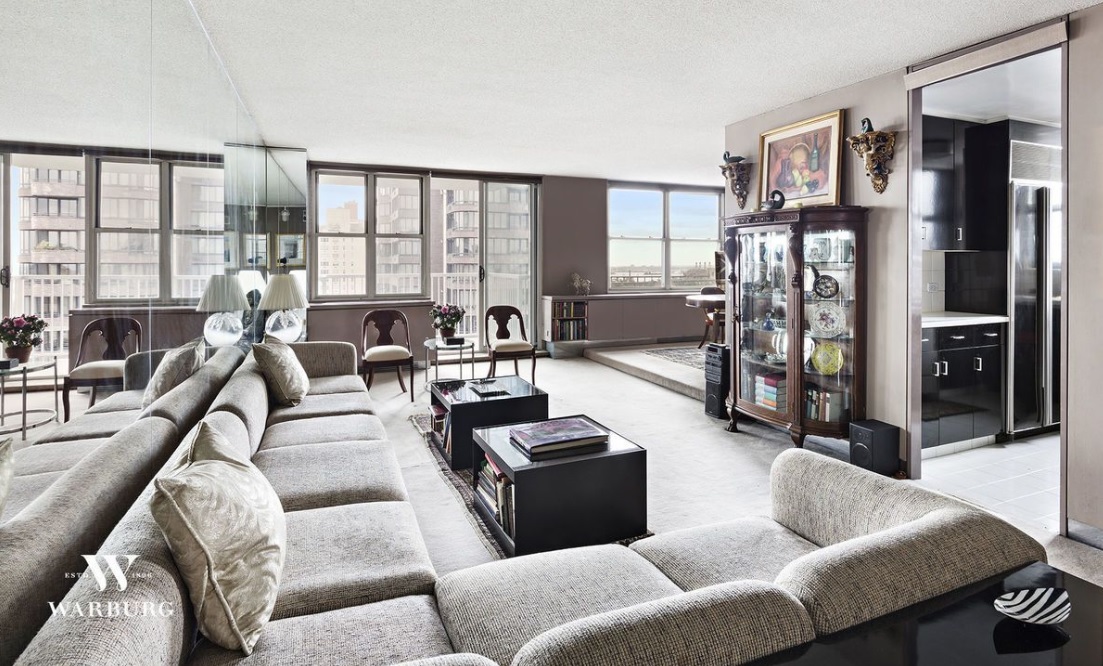 Get rid of the wall mirror in the living room
Closets: Saheb would have an organized closet system installed in the two closets flanking the entryway. She'd have hanging bars, shelves, and drawers added in to make things more orderly. This should cost around $4,000.
Walls: She'd lose the mirror behind the couch as she feels that the apartment already gets good light, and paint most of the walls and ceiling a simple white. A gallon of Benjamin Moore's Decorator's White is $80.
She'd treat the wall on the right—the one closer to the kitchen—as an accent wall and add metallic finishes that'll reflect the light coming in from the windows. This should cost between $2,500 and $6,500 depending on the materials used.
Lighting: She doesn't care for the track lights that are on the ceiling at the moment, but she doesn't mind track lighting in general, so she'd keep the track and get more decorative heads. These should cost around $800.
Flooring: Saheb isn't a fan of the carpeting in the living and dining rooms, so she'd pull it up and have white ceramic tiles installed with radiant heating pads underneath. This should cost about $15,000 or so.
Window treatments: "There's too much light coming in," she says, so she'd have curtains put up that "aren't too heavy," possibly in a silky material. These should cost around $800.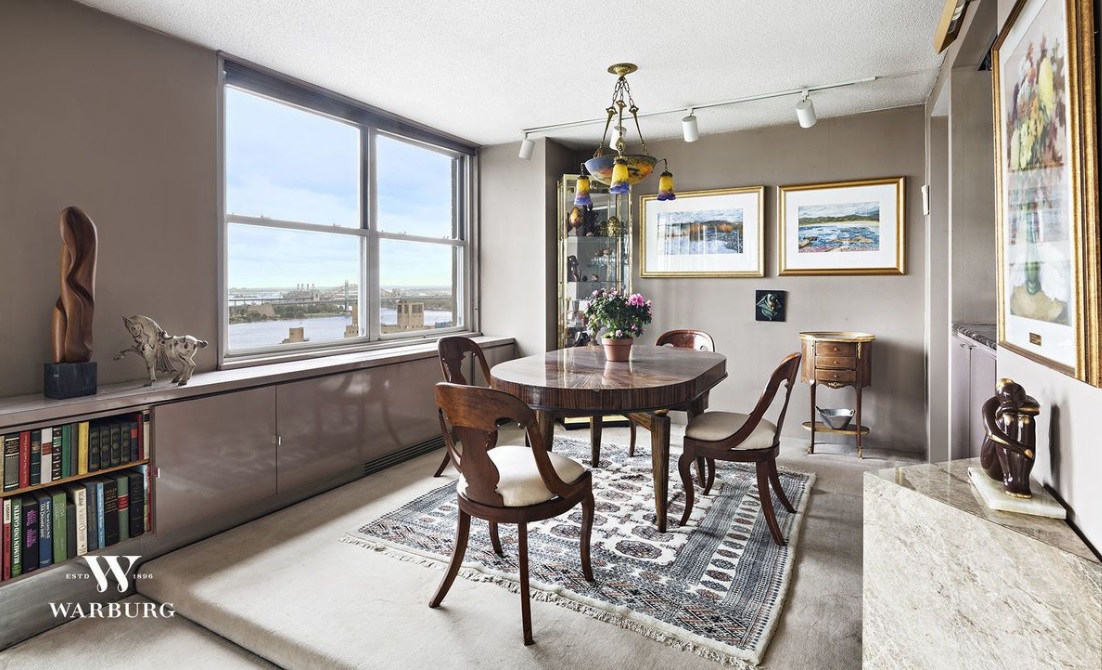 Paint the walls white in the dining room
The dining area is raised, which she finds rather strange. She isn't sure why that step up is there, but suspects that it's for a good reason, so she'd (reluctantly) leave it as is. "But it doesn't look good," she says. She'd extend the ceramic tiles into here (as it's connected to the living room), and put up curtains that match the ones in the living area. She'd also paint the walls white so as to keep a continuous flow.
Built-ins: "I like that there are built-ins in the dining room, but they look like cheap laminate. She'd replace them with white MDF cabinetry with a marble counter on top. "It won't be shiny like it is now," she says. The cabinet itself should be around $1,500. The marble counter should cost about the same.
Lighting: She'd put up a better, nicer chandelier and remove the track completely as she feels it's unnecessary. This Light Guide Ring 9-Light LED chandelier is $2,860 at YLighting.com.
Doorway: To the right of the dining table are some built-in shelves holding some wine glasses, and possibly even a sink underneath it all. Saheb would eliminate that entire thing and move the doorway to the kitchen over to this space instead. It'd make more wall space available for continuous cabinetry in the kitchen. This should cost around $1,200.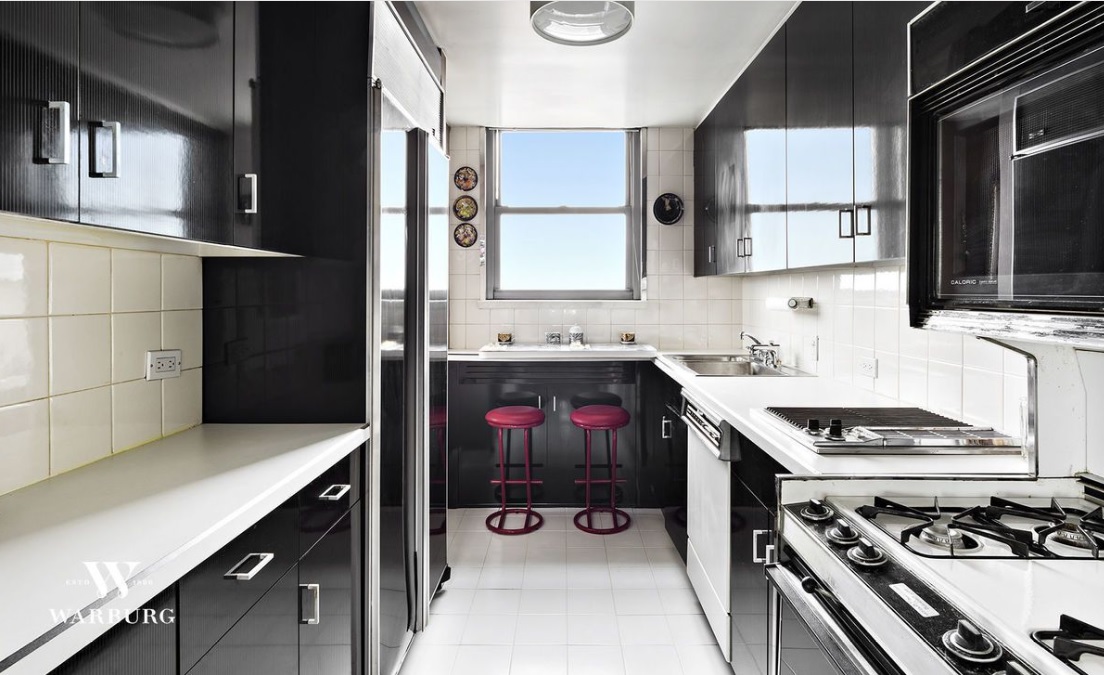 Swap out the ancient appliances and breakfast bar in the kitchen
Saheb thinks that the current kitchen is too simple, so after gutting it, she'd upgrade it with a Mediterranean theme that would add a dash of pizzazz.
Backsplash: She'd choose "tiny little Terrazzo tiles with accents here and there." These should cost around $25 per square foot.
Flooring: For the floor itself, she'd go with tiles that are "in the same family" as those in the backsplash. These should be around $22 per square foot.
Countertops: She'd have the grill next to the oven and the strange breakfast bar by the window removed (since there's already a "lovely dining room right there") and replace all the countertops with marble or quartz in white with gray streaks. "It'll give it some texture," she says. These should cost around $5,000.
Appliances: "That stove is ancient," she says. So are all the rest of the appliances, so she'd swap them out for newer, stainless steel ones. An Electrolux package from AJMadison.com includes a 36-inch counter-depth French door fridge, a 30-inch freestanding gas range, a dishwasher, and a wall-mount chimney hood for $7,577.
Cabinetry: Saheb would lose the black cabinets that give the room a dreary look and replace them with open shelving on the left-hand side and closed ones on the right. To keep with the Mediterranean motif, she'd opt for slightly distressed wood cabinets. "Maybe maple," she says. These should cost around $15,000.
Lighting: She thinks a flush-mount is the right thing for a kitchen (so tall folks don't bang their heads while making dinner every day), but would trade the current one for a ceiling light with more lamps. This Vivian three-light cluster cylinder semi-flush-mount is $115 at Wayfair.
Sink/faucet: A new sink and faucet are also in order. This Kraus under-mount sink is $250 at The Home Depot. This Kohler Sous Pro-Style single-handle pull-down sprayer kitchen faucet is $279, also at The Home Depot.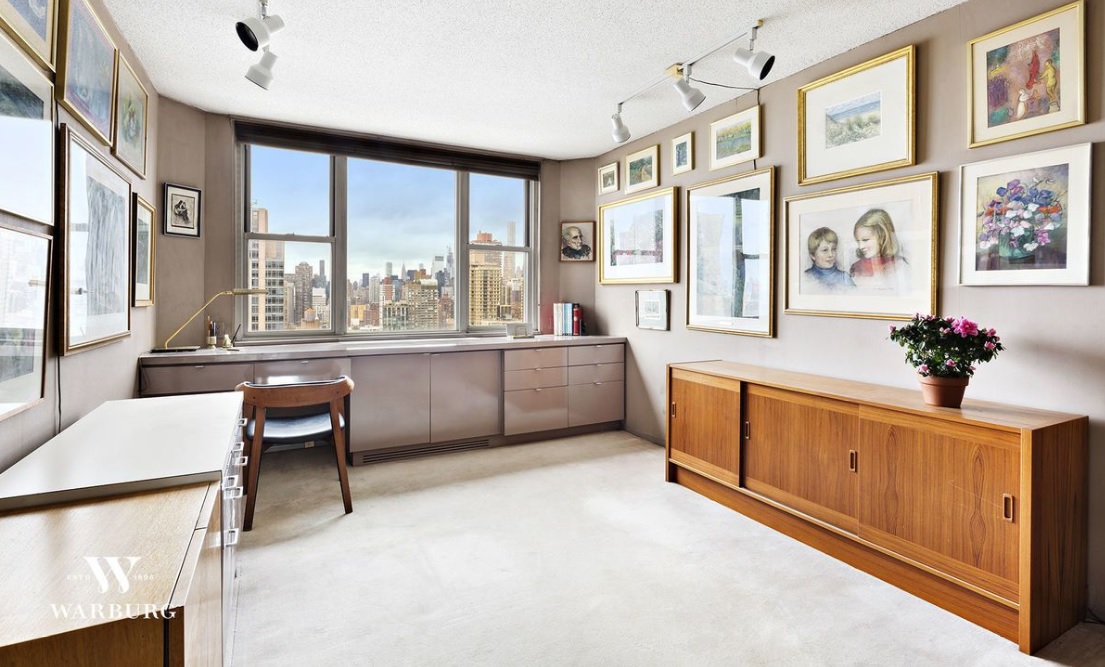 Paint the walls and add built-ins to the bedrooms
She'd install built-ins similar to the ones in the living room, paint the walls a crisp white, and put up curtains for a uniform look throughout the apartment.
Flooring: She'd once again pull up the carpeting, but put in new oak floors. These should cost around $18 per linear foot.
Lighting: Saheb assumes that the room in the photo will probably be a child's room, so she proposes leaving the track up as is, and even reducing the number of track heads. "Two on either wall will be fine," she says.
There aren't any photos of the master bedroom, but Saheb would treat it similarly to the other bedroom, with the same flooring, paint, and curtains. She would also make the walk-in closet smaller and add that space to the too-small, window-less master bathroom. "I can't make a window, but I can make the bathroom larger," she says.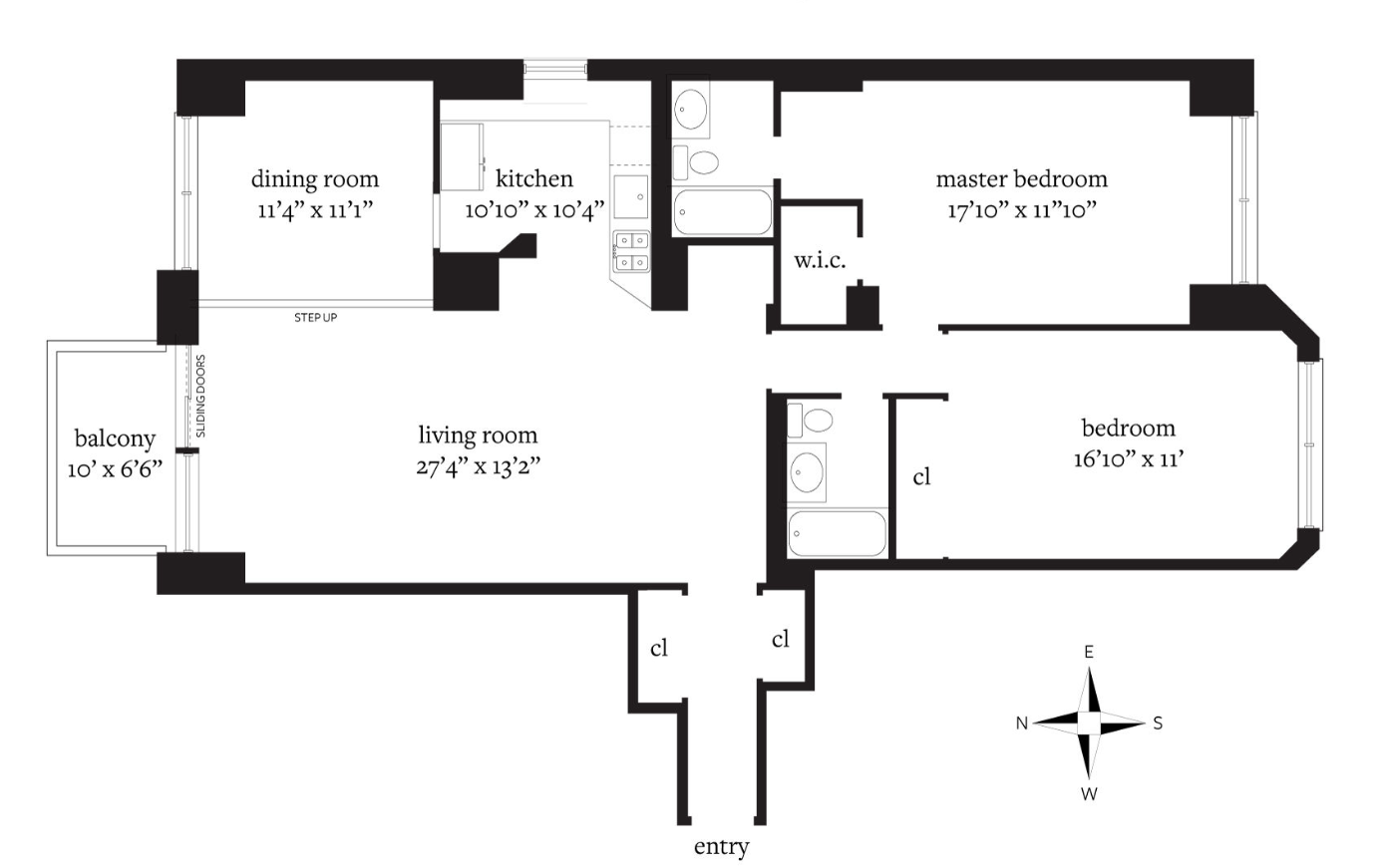 The bathrooms are a mystery
There aren't any photos of the bathrooms, either, which leads Saheb to presume that they're both in pretty dire shape. She'd gut them both completely.
For the newly expanded master bathroom, she'd get tiles that'd riff off the Mediterranean look in the kitchen, a new tub, and a standing shower. When all is said and done, this should cost around $40,000. The other, smaller bathroom will be significantly cheaper, around $10,000-$12,000.