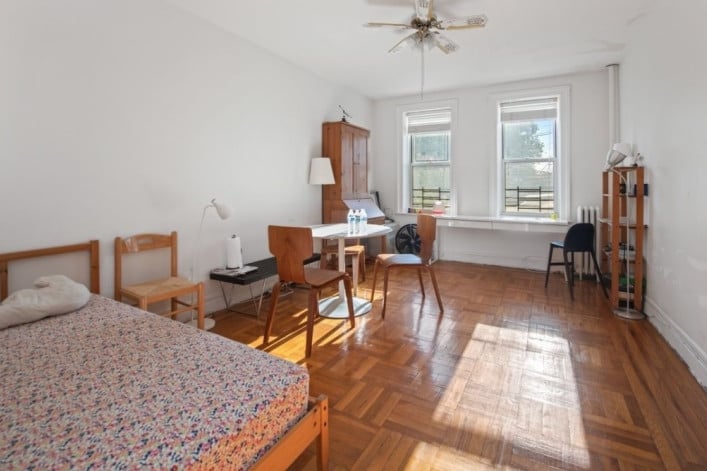 One of the nicest things about this Bay Ridge one bedroom, 7201 Fourth Ave., #A6, which is asking $299,000, is the fact that it has a true entrance foyer.
"You don't always get one of those in a small apartment," says architect Mark Holmquist. "It's a place to leave umbrellas or shoes when you first walk in. It's a nice buffer before you get to the rest of the apartment."
That said, there are many things he'd like to change about the unit, including adding closets to the bedroom and reconfiguring the kitchen. Holmquist explains how he'd do all that and more in this week's Reno Ready.
---
[Editor's Note: In Brick Underground's Reno Ready column, an architect looks at a listing for a NYC fixer-upper currently on the market and suggests how to improve it.]
---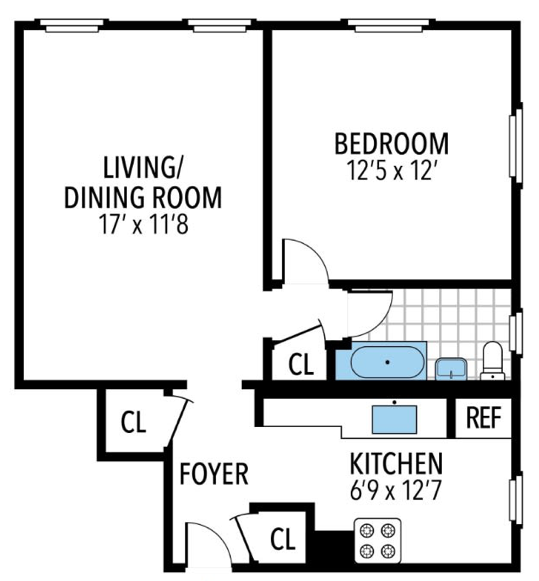 Replace the parquet floors in the living room 
Floors: Holmquist isn't a fan of the parquet, which he finds "very old-fashioned." He'd replace it with four-inch oak plank flooring that's more contemporary-looking and "will appeal to the next homeowner." This should cost around $15 per square foot.
Moldings: The baseboards look really nicked up so he would replace them. "Never go under four and a half or five inches for baseboards," he says. "They just look more substantial." These will cost around $2 per square foot.   
He'd also add crown molding around the living room and bedroom to "dress things up" a little. "It'll also bring the eye up and make the ceilings appear taller." Simple crown molding should cost around $3-$4 per square foot.
Walls: In an apartment with windows on one end only, Holmquist prefers lighter-colored walls. He'd go with Benjamin Moore's Decorator's White, $80 per gallon, which he describes as "warm, without any harsh blues in it."
If the apartment's new occupant wants some color in the room, Holmquist suggests an accent wall, probably the one when you first walk in, which currently has the bed against it. He'd choose either a warm green or a millennial pink (which he describes as "a muted pink, not a harsh, girly Easter dress kind of pink").
Lighting: Holmquist isn't into the look of tons of recessed lights up top, but he thinks that a few recessed cans in select areas would be warranted in this room. He'd put one above the seating area, one above the dining area, and put lamps up throughout the rest of the room. Recessed down-lights will be around $40 each (without installation). This Brazo floor lamp is $560 at YLighting.
Window treatments: He'd opt for floor-to-ceiling drapes, and would put up a panel between the windows so that it will look like a full wall of windows. "I'd keep it light—both material- and color-wise," he says. These Ripple Fold Drapes are $486 at The Shade Store.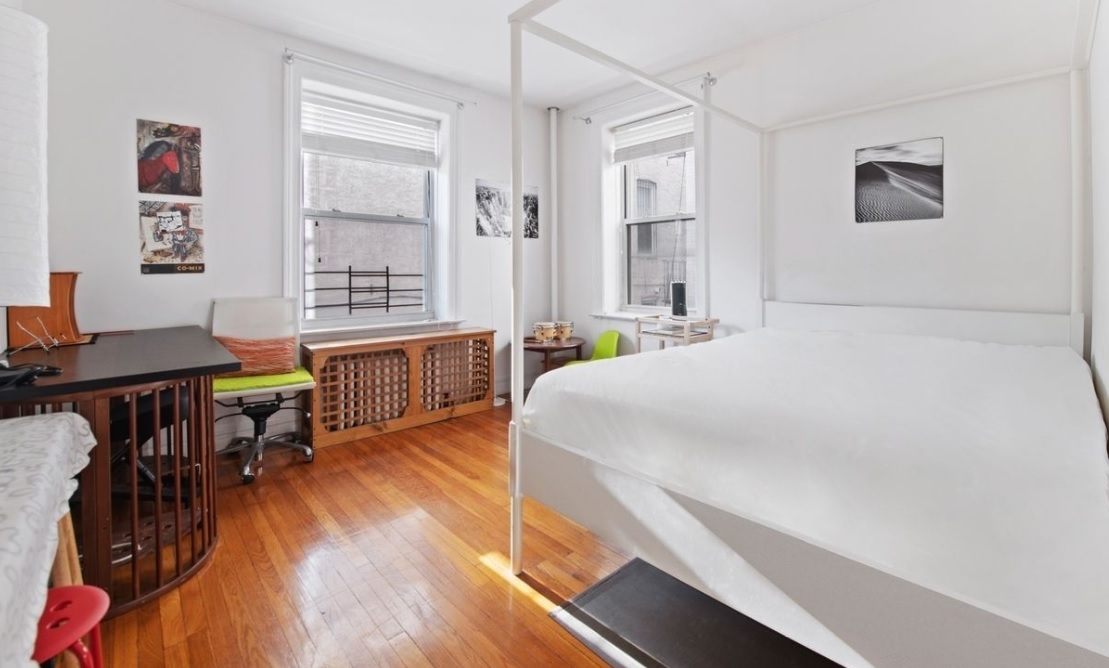 Add closets and a radiator cover in the bedroom
He'd replace the floors and baseboards just as in the living room, and would add in crown molding, too.
Closets: There aren't any closets in the bedroom, which is very odd, so Holmquist would add some in on either side of the windows. These should cost around $3,000 to $4,000.
Radiator cover: Holmquist isn't a fan of the unsightly radiator cover, so he'd have on custom built flush with the windowsill that'll provide a ledge where you can put a plant or a photo. This should cost around $900.
Lighting: He'd install recessed down-lights in the corners of the room. "You don't want the light hitting you straight in the eye in bed," he says. These should cost around $40 each (before installation).
Window treatments: Holmquist would go with Roman shades on both windows. "It'll add a little color, and look very contemporary," he says. Prices for these Cascade Roman Shades start at $550 at The Shade Store.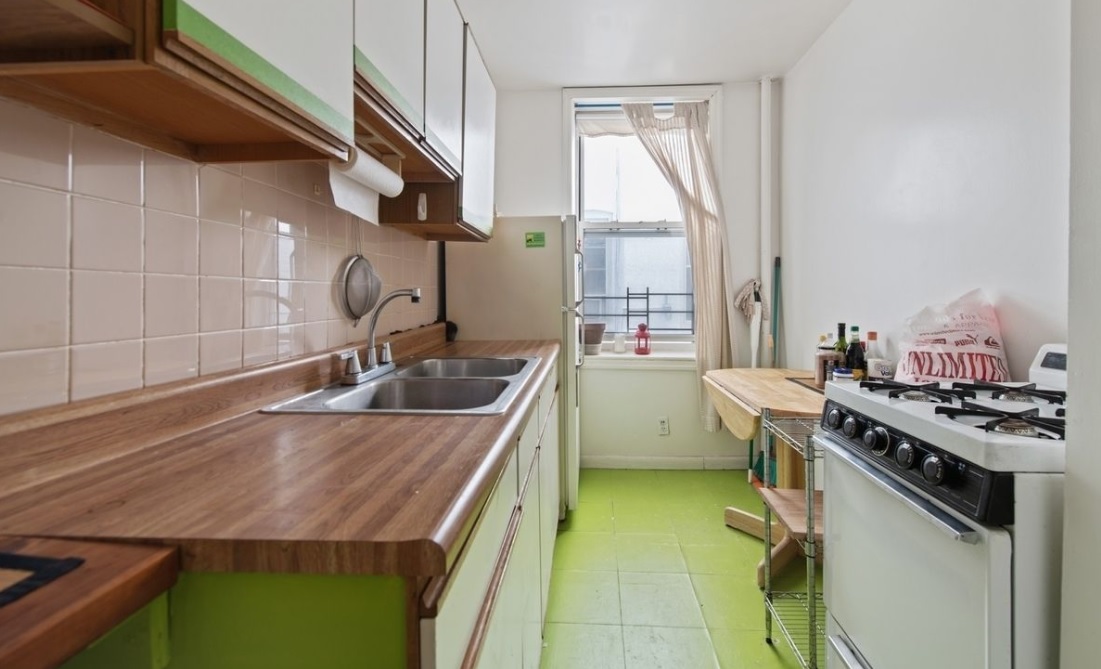 Replace the cabinets in the kitchen
Pipe: Holmquist hates the look of the exposed pipe by the window, so he'd box that out. It should cost around $200 or so.
Cabinets: He'd replace all the cabinets in the kitchen with new, light-colored cabinets. "I'd go with either white or gray to keep things bright," he says. But if the new occupant likes the look of different colors on the upper and lower cabinets, he's go with a wood look down below and white or gray up top.
He also hates the fact that there isn't any tall storage in this unit, which is evidenced by the assortment of brooms and mops near the window in the photo. He'd add a couple of floor-to-ceiling cabinets when you first enter the kitchen that'll be tall enough to house such items.
These cabinets could cost anywhere from $450 to $1,400 a linear foot. It depends on a number of things, including the material used, type of door, and if the are wood-painted or stained.
Appliances: He'd get new appliances to replace the old ones in here, and he'd move them around as he feels that the current configuration makes little sense. He'd slide the stove down closer to the window and move the fridge—which is currently by the window—to the stove's current spot.
"If someone's by the sink or the stove, it's annoying if someone has to pass by them to get to that fridge," he says. "The fridge should be closer to the entrance to the kitchen."
He'd also add a recirculating range hood above the stove to keep the air clear.
This GE 30-inch slide-in gas range is $1,292 at AJMadison.com. This 30-inch range hood is $549 at Maytag.com. This GE 27-inch French door fridge is $1,398 at The Home Depot.
Countertops: "I want durability," Holmquist says. As such, he recommends Silestone, which, he says is long-lasting and "has a nice gray natural stone look to it." He thinks it'll contrast nicely with the cabinets. These should cost around $50 to $60 per square foot.
Floors: He'd like to see large natural stone tiles in here that'll play off the countertops. These should cost between $15 and $30 per square foot.
Backsplash: "If you're spending money on countertops, there's nothing wrong with getting an inexpensive backsplash," Holmquist says. He'd choose simple white, beige, or gray subway tiles. "It's a very classic New York look," he says. These should be around $3 per square foot.
Lighting: He'd install a line of recessed lights down the center of the kitchen, which should cost around $40 each (before installation). He'd also be sure to put in under-cabinet lights. These SlimEdge LED lights are $64 at Lamps Plus.
Paint: He recommends painting any remaining visible walls, as well as the ceiling, with a warm white to match the living room.
Sink/faucet: He'd swap out the old sink for a new stainless steel under-mount sink. This Elkay one is $249 at build.com. He'd also get a new faucet with a water filter so as to save money on bottled water. This Franke faucet is $325 at Décor Planet.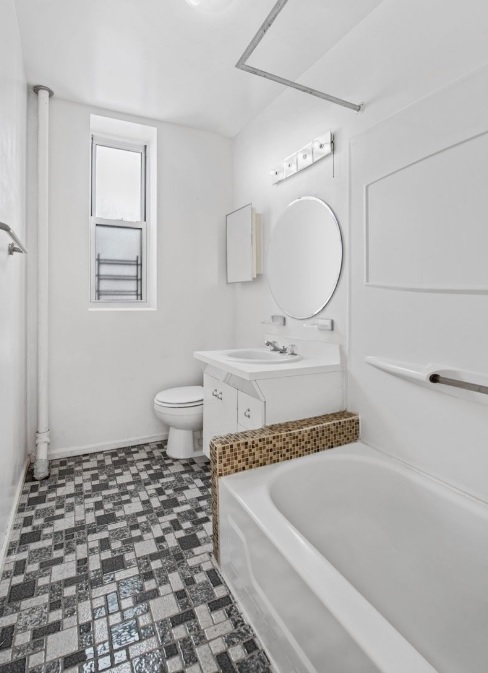 Add slate tiles to the bathroom
Bathtub: Holmquist thinks the room would benefit from a shorter bathtub. "It'll create more room on the wall for a vanity," he says. This five-foot Kohler tub is $771 at build.com.
Shower screen: He'd lose the shower curtain, but doesn't love the idea of glass doors either. He'd therefore install a single piece of glass adjacent to the shower that comes back about 30 inches. "This will keep things really open," he says. The screen should cost around $500 or so.
Toilet: He'd opt for a new low-flow toilet. This Toto Aquia two-piece dual-flush toilet is $387 at The Home Depot.
Vanity: Once you have a smaller tub, there'll be room for a slightly larger vanity. This Sedgewood 30-inch vanity is $299 at The Home Depot.
Medicine cabinet: He'd swap this old one out for a newer one that'll last. This Robern medicine cabinet is $1,679.
Floors: If the buyer prefers a more modern look, he'd go with 12-by-12-inch slate tiles with a "honed" finish (meaning you won't slip on them easily). These should cost between $15 and $25 per square foot.
If the buyer wants something a little more traditional, he'd suggest small hexagonal tiles. "They're classic," he says. These will be cheaper, around $4 per square foot.
Walls: Holmquist recommends going with floor-to-ceiling tiles in a brick-laid pattern (meaning the edges will overlap each other as opposed to being stacked). He'd use the same color on the walls and floors, but use different tones to add contrast. These should cost between $15 and $25 per square foot.
Lighting: He'd install a couple of recessed lights ($40 each before installation) in here, as well as a light over the vanity. "If you can, however, fit one on either side of the medicine cabinet, you should do that," he says. "Light from the sides is more flattering." These Aero 1-Light chrome sconces are $60 each at The Home Depot.
Brick Underground articles occasionally include the expertise of, or information about, advertising partners when relevant to the story. We will never promote an advertiser's product without making the relationship clear to our readers.