It probably won't surprise you that like pretty much everything else in New York City, it costs more to renovate a bathroom here: Hidden cost drivers tend to push renovation costs higher in Manhattan than Brooklyn, and renovating a bathroom in either borough costs substantially more than you'll pay a short drive across the river to Jersey City, Hoboken, and other areas of northern New Jersey.
"Construction labor alone, for example, is significantly more expensive in Manhattan than Brooklyn or NJ," says Koda Wang, co-founder of Block Renovation, a New York City design-build startup that uses a pricing algorithm to demystify and simplify bathroom renovations. 
"Depending on the quality of the renovation company you are working with, a standard, mid-range bathroom renovation can cost $16,000 to $25,000 in Brooklyn; $20,000 to $30,000 in Manhattan; and $15,000 to $25,000 in New Jersey. And don't forget to budget $4,000 to 7,000 for quality fixtures and finish materials," Wang says.
Five main factors drive up New York City renovation costs, he says.
1. Higher labor costs
2. Building rules that limit working hours and impose stricter requirements on copper replacement, insurance, filing, and licensing
3. Lack of street parking/driveways that make logistics and parking more cumbersome
4. Prewar housing stock that often requires additional demolition
5. Miscellaneous unforeseen changes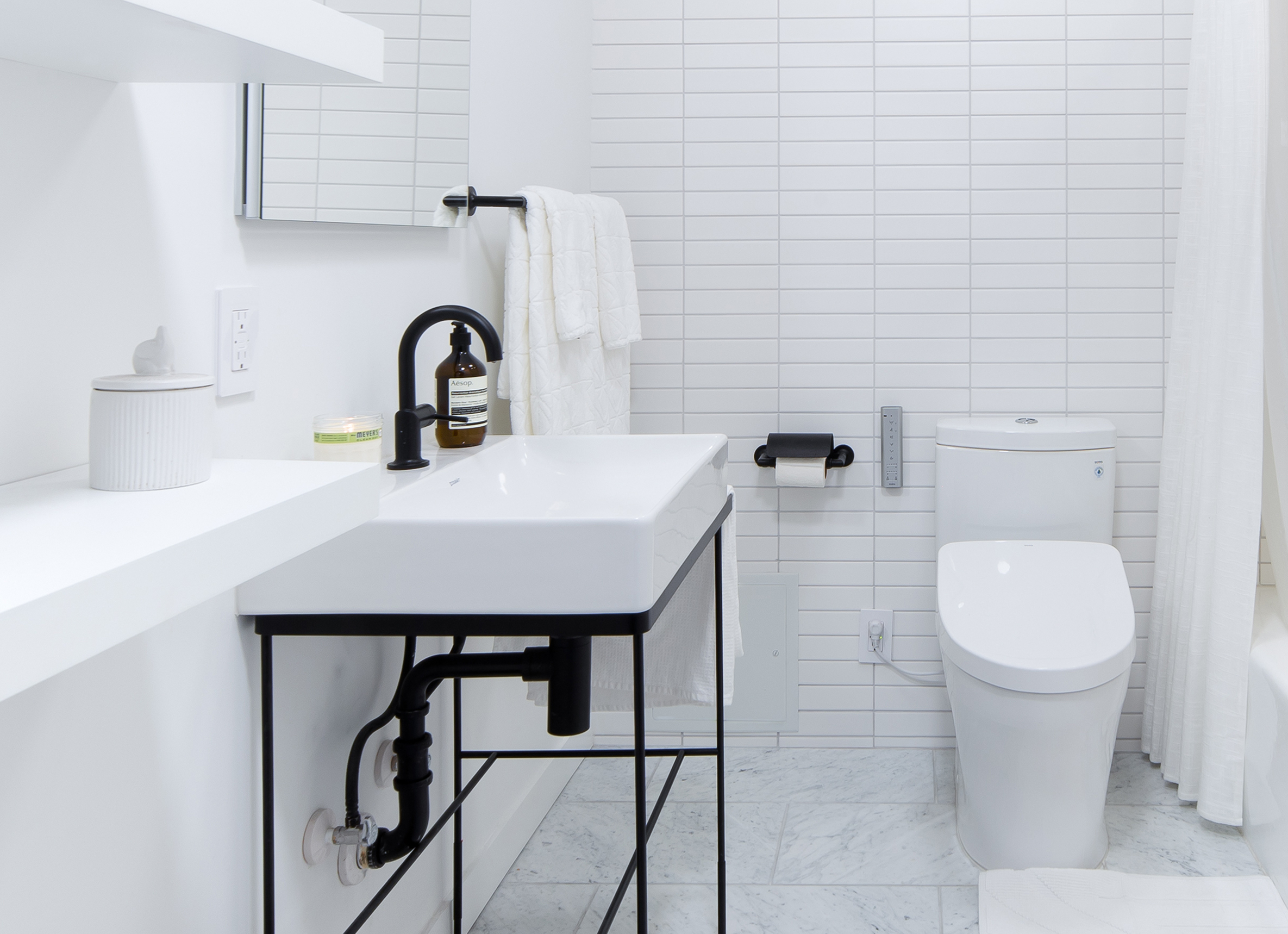 Live in a co-op or condo? Expect to pay more—especially in a prewar building
Co-ops and condos are generally more expensive to renovate than single-family homes in part because their boards and property managers often have a multi-stage approval process, even for a simple renovation.  
"Approvals can take anywhere from one to four months on average, so it's important to work with a professional renovation company to minimize the back and forth" says Block's Wang.
Because they are usually high-density buildings, co-ops and condos also tend to have rigorous standards around things like waterproofing, layout changes, and even working hours. The average Manhattan co-op, for example, permits seven working hours on weekdays and no work on the weekend.
Co-ops and condos also usually require contractors to provide large amounts of insurance. General liability insurance is common (typically $1 to $3 million per incident in Manhattan and $1 to $2 million in the outer boroughs), and workers compensation policies can be as much as five percent of a builder's salary. 
The cost of labor can be more expensive because "even to replace just a faucet, some buildings will insist on a licensed master plumber to execute all work," Wang says. "Licensed plumbers in New York City will often charge thousands just to use their license. If your building asks you to file a Limited Alteration Application permit, and employ a master licensed plumber, that can cost upwards of $4,000."
If you live in a prewar building—and if you live in a co-op, there's a good chance you do—you may be asked to do additional work that you weren't expecting. 
"A renovation is an opportunity for prewar buildings to upgrade the building's old copper plumbing lines incrementally instead of through one huge capital improvement project," Wang says. "Buildings often require that if you replace a plumbing fixture like a bathtub, you must replace the copper plumbing branches all the way back to the riser."
Renovations in northern New Jersey tend to be cheaper for a few reasons. 
"That's because there are more standalone homes, which means builders don't have to deal with the complications of a renovation in a co-op or condo," says Block's Wang. "And in multi-family and other larger residential developments, the stock tends to be newer, which means it's more likely to still be up to code and less likely to need extensive repair. Lower parking fees and cheaper tolls help construction companies save on auxiliary costs."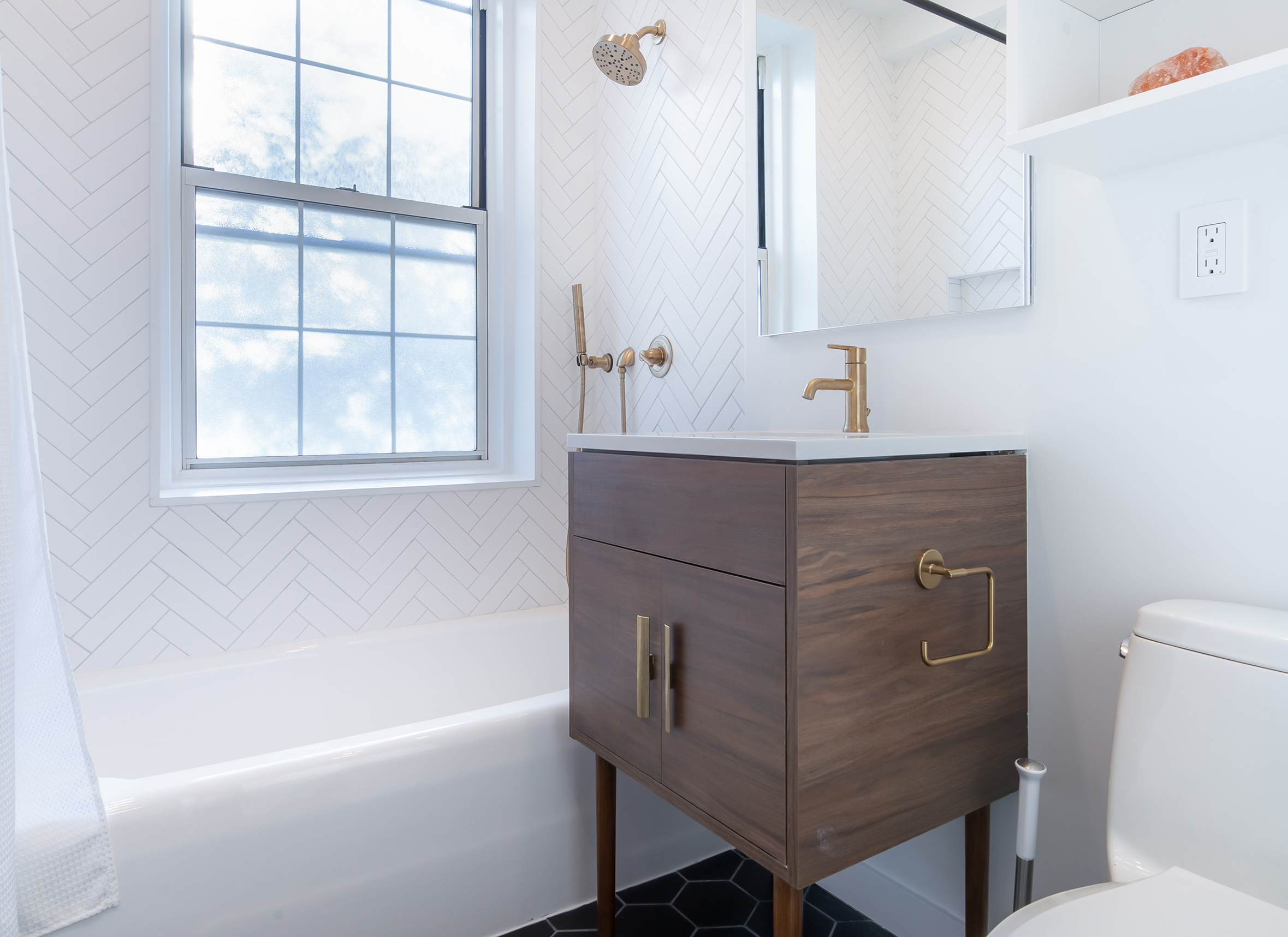 How to save money and time on your bathroom renovation costs
Because bathroom renovations are multi-trade jobs, you (or your general contractor) will need to engage with several different kinds of skilled laborers, all of whose labor is interdependent. That means the job your plumber is doing affects the installation of your new sink, but those workers won't necessarily be communicating with each other, which makes scheduling and negotiating a pain. Add onto that the inherent difficulties of renovating in New York City, and you have a recipe for frustration and sticker shock.
"Block has dramatically simplified and sped up the bathroom renovation process," Wang says. "Our thoughtfully designed renovation packages make it easy to get the look and feel you want, and our pricing algorithm enables you to anticipate the all-in costs. Our algorithm takes into account all aspects of your project—from scope and labor costs to whether you live in a co-op, condo, or house, and factors like geography and parking. It even includes clarity in cost for labor rates, which helps demystify the cost differences between neighborhoods."
How to renovate your bathroom with Block 
Start by exploring Block's renovation packages and get an instant estimate within five minutes. For an all-inclusive proposal for your project including timelines and scope of work, send photos and video to give them an accurate idea of your space.
If the proposal meets your approval, Block's team of designers and architects will create a complete package to fit your space and goals. They'll take care of designs, building approvals, detailed drawings, all finish materials and more. The work is then completed by licensed and insured contractors for Block's vetted network. Average construction time is three to four weeks.
Ready to get started? Visit blockrenovation.com to view templates and get a free estimate.
Brick Underground articles occasionally include the expertise of, or information about, advertising partners when relevant to the story. We will never promote an advertiser's product without making the relationship clear to our readers.