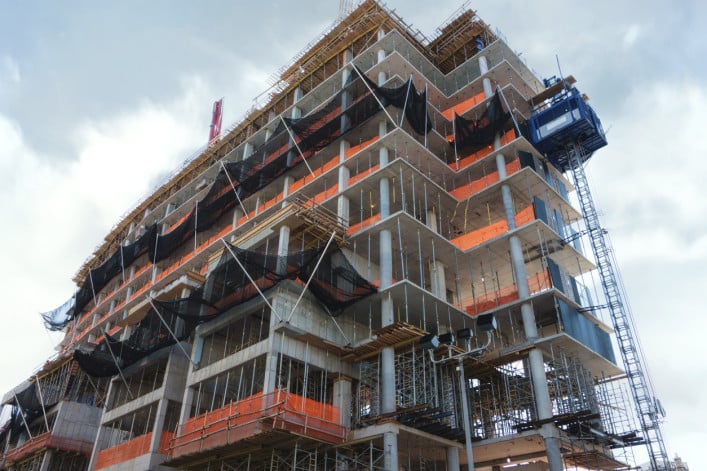 How much does it cost to sue a developer for construction defects? Is it worth it?
The answer is a lot; and it depends. If there are major problems like a leaking roof, defective windows or buckled flooring on a brand new building, then suing an unresponsive sponsor might be your only option. If it is a minor problem that can be repaired at little cost it's probably not worth it because lawsuits for a building's construction defects can be very expensive and drag on for years.
"If the sponsor isn't stepping up to correct obvious problems and you are contending with leaks or other massive construction problems or possible code violations, you have no choice," says Bonnie Reid Berkow, a NYC real estate lawyer, and founding partner at the firm Wagner, Berkow & Brandt. At the other end of the scale, Berkow dealt with one client who complained the bathroom was too cold. The solution, in this case, was to install a heated towel rack rather than start expensive litigation.
Preparing the complaint
Berkow says if the problems are building-wide, you'll need to hire an expert to evaluate the problems and produce a report describing the specific problems. Preparing a legal complaint against a sponsor for construction defects is fairly complex.  
"It's not a cookie cutter kind of complaint and it can be quite expensive because you have to tailor the complaint to the specific problems in the building which will be based on your expert reports," she says.
Preparing a complaint can take 20 or 30 hours so with retaining an expert and paying the legal fees, it may end up being somewhere in the region of $10,000-$20,000. Usually, the complaint will include not only the sponsor but the architect, engineer, contractors and any others who worked on the building and may be at fault.
Without the right legal representation, there can be pitfalls in drafting the complaint. For example, it needs careful wording to avoid being dismissed. There may also be notice provisions or limitations in bringing a complaint based on the offering plan and purchase agreements. You also can't sue for negligence and for contract breach based on the same facts, or for fraud based on misrepresentations in the offering plan. Only the attorney general can sue for fraud in the offering plan.  
Entering negotiations
Once the complaint is issued, you hope the sponsor acknowledges the defects and is ready to negotiate with your legal team. "You want to make every effort to get the sponsor to the table early on and recognize that fighting is very expensive on both sides," says Berkow.
Starting a lawsuit may be expensive but Berkow says "if this is what it takes to compel the sponsor to make the necessary repairs to the building, that's money well spent."  Sometimes a judge will send the parties out to mediation in an effort to find an acceptable solution.
Often the sponsor will make an immediate motion to dismiss all or part of the complaint. You will then need to oppose it. This can cost between $30,000 or $40,000 depending on how complex it gets. Either way, it requires lots of paperwork.  
It may also take months for the court to decide the motion. During this time, the building is not getting repaired and the occupants are living with leaks or other construction defects.
Reaching a settlement
Berkow has been involved in dozens of cases related to construction defects and says the best option is to try to reach a settlement.
"Everyone recognizes that if it's a brand new building and your roof is leaking, or your exterior waterproofing is defective, that's the builder's fault and they have to fix it," she says.
She recounts one case where the judge came to the building with experts from both sides so that everyone could see and agree upon the problems and recommendations for repair. "That resulted in a settlement based on the agreed scope of work paid for by the sponsor," she says.
If you do have defects, your first step is to get an expert to document the problems.
"You're going to find a way to get the sponsor and other relevant parties to do the work that needs to be done, but having the right team in place to bring that about sooner rather than later is going to save everyone time and money," she says.
Before you decide to bring a lawsuit against a sponsor, contractor or others involved in your building's construction, talk with an attorney to evaluate the potential expense and your likelihood of success. This will help you formulate an approach best suited to your problem.
---
New York City real estate attorney Bonnie Reid Berkow is a founding partner of Wagner, Berkow & Brandt with more than 30 years of experience litigating in state and federal courts in New York state, including cases involving breach of contract, fraud and breach of fiduciary duty, in addition to real estate disputes and commercial actions. To submit a question for this column, click here. To ask about a legal consultation, send an email or call (646) 780-7272.
Brick Underground articles occasionally include the expertise of, or information about, advertising partners when relevant to the story. We will never promote an advertiser's product without making the relationship clear to our readers.