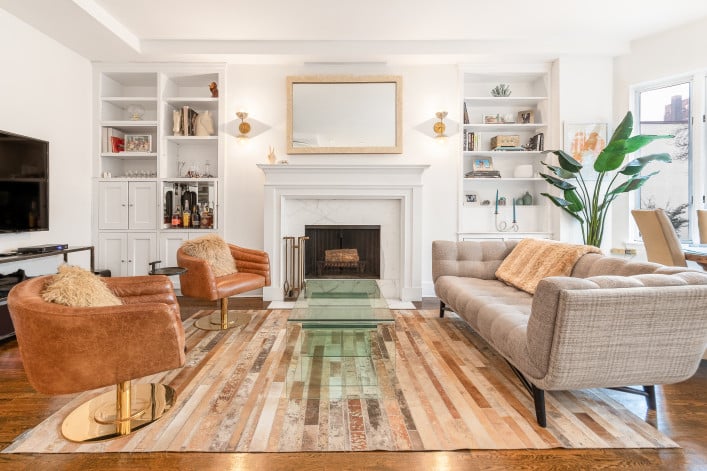 My partner and I have been looking for a two-bedroom, one-and-a-half-plus bath on the Upper West Side. The number of available apartments in our price range ($1.5 million—$1.7 million) is shockingly low. Whenever we do find something that doesn't need a big renovation or have super high carrying charges, we get outbid. I've heard about "whisper" and "pre-market" listings. Are those a good way to find apartments that owners may be open to selling but aren't on the market yet?
With New York City housing inventory still historically anemic, your experience is all too common across most neighborhoods and price points, says David Walker, CEO of real estate brokerage The Agency, which has offices in New York City, Hudson County, Westchester, and The Hamptons.    
"Jumping ahead of your competition is a smart strategy, and that's what The Agency's 's pre-market listings team helps buyers do," David says. "You'll see unlisted properties, tailored to your target neighborhood, budget, size and type, that no one else is seeing."
What's the difference between an pre-market listing and a 'whisper' listing?
"A pre-market listing is simply a property that is not yet listed or publicly available for purchase," explains David. "Unlike so-called 'pocket' or 'whisper' listings—where a broker has an exclusive agreement with a seller but hasn't publicly listed it and is instead quietly marketing to a select pool of buyers—pre-market listings are not in the hands of a specific broker."
How does The Agency's pre-market search work? 
First, you give The Agency your wish list. Two bedrooms? Check. Prewar? Absolutely. Dog-friendly, elevator-equipped, and full of natural light? No problem. 
The Agency's pre-market team takes your criteria and, using their predictive algorithm, matches you with unlisted real estate that meets your specific needs. 
"We analyze millions of data points to predict which homes are most likely to sell in the near future and get our buyers early access to that inventory," explains David. "Our data science team is always tweaking and making improvements to the process, plugging our results back into our system so that it keeps learning and getting smarter as we grow."
"If we predict there are great options that will be coming to market in the near future, we reach out to those owners to gauge their interest in selling," David says. If the owners are, in fact, interested in selling, then it's a match. 
How many pre-market apartments will I see?
"We're able to show a typical buyer three to five properties that are not yet on the market, that they can't find anywhere else, and no one else knows about," David says. 
You'll beat out competing buyers, avoid bidding wars, and end the déjà vu of browsing the same listings, over and over again, on other real estate websites.
Does The Agency help with the rest of the sale, or just make the introduction? 
The Agency is a full-service real estate brokerage whose dedicated customer service assists every step of the way. 
"We align the incentives of our clients and agents so they truly work together as a team," David says. Ensuring that The Agency is continually learning and innovating, the team conducts in-depth, post-sale surveys, asking clients to rate their experience using the pre-market program.
"With The Agency, you get everything you get from a traditional brokerage, an amazing dedicated agent, access to powerful technology and data, and early access to inventory you can't find anywhere else," David says. "It's the best of all worlds."
Ready to get exclusive access to better real estate before anyone else? Connect with The Agency and let them curate your search today.
Discover pre-market properties in your dream neighborhood that suit your needs and budget. Meet and deal with sellers before their apartment hits the market.

Let The Agency's pre-market team give you exclusive access to apartments in your price range and desired neighborhood that no one else has seen. More options, less competition, no bidding wars. 
Brick Underground articles occasionally include the expertise of, or information about, advertising partners when relevant to the story. We will never promote an advertiser's product without making the relationship clear to our readers.