Strivers' Row wasn't always known by that name. These two blocks of Harlem, which run from 138th Street to 139th Street, from Frederick Douglass Boulevard to Adam Clayton Powell Boulevard, were originally dubbed the King Model Homes after the wealthy and brash developer David H. King, the Trump of his time. The first stones were laid in 1891, according to Untapped Cities.
And Strivers' Row is not the official name of the district—it got that moniker in the 1920s. In its 1967 designation of the two blocks as an official historic district, the Landmarks Preservation Commission refers to it as the St. Nicholas Historic District, named after nearby St. Nicholas Park.
Below, five more facts you probably don't know about this picturesque section of Harlem.
1. King chose the most prestigious architects in New York to build this exclusive development, included the latest amenities, and charged a high price to live there.
Stanford White of McKim Mead and White—known for lots of homes of the rich and famous such as the Villard Mansion at 55th and Madison, the arch in Washington Square Park, and the second Madison Square Garden where he was shot to death in 1906—was only one of the architects King chose to design his model homes. Although they may not be quite as well known as White, the other architects, the team of Bruce Price and Clarence Luce and James Lord Brown, certainly qualified as the end of the 19th century's "starchitects."
White designed the northernmost rowhouse on 139th Street in Italian Renaissance style brick and brownstone; Price and Luce designed the other side of the street and the north side of 138th Street  in Federal Renaissance-style yellow and buff color brick and Lord chose a Georgian influenced red brick and brownstone mix for the south side of 138th.
King was determined to attract the wealthiest New Yorkers to his new development, to create a neighborhood-within-a-neighborhood for the well-heeled. He spent about $1.5 million to build all 160  homes in the development, including some then-unusual amenities such as indoor plumbing. At a time when working class families paid $10 to $18 per month for rent, the city's Landmarks Preservation Commission notes in its report about the area that rents for the King homes started at just below $80 and ranged somewhere between $900 and $1,700 per year. 
2. It wasn't until the 1920's that African-Americans were allowed to move into the Row.
Known in recent history as a home to well-to-do and accomplished African-Americans, the truth is that black people were not allowed to buy or rent property on these two blocks until almost 30 years after the homes were built. 
King's speculative development failed and "many still unsold houses were transferred to the ownership of the Equitable Life Assurance Society, which had financed the project," according to Michael Henry Adams, Harlem resident and author of Harlem Lost and Found. "By this time," says Adams, "Harlem was being abandoned by white New Yorkers, but the company refused to sell the King Houses to black residents. As a result, they sat empty, seeming all the more desirable because they were 'forbidden' ." 
In 1919 they were finally made available to black residents for $8,000 each. That's when the blocks acquired their new name of Striver's Row. Adams explains the choice: "The inventive machinations of the ambitious householders they attracted, which included taking in boarders by even the most prominent residents, gave the houses their current, somewhat derisive, name. " 
3. The Strivers' Row houses feature some of the few remaining back alleys in the city.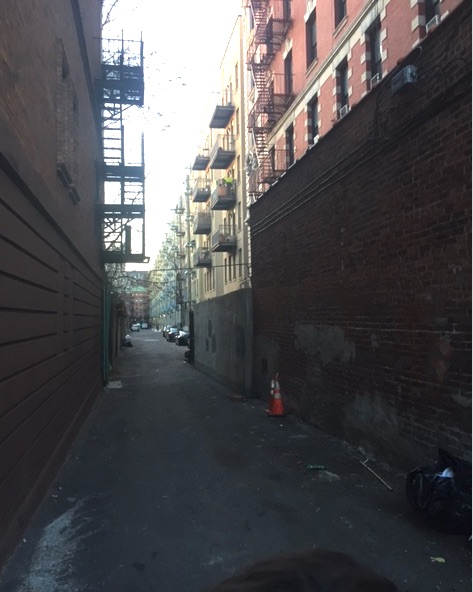 In the 19th century, there were hardly any alleys being built in Manhattan. Land was too valuable to waste on non-residential uses. Most townhouses were built with service entrances in front; stables, instead of being situated behind homes, were now being built a few blocks away and were multi-storied in order to accommodate the horses of the rich without usurping valuable real estate.
But King, who wanted to make his new development particularly appealing to the wealthy, included alleys in his 138th Street/139th Street project. According to Adams, the alleys, which also featured walled gardens, allowed "discreet stabling, refuse removal and deliveries." Now they are used for parking cars and storing garbage cans, although there's still a sign on one of the gates to an alley that warns, " Private Road/Walk your Horses."
4. The number of well-known residents of Strivers' Row is staggering.
In 1920, the New York Age—a black-owned newspaper—noted in a front page article that William Pickens, former dean of Morgan College in Baltimore (founded as a black college and now Morgan State University), had moved into West 139th Street. Not long after, many prominent doctors including Dr. Lewis T. Wright, Surgical Director of Harlem Hospital, Dr. P.M. Murray, Dean and Professor of Surgery at Howard University, and Dr. Norman T. Cotton moved in. Cotton's wife, according to Adams, became known as "one of the row's most notable hostesses".
Musicians shared the blocks with the doctors. The list is impressive: Will Marion Cook, noted composer, conductor and violinist; W.C. Handy, considered the father of modern Jazz; Eubie Blake; Bo Jangles Robinson; Fletcher Henderson, leader of the most important big band of the time. (According to the New York Daily News, Tupac Shakur lived there for a while with his mom.) 
Blake wasn't the only one of the writers of "Shuffle Along", a huge Broadway success in 1921, who lived on the Row. Two of his collaborators, Flournoy Miller and Noble Sissle, called it home as well. The original "Shuffle Along" launched the careers of Josephine Baker and Paul Robeson; this April, a revised version of the show is returning to Broadway. (This time it will include some of the backstory of the original and will feature actors playing Sissle, Miller and Blake. Audra McDonald and Brian Stokes Mitchell will star and Savion Glover will choreograph.)
One- time Harlem Congressman Adam Clayton Powell, Jr., lived on the Row as well but when he lived there, the Boulevard that now bears his name was called Seventh Avenue (it was renamed in 1974, two years after his death).
And, according to the Wall Street Journal, in 1986, Bob Dylan bought a house there for $395,000 and sold it for $560,000 in 2000 (now houses sell for millions, but more on that below).

Weichert
5. Act fast and you can buy a townhouse on Striver's Row. Or rent an apartment in one.
Two townhouses on the Row have shown up in recent listings. The one at 248 West 138th Street, which is now a two-family home but can be converted into a six-bedroom, six-bath single-family, is being offered for $3.75 million; it's listed by Weichert. (The $2.9 million sale of Will Marion Cook's former home in 2014 broke records; looks like that could be topped soon.) The house has an updated interior, two-car garage (shown below), a home theater and the  "grand staircase" that James Brown Lord intended.

Weichert

The townhome at 203 West 138th Street, which was listed at just under $2 million less, is currently in contract. Its listing said "bring your architect", real estate-speak for "needs work."
Is there a building or neighborhood you've always wanted to learn more about? Email us at [email protected].
 
Related:
A Striver's Row townhouse for buyers who have arrived
Lamartine Place: A small strip of Chelsea where slaves stopped on their way to freedom
5 secrets of Harlem's Sugar Hill
Brick Underground articles occasionally include the expertise of, or information about, advertising partners when relevant to the story. We will never promote an advertiser's product without making the relationship clear to our readers.