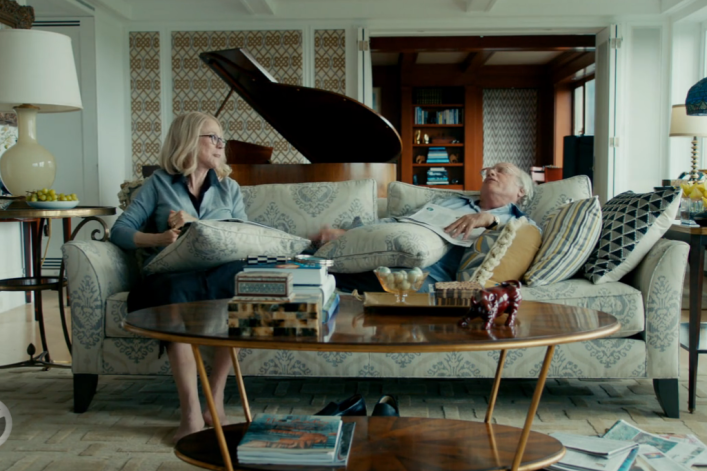 When a movie or TV show is set in New York City—and if the people making it are savvy—real estate becomes part of the story itself. In Reel Estate, we look at some of the more memorable domiciles to grace the screen.
It's more or less impossible (at least, for us) to watch ABC's new Madoff miniseries without taking note of the setting: a palatial Manhattan penthouse and Montauk beach house. And even though the Ponzi schemer's infamous real estate holdings take a back seat in the story here, it's clear the set designers and location scouts gave them some careful thought.
In fact, they even gave TV Bernie a slightly nicer spread than real-life Bernie. On the show (currently streaming on Hulu), Bernie and Ruth are shown at home in their Upper East Side penthouse, which, like the Madoffs' original spread, has a huge wraparound terrace:
However, on the show, there are lots of lingering shots of the apartment's right-next-door-to-Central-Park views, whereas in real life, the penthouse co-op—which was seized by U.S. Marshals, sold for $9 million, then in 2014, flipped for $14.5 million—was located at 133 East 64th Street on Lexington, just far enough from the park that the views wouldn't have been quite so grand.
We do briefly see Ruth sitting in the apartment while FBI agents seize all their furniture, and she asks Bernie if they'll have to "downsize" or "end up out on the street." His answer is "downsize"—their own, still fairly comfortable, version of it, anyway. As of last fall, the Daily Mail reported Ruth living in a $3,000/month condo rental in Greenwich, Connecticut to live closer to her grandchildren.
We also catch brief glimpses of the Madoffs' other major property, a palatial beach house in Montauk:
On the show, Ruth mentions not wanting to leave the house in favor of a bigger option, and instead, hatching plans to add on an extra wing near the patio, citing sentimental attachment. This would make sense: The Madoffs bought the land for their Montauk home back in the 1980s, then built up the home from scratch, according to the Wall Street Journal. (You can check out photos of the actual house here.) After it was also seized and put on the market by U.S. Marshals, the ill-gotten beach house was snapped up for $9.4 million by Vornado in 2009. In spite of both property's scandalous provenance, it seems investors couldn't resist either tainted trophy for long.
Related: 
It's time we talked about that insane apartment on 'Master of None'
Want to really understand the late aughts housing meltdown? See 'The Big Short'
On 'Fear Thy Neighbor,' moving to the suburbs is an actual death sentence
Brick Underground articles occasionally include the expertise of, or information about, advertising partners when relevant to the story. We will never promote an advertiser's product without making the relationship clear to our readers.