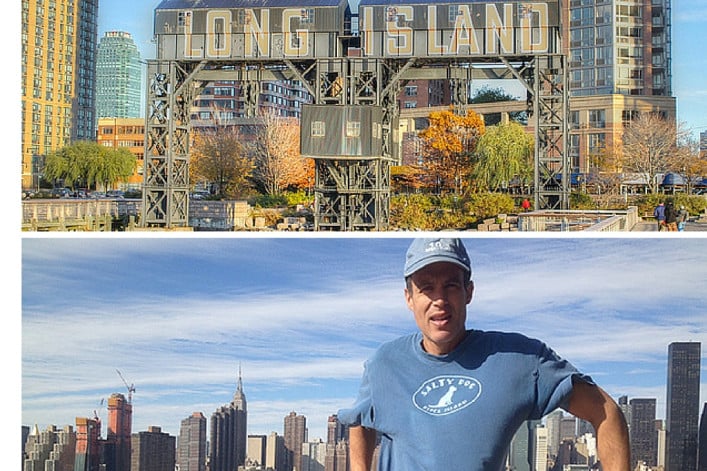 In spite of its recent boom, there are still plenty of New Yorkers who don't know much about Long Island City beyond that iconic Pepsi sign, its waterfront full of glassy towers, and, well, that it's in Queens.
LICtalk blogger Andrew Kleinberg is aiming to change that, and after nearly eight years in the neighborhood, tells us "I actually bought a place about 18 months ago,  which means I'm here for the long run." We caught up with the writer behind the three-year-old blog about the biggest real estate changes at work in the neighborhood, its surprisingly kid-friendly status, and most importantly, where to track down gourmet pizza and cheap drinks in the neighborhood:
What would you tell someone moving in?
LIC is all about convenience, and perfect for parents and young families. Whether they be newborns, toddlers, K-6, or even teenagers, there is no better place to raise your kids in the 21st century than Long Island City. The obvious reason is that we are one stop from midtown and time is money, and more time with one's kids is an added bonus. I've lived in Union Square and the UES, and both were longer commutes to Grand Central than LIC. Even navigating around the rest of Manhattan is extremely easy from LIC, either by subway or car. The 7 train bisects the island and makes quick connections to all the major subway lines, and we do all our north/south driving on this side of the river (which is less crowded), then use the nearest crossing to dip into Manhattan.
People here also walk  everywhere, and so will your kids when you're ready to turn them loose. Unlike Manhattan, or even Brooklyn, both the streets and sidewalks are uncrowded and easily navigable, and anywhere one needs to go, including the subway, is close by. In addition to convenience, the walkability leads to a tremendous amount of interaction between parents and kids. 
On top of that, we have great parks throughout the neighborhood, a good local school that's getting better, and an increasing array of extracurricular activities for kids including the newly formed Long Island City Youth Sports League, and an incredible new library on the way. One thing this does is alleviate the need for play-dates—kids just get together in these public spaces knowing that someone they know will likely be there as well. 
Where are the best deals in the neighborhood in terms of real estate?
Not that I have a spare $3 to $4 million lying around, but if buyers pick up on everything I mentioned above, then townhouses. You can buy an older one with good bones for $1.5 million to $2 million and then spend $1 to 1.5 mil on a gut renovation.
Or if you prefer new construction, you could buy a "vinyl-sider" for $1.2 million to 1.5 million, and  build a brand new home for $2 million to $3 million. All in, I've outlined an outlay of between $2.5 to $4.5 million, for a new or newly refurbished home that would cost between $7 and $15 million in Manhattan, or $5 million to $10 million in north Brooklyn.
All this advice comes with the caveat that deals in the tri-state area are non-existent currently, and I think NYC real estate is going to be soft for the next three to five years; I'm throwing around OPM (other people's money) here. Nevertheless, if one is currently contemplating spending $5 million to $10 million dollars on a home, but is also worried about top-ticking the market and the angst derived from stretching, I think this is a much better way to go.
What about in terms of dining/entertainment?
Anyone who has children and is not fortunate enough to have a personal chef ends up eating a lot of pizza by default. Children or not, the sidewalk cafe at Bella Via is one of the best vantage points to absorb the feel of LIC. It's right in the center of town and overlooks the main thoroughfare, Vernon Boulevard, and on a beautiful night all of LIC walks by. It also makes my favorite pizza served on-premises (fresh out of the oven). When I want a twist to the pizza staple, or need to be indoors due to weather, I take my kids to L'inizio. They usually have seven to ten unusual pizzas-by-the-slice available, as well as good heros. It's a bright, high-ceilinged, convivial place with fun music and happy hour until 7pm with many beers on tap.
There's also 51st Bakery & Cafe, the kind of local, off-the-beaten-path place that tourists should be going to. Plus, LIC is the only place on the planet to have an offshoot of the legendary Corner Bistro. LIC abounds in good restaurant/bar deals, especially on alcohol, so I'll share two of my favorite bars where you can BYOF—Bring Your Own Food. LIC Bar is a great old space with a fantastic courtyard for when the weather is nice. They frequently have live music, but they don't have a kitchen, so it's not unusual to see people ordering in. Per its name, Rockaway Brewery does one thing, beer, but in many varieties.
Finally, I've saved the best dining experience in LIC for last. Picnicking! Whether you make food at home or pick it up on the way, there is no better place to be in Long Island City on a beautiful summer night than dining al fresco along the waterfront. There are picnic tables everywhere, and several places nearby (47th Road has both Food Cellar and a very good Indian food cart) to pick up food and beer/wine. 
What's the most coveted location within the neighborhood to live?
Center Boulevard—it sits on a gorgeous new park with unobstructed, drop-dead, in-your-face views of Manhattan. In a manner similar to the Upper East Side/Upper West Side, the nearer to the park/waterfront you get the more desirable the real estate is, with the initial cut being Vernon Boulevard, whose western side I would equate to being south of the highway in the Hamptons. Needless to say, there are some pretty spectacular places north of the highway too, and by the same token, being east of Vernon still affords the same conveniences as the rest of LIC.
Is there a dream building in the neighborhood?
Somewhat. The View is the only condo building on Center Boulevard, and was built to be relatively high end, but other than its location and finishes there's nothing architecturally outstanding about it. It's nice, but the only thing really dreamy about it is ... the view. Which is something that's attainable in all of the adjacent rental buildings, frequently to a more dramatic degree. Nevertheless, based on price per square foot, it sells at a significant premium compared to everything else in LIC. 
Any buildings that feel out of place with the feel of the neighborhood?
Not really, but we haven't gotten the creative and differentiated architecture that's popped up in Williamsburg the last few years and is being built along the waterfront in Greenpoint. Despite the lack of coordinated planning, I find the variation of new facades in north Williamsburg quite attractive. To date, that has yet to occur in LIC, due to the focus on creating a more moderately priced mainstream product, and certain areas being zoned for large towers. Though this will continue to be the modus operandi for most of what is getting built currently, we are seeing a few developers recognize the demand for premium apartments and unique architecture in LIC. Interesting projects of this ilk are all inland and include The Factory House, 22-22 Jackson Avenue, and Sam Charney's project on 47th Avenue, which was the real game-changer. 
Any real estate-related controversy brewing or currently happening in the neighborhood?
Yes, it's a stealth issue occurring city-wide, but writ larger in LIC. Namely, the recent emphasis on building affordable housing in NYC means that the existing community will experience a degradation in their quality of life and will forgo infrastructure improvements. When the city goes to negotiate zoning variances with developers these days, they exclusively focus on gaining additional affordable housing units, whereas in the past they received concessions such as new schools or community centers.
This is exactly what happened at 5Pointz, where the Wolkoffs were given permission to build 41 and 47 story towers, 50 percent higher than existing zoning allowed, in return for 75 additional affordable units and a few baubles, in lieu of a much-needed school. Plus, this increase in density strains our already stretched infrastructure, most tangibly visible in the increasingly packed subway cars of the 7 train. In the city's desperation to put up numbers on the affordable housing scorecard, the rest of LIC is getting short-changed.
How has the neighborhood changed in the past five years? Any projections on how it will change in the next five?
The last five years of building have gone exactly as was scripted in the master plan, no real surprises there. Similarly, the next five years are also very visible on the horizon, as the tall towers in the Court Square and Queensboro Plaza areas require long lead times. The only question that remains is will the demand be strong enough to fill them?
What do you think your "sister" neighborhood might be?
From a similarity standpoint, Battery Park City, Jersey City, and Hoboken would be most analogous, though there are important subtleties that distinguish the flavor of each.  From a longing perspective, I'd go with Astoria, because in so many ways sisters who grow up side by side, can still be opposites.  As noted above, LIC's growth was highly scripted and predictable, and to a large extent so was the resulting infill and retail support system.  Also, the displacement of the old guard wasn't as significant in absolute terms, because there wasn't a large residential component to begin with.  
On the other hand, Astoria has been inching along for many decades and through numerous waves of immigrants, and thus has built this incredible stew of architecture, people, and retail establishments.  It ain't pretty in the conventional sense—
I've used the term jolie-laide to describe it
—but it's got a laid-back, nonchalant energy missing in hipster havens like Williamsburg and Bushwick.  While New York as a whole has "the ways and means, but just won't let you be," Astoria lets you be!  Fortunately we in LIC are just a quick drive from this throwback.
What is one of the biggest misconceptions about the neighborhood?
Firstly, that here are still many people unfamiliar with how easy it is to get to LIC from Manhattan. When we have people over for dinner from "the city," and give them a start time of 7 pm, instead of their being casually late by half an hour, we get a knock on the door at 6:45.
And secondly, that Long Island City is just a way station for families en route to the suburbs. Many who move here quickly come to discover that for all the reasons listed at the top, it's a vastly superior environment for raising kids.
Many New York institutions are shuttering. What recent Long Island City closures shocked you?
I have greatly lamented the closing of many classic NYC bars, particularly in Manhattan. In fact I recently wrote of the re-location of the Subway Inn back in October, as it used to be the first thing one would see upon emerging from the subway in Manhattan coming from Queensboro Plaza.
Fortunately, there have yet to be too many closings in LIC that one couldn't see from a mile away. Many shops languish from overly cheap rents or owning the building outright. Communitea would be the only place I personally regret closing due to a lease rollover, and they popped up again nearby.
What new places in the neighborhood should we check out?
Unlike the rest of Queens, most restaurants that open here try to cut a wide swath and appeal to everyone. M Wells is an obvious exception, but it's already been well lauded. Two local places that are off-the-radar and worthy of an actual trip to Long Island City are Jora, a great low-key Peruvian restaurant, and Astoria Seafood, which is actually on the outskirts of LIC. The latter is so fantastic for anyone wanting a "real" experience, that I'm convinced one must go there soon before they end up expanding and losing the character of the current location. Think Montauk.
Related: 
The 24 best NYC neighborhood blogs: 2015 edition
Living in Long Island City, the Manhattan suburb with a 3-minute commute
Bushwick Daily: Locals love free beer and cheap tacos, but don't call them "settlers"
Come to the Rockaways for affordable apartments and hyper-local eateries, but beware of free-floating sand
Brick Underground articles occasionally include the expertise of, or information about, advertising partners when relevant to the story. We will never promote an advertiser's product without making the relationship clear to our readers.