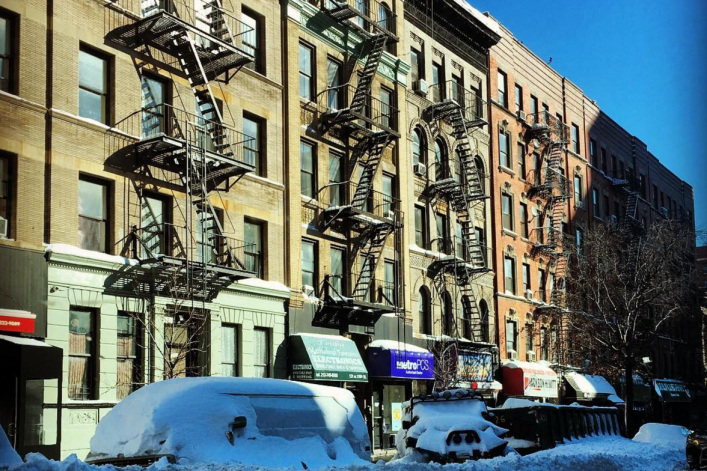 Blizzards are treacherous not only for the freezing temperatures and howling winds they bring, but also for the cleanup they necessitate. Winter storm Jonas, for instance, has led to at least 37 deaths, a significant percentage of which were due to cardiac arrests brought on by shoveling (victims included two people in Queens and one on Staten Island). Atlas Obscura reports that shoveling snow can be such a dangerous form of exercise because of the stress it puts on the heart, coupled with cold weather causing a constriction of blood vessels—and the risk of heart attack increases with age. 
Homeowners may wonder what their alternatives are, though—especially when many NYC neighborhoods seem to have been neglected by snowplows. In East Elmhurst, for instance, locals attempted to dig out their own unplowed street so that school buses could make pickups. And while the city requires property owners to clear sidewalks within a matter of hours after snow stops falling, most New Yorkers will likely have encountered slushy, slippery paths before the end of their commutes. 
In steps Snowcrew, a service where residents can post requests for help with snow shoveling, and good Samaritans can see where they're needed in their communities. Snowcrew is a platform of SeeClickFix, which facilitates neighborhood problem solving—such as repairing potholes or broken traffic lights—by connecting the locals who report the issues to the public officials who troubleshoot them.  
Ben Berkowitz, CEO of SeeClickFix, co-founded the organization in New Haven in 2008, after reporting graffiti he saw on a neighbor's building. He found that his City Hall had no system in place for digesting such information, and realized that his neighbors were reporting similar issues and getting similar results. "We weren't communicating with each other, or with the city," he says.
Snowcrew was built onto SeeClickFix's platform after Bostonian Joseph Porcelli began using it to identify shoveling requests around his snowy city. Snowcrew was a natural fit for the company, Berkowitz says, because "there was a confluence of needs we were uniquely positioned to solve."
He notes that in urban areas, streets tend to be a city problem, and sidewalks are the responsibility of property owners. But as public spaces, clear, traversable sidewalks are valuable to the economic and physical health of a wider population. "They're how a large portion of people travel the city," Berkowitz says, so citizens have a vested interest in helping homeowners who are struggling in the wake of a storm.
In New York, the city government is not formally partnered with SeeClickFix—but that doesn't mean New Yorkers can't use the platform, Berkowitz says. The city does employ temporary workers to assist with snow removal, which may mitigate some of the need for volunteers. Berkowitz wonders whether New York's high density, too, means that people are more likely to simply bump into someone in need of help and volunteer to assist them on the spot, rather than use an Internet service to facilitate this.
"New York is ranked very high in terms of cities where the citizens are helpful to each other," he says, "so it may be happening in analog."  
But locals who feel their neighborhoods were overlooked by city services, or live near treacherous sidewalks that weren't cleared, can take a look at this widget to report issues or identify spots to volunteer.
 
It all comes down to being a good neighbor, which Berkowitz has found is a natural impulse. "When you go to solve the problem, it seems obvious," he says. "We as humans want to help people, especially those in need who can't help themselves."
Related:
Now that the blizzard's over, beware falling ice (and other snow safety hazards) 
The New York apartment dweller's ultimate blizzard survival guide
Brick Underground articles occasionally include the expertise of, or information about, advertising partners when relevant to the story. We will never promote an advertiser's product without making the relationship clear to our readers.