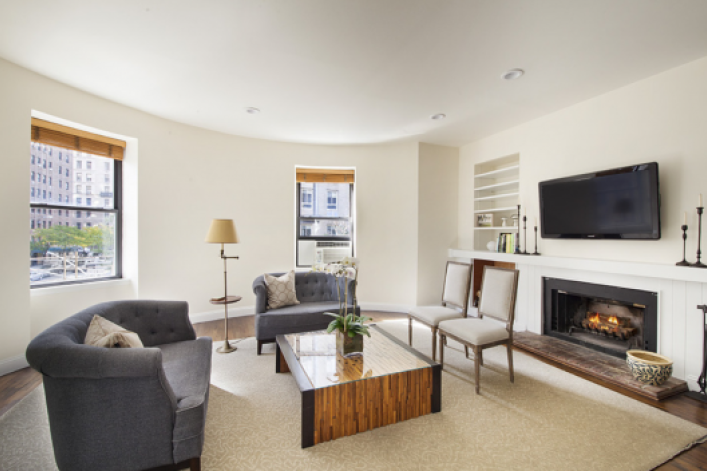 File this one under problems we all wish we had: how parents can finagle a co-op or condo purchase for their children. In this week's 'Ask an Agent' column, the folks at The Agency--a tech-savvy brokerage that gives buyers and renters access to the same database of listings used by the city's real estate agents, and pays their agents bonuses for client satisfaction--advise on different strategies for financing a parental purchase, and making sure your paperwork passes muster with the co-op or condo board. 
Not seeing enough apartments for sale in your price range and target neighborhood, or in buildings that welcome co-purchasers?  Expand your search to include "off-market" listings.  The Agency's off-market listings team uses technology to mine public records and identify owners who may be ready to sell. You'll meet and deal with them before their apartments hit the market. (Click here to learn more.)
Q: My parents want to buy me an apartment. Besides being extremely grateful, I am wondering how do the paperwork and finances work for this.  Also, will any buildings have a problem with it?
"First of all, thank your parents, that is very generous of them! Secondly, while this is actually becoming more and more common in the NYC market, that doesn't mean that every building will allow it. If your price range allows you to look at condos instead of co-ops, I would definitely recommend starting your search there.  Condos will allow your parents to purchase the apartment for you, and if you decide to move out in the future, they will have more flexibility to rent it out to other tenants.  Co-op boards, on the other hand, often don't like to see parents purchasing for their children.  Though this isn't always the case, it's very common for a co-op board to jump to the conclusion that the person the apartment is being purchased for is irresponsible, won't pay common charges on time, and will throw parties at all hours of the night.  That said, some co-ops are much more flexible than others and are comfortable with parents gifting apartments.  Look for listings that say parents purchasing for children or "gifting" is allowed. You should check to see one of these terms on any listings that interest you, but if they don't say this (and specifically don't indicate that it is not allowed), it is still worth a call to the listing agent. If your parents plan to make an all cash purchase, another option is to prepare well in advance before seeing the apartment by having your parents deposit the money into an account that is in your name.  Since boards don't look at more than a few months of bank statements, as long as the money was deposited into the account before the dates they're looking at, you should be fine.  This doesn't mean that they won't be looking at the rest of your financial stability, so this is really only an option if you have stellar credit and a stable income to show." - Emily Seils, Client Experience Manager
"Parents often step in to help their children buy homes in the New York market. It's a great investment and keeps them from wasting money on rent. Needless to say, this definitely puts the kids in a fortunate position. That said, there are several things to keep in mind when going through this purchase method. There are three potential scenarios here. The first is parents buying for children. In this scenario the parents buy the home in their own name with the intention of just letting the kids live there. This scenario will be fine with all condos, and will be based off the paperwork of the parents. The only thing that may happen here is that the kids may have to fill out an occupancy agreement to be approved by the condo board, but it is minimal and typically simple. This scenario will, however, be against the rules of most co-ops, so make sure you communicate with your broker clearly so they can check to ensure you can purchase in a particular coop. Again, keep in mind that the answer with many coops will be "no" here.  The second (and probably most common) scenario is parents co-purchasing with children. In this case, both the parents and children will be listed on the title or stock (depending on whether the apartment is a condo or co-op). Again, this will work with all condos. This will also be fine with many co-ops. However, everyone will need to provide a full board package of applicable paperwork; both the parents and children. While the purchase can be based largely off the financials of the parents, they will still usually like to see some income from the children as well. This can make approval for students particularly challenging. The third option is for parents to gift the money to their children. In this scenario, the parents will give the required money to their kids for the purchase. This has a lot of tax implications and therefore is not the most common route chosen. The main reason for this is often because the parents may not want to show all of their finances to complete the purchase. That said, this does mean that the child would still have to meet any income requirements on their own since the parents are removing themselves from the equation outside of gifting the money."- Tyler Whitman, Head of Sales
Give The Agency a try if you're looking for an apartment in NYC!
---
The Agency is a technology-enabled real estate brokerage that is the refreshingly simple way for New Yorkers to buy, sell and rent apartments.
Brick Underground articles occasionally include the expertise of, or information about, advertising partners when relevant to the story. We will never promote an advertiser's product without making the relationship clear to our readers.