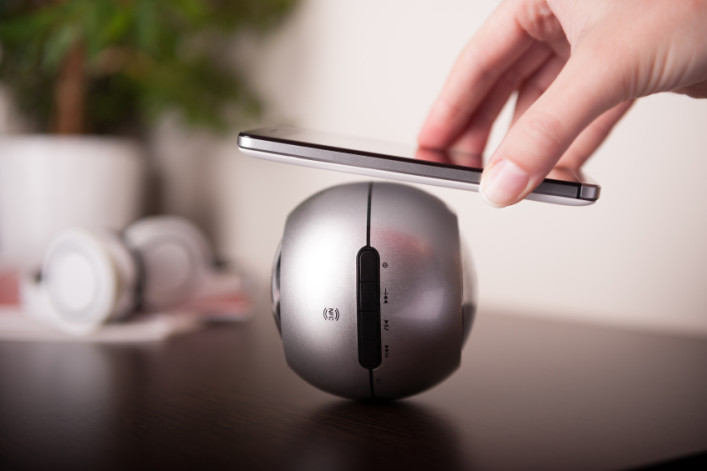 Just because you may not have the biggest apartment doesn't mean you don't want big sound when you're home. (No joke: We want Sarah Koenig's voice to be crisp and clear when she comes back with the next season of the podcast Serial.) But what to get? 
Long gone are the days when a status symbol home sound system meant lugging a pair of speakers the size of a Smart Car up the stairs, and proudly making them the center piece of your whole living room layout. (Who has that much space to waste in their apartment, anyway?) These days it's all about sleek wireless speakers that pack loads of decibel power into a compact package, and let you control the playlist from your laptop or smartphone.
And to say there are a lot of options would be, well, an understatement. There are a mind-boggling number of brands competing for your attention in the world of wireless speakers, and on top of that, a lot of different factors to take into account. One key point: you'll need to decide whether you're interested in connecting to the devices via wireless, Bluetooth, Apple's AirPlay service, DLNA, or a combination of the different options. (Consumer Reports has a nice rundown of the differences here, and PC Mag has one here, but for our purposes, we're focusing on wireless and Bluetooth, as those tend to be the most popular options.)
Another factor to keep in mind: Most Bluetooth-connected speakers won't let you get farther than about 50 feet before things get spotty, and if you've got particularly thick, prewar walls, your best bet may be to opt for a wireless system that'll work throughout the apartment. 
We've culled the many, many reviews out there—and drawn from our own hands-on experience—to find reasonably sized and portable options at a variety of price points, whether you're looking for speakers you can plug in and leave in one place, or a more portable option for beach and parks trips (or moving the party from room to room):
BEST AT-HOME SPEAKERS 
At $599.95, the JBL Authentics L8 wireless speaker system won't come cheap, but given its positive reviews and the company's proven track record, the quality here is high, and reliable. (At press time, this model is also available on sale at Amazon for $427.96.)
The JBL features a wide range of frequency response (45Hz to 35 kHz), making it a good fit for serious audiophiles, as it can handle noises at the highest and lowest ends of the spectrum. (In other words, high notes won't get tinny, and you'll be able to feel the full thump of the bass line.) It's also versatile when it comes to connectivity, allowing for AirPlay, DNLA and Bluetooth, Near Field Communication (a system that lets you connect by simply tapping your device to the speaker). On top of that, it's got its own app to allow for easy control of the speakers through Apple or Android devices.
The Bose Soundlink Mini BlueTooth Speaker II ($199.99) is one of the most consistently well-reviewed options out there, and it's also one of the most popular, as Best Buy's top selling wireless speaker. This one's highly compact at just 1.5 pounds and 7 inches wide, which makes it easy to find a perma-spot for it in a tiny space, and packs a relatively large amount of sound into such a small package (though you won't get the kind of upper and lower you'd find with a model like the JBL). It allows connection via wireless as well as Bluetooth, and can connect to up to two devices at a time. 
Whether you just need a speaker for your bedroom or are looking to set up an apartment-wide sound system, the Sonos Play: 1 ($199.00) is reliable, easy to fit on any shelf, and has a huge leg up on most of its competition: It's set up as a multi-room wireless system, meaning if that if you buy a few of these, you can set up your music of choice to play throughout the apartment (or have your soothing yoga music streaming in your room, while your roommate blasts their weight lifting playlist in theirs).
One big thing to note: Sonos doesn't use bluetooth, and instead requires you to connect through wireless (though the process is blissfully simple to set up, and if you don't want guests taking over your sound system uninvited, this could actually be a plus). Either way if you're in the market for a multi-room system, you'd be hard pressed to find a better option. (Further proof: its Amazon's #1 best selling multi-room speaker.)
Admittedly, we're swayed in part by the vintage design here. (Hey, sometimes you need a break from austere, metal modernity.) But the Marshall Stanmore Bluetooth Stereo Speaker (currently $298.71, marked down from $400 on Amazon) also has the bona fides to back it up, coming out at the top of the heap in the WireCutter's recent, exhaustive comparison.
The sound can crank up loud enough to upset (or drown out) your neighbors, and won't lose its clarity when you take it up into its higher ranges. One big detail to keep in mind, however: Its connectivity is Bluetooth only, so you need to be able to pair with a bluetooth-enabled smartphone, tablet, or computer for this one to make sense. 
THE BEST PORTABLE BLUETOOTH SPEAKERS
Once you wade into the world of searching for speakers online, Logitech UE (short for Ultimate Ear) is one of the names you'll start to see crop up over and over again.  And in the realm of portable options, the UE Boom Wireless Bluetooth Speaker ($199.99) is one of the most solid options out there, packing a 15-hour battery life and enough sound to reasonably DJ a house party into a package that's about the size of the ubiquitous (but lower sound quality) Beats Pill.
A Brick editor recently gave this one a test drive at a friend's house, and found it easy to connect to via Bluetooth (potentially dangerous if you've got friends who make a habit of commandeering the playlist), though a little finicky unless you're connected to the apartment's wi-fi.
The UE Boom also comes in lots of different colors (great for color-coordinating to your room scheme), and if you download the app, allows you to sync up multiple speakers, if you want to use these to get a sound system going throughout the whole apartment. (For a little less money, you can also pick up a smaller Mini Boom—$103—which scored rave reviews on the WireCutter.)
The more portable, colorful sibling to the Bose Soundlink Mini mentioned above, there's the Bose SoundLink Color Speaker ($129.00) which, as PC Mag puts it, "offers performance that's nearly as good as the SoundLink Mini, for nearly half the price." It weighs just over a pound and has an eight-hour battery life, too, making it an easy option to toss in your bag for a trip to Central Park or the Rockaways.
The best bargain of the bunch, the Amazonbasics Portable Bluetooth speaker ($49.99, marked down from $59.99) is accordingly no frills, but does exactly what it's supposed to: delivers a lot of sound from a relatively small package (it measures 7.26" by 2.78"), with a long-lasting battery life (15 hours if you're not playing the music at full blast). For a smaller, cheaper, and inevitably, somewhat quieter model, there's also a "mini" version, currently priced at $29.99.
Related: 
Smart buy: the best vacuum cleaners for NYC apartments
Thinking of ditching cable? Meet the alternatives
Smart buy: the best strollers for NYC apartment living
Is home security system Canary worth a try?
Are 'remote doorman systems' and actual doormen virtually the same thing?
Brick Underground articles occasionally include the expertise of, or information about, advertising partners when relevant to the story. We will never promote an advertiser's product without making the relationship clear to our readers.