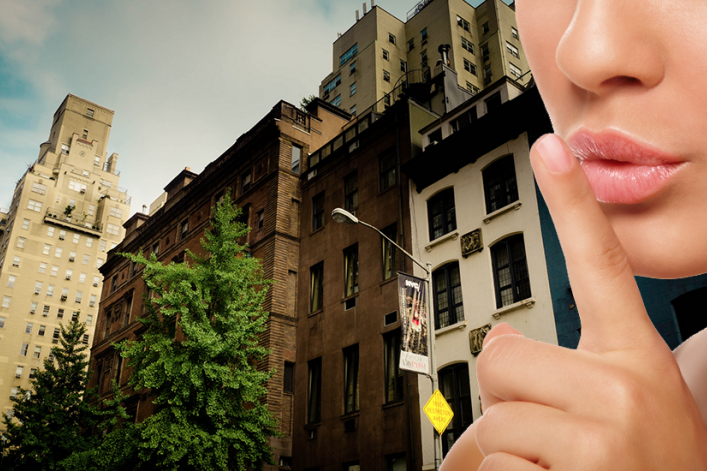 Ever wonder why you can't find an apartment to buy—besides the nigh impossible task of coming up with the down payment and the impossibly tight inventory? It could be that everything you'd be interested in was shopped around and sold before even officially being on sale. Off-market listings (also known as "whisper" or "pocket listings") are apparently exploding not just in the New York City market—where they've been popular for some time—but across the entire country, as the Wall Street Journal reports.
"Such properties aren't advertised to the public but pitched mostly by word-of-mouth among tight-knit networks of agents and their clients," as the Journal puts it. For sellers, the benefits lie largely in the convenience and privacy—if you don't officially list your apartment, you don't have to have strangers seeing pictures of your home, or tromping through it during open houses. (The flip side of this is that, as we've written before, an off-market listing all but guarantees a lower price than you might get on the open market as it stands in 2015.) And for buyers, it means less likelihood of a bruising bidding war—if you can actually find a place to bid on at all, that is.
"I would say there are almost as many off-market deals as regular deals right now," Citi Habitats agent Mike Schulte tells us. "A lot of what's seemingly driving it is that prices are at record highs, so a lot of owners who wouldn't necessarily be ready to sell otherwise are quietly kind of testing the market with pocket listings, and telling a broker, 'If you get me this number then I'll sell'."
"People have in mind that for a certain amount, they're willing to sell, and the privacy aspect is huge," concurs Steven Szczur, co-founder of off-market listings site HomeCanvasr. "Real estate in general, there's not just one way of doing things anymore. Plus, you can always start privately and go public if you want to -- it's harder to put a listing on the market then take it off."
If you're interested in sniffing out off-market options in your target neighborhood and price range, we've got a guide here on how to find them. Hint: Head for the outer boroughs.
Related:
Buy and sell like a NYC insider: your guide to elusive 'whisper' listings (Part 1)
Buy and sell like a NYC insider: your guide to elusive 'whisper' listings (Part 2)
Buy and sell like a NYC insider: your guide to elusive 'whisper' listings (part 3)
Broker trying to talk you into selling? How to make sure you get the best deal
Buying a Brooklyn brownstone? New website unearths "secret" listings
Getting past the down payment problem—probably your biggest hurdle to buying an apartment
Brick Underground articles occasionally include the expertise of, or information about, advertising partners when relevant to the story. We will never promote an advertiser's product without making the relationship clear to our readers.