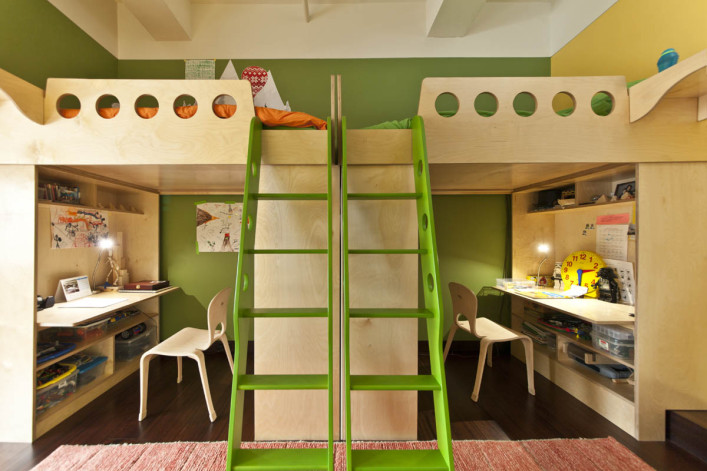 New York City siblings are used to co-habitating, but carving out areas for schoolwork creates a different type of challenge than simply dividing a space for play. Here, courtesy of professional organizer Lisa Zaslow, founder of Gotham Organizers, some tips for turning a shared bedroom into a homework-appropriate study hall.
Most shared children's bedrooms are crowded spaces filled to the brim with furniture, toys and books. With so much to distract, it's no wonder kids can't get any serious homework accomplished therein.
The first step to creating a proper work space: neaten the room by getting rid of the old, broken or overly-juvenile stuff and creating a less distracting space. Next, create individual work zones  for each child: A loft bed with space below for a desk is an easy way to maximize workspace in a small bedroom while clearly delineating each child's "territory".
If a loft bed isn't practical, you can create zones by adding a room divider with a separate desk on each side. Screens and curtains will both work to divide a space, but Zaslow especially likes freestanding bookshelves. "They perform double duty as storage and room dividers," she says.
If physically dividing a room in half isn't practical, Zaslow recommends desks, position apart to encourage focus. "While it's easiest to put desks side by side, this can make it hard for kids to concentrate," she says. "Instead, put work spaces on opposite sides of the room or back-to-back to encourage siblings to focus on work—not each other."
Choose the right desk for your space: A hanging wall desk can create a useable workspace with zero footprint in very tint rooms. If wall space is unavailable, consider floating in the desk away from the wall (FYI, there's no rule that states all desks must be positioned against a wall). Try placing it by a window to maximize light or angled with a corner to create a cozy and quiet work nook.
Don't skimp of on accessories: Make sure each kid has plenty of storage (so the work surface can be kept clutter-free), good lighting (so he can see his work) and a comfortable chair (the more comfy the longer she may be able to sit).
If all else fails—say, the room is really tiny and can't accommodate some of these measures or one or both kids needs total peace and quiet in order to be productive—consider staggering homework times so each child has some alone time of their own in their "study" room.
Related:
Expert room-sharing tips for New York City kids
One family's ingenious solution to the sibling room-sharing dilemma
Raising kids in an apartment building: 7 classic dilemmas solved
Brick Underground articles occasionally include the expertise of, or information about, advertising partners when relevant to the story. We will never promote an advertiser's product without making the relationship clear to our readers.