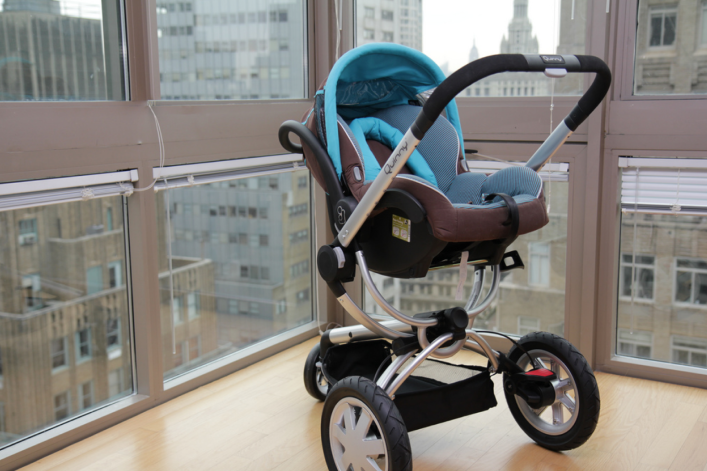 Your suburban counterparts may use their strollers intermittently, but here in the city, strollers are as essential as subways. The perfect urban stroller must be a svelte workhorse—able to fold neatly into your tiny hall closet or vestibule and light enough to haul up subway or apartment stairs—and be durable enough to survive the curbs, potholes, package-schlepping and weather extremes of daily use.
Tall order? We consulted with Manhattan moms, and sales reps at stores that specialize in baby goods, for their recommendations. (Editor's note: When readers choose to buy our independently chosen editorial picks, Brick Underground may earn affiliate commissions that support our website.)
BEST BUDGET STROLLER
It's not the cheapest model around, but the MacLaren Triumph
($160) is one of the most popular collapsible strollers for a reason: It's ultra-light—just under 12 pounds—and has a carry strap (which makes boarding a bus or a subway while carrying a little one totally doable). Plus it'll last until your child is 55 pounds, so well into school-age. (You can definitely buy a good-enough stroller for under $50, but they won't likely make it through more than a year—or at least a kid, whichever comes first—navigating these city streets.)
BEST MID-RANGE STROLLERS
Tania, a saleswoman at baby-gear retailer Albee, told us that this UPPAbaby G-Luxe stroller
 ($259.99) is one of the most popular strollers for kids over 20 pounds and three months. It's only 15 pounds—just about the size of a bowling ball, or a typical bag of groceries—and easy to fold. Watch how it works on StrollerMama, a popular baby product review site, which says the UPPAbaby G-luxe is the lightest reclining stroller on the market. And it has a UV sunshade, which is no joke considering how much strolling NYC parents actually do. (If you live in Park Slope or the Upper West Side, you've probably seen it everywhere already.) Bonus: We know from strong word-of-mouth that UPPAbaby has great customer service and will answer all sorts of questions.
Our love for the ultra-light and compact Mountain Buggy Nano
 ($249) can be summed up in this explanation one NYC mom gave us: "It's really small and if you put hooks on the wall or in a closet, it can even hang and [stay] off the floor." In the world of NYC parenting and apartment living, that's called a slam dunk. It's also got a carrying bag and strap, and you don't need a carseat adapter for the infant stage as it's already infant-ready. Not needing to have more than one stroller is another thing space-starved NYC parents can get behind.
Full disclosure: This reporter has had the Baby Jogger City Mini
 for five years and has used it for two kids. I can recommend it personally. It handles well—I can push it with one hand while sipping a coffee with the other—and collapses readily. It's a little heavy to carry up subway stairs once it's collapsed, but if you're only looking to buy one stroller for your kid(s) this is a contender. It also has a roomy undercarriage storage, which any NYC parent can tell you is key to multi-tasking in the city. (You can stop-and-shop along your stroller route.)
You can also attach a boogie board to the back for older kids to ride, but be forewarned that it's rather awkward for the stroller-pusher (i.e. you). Note, the double City Mini
is really popular in the city, but its side-by-side nature means it doesn't always maneuver easily in smaller NYC store aisles.
One NYC mom told us she most appreciates the Jane Nanuq umbrella stroller
's ($249.99) kickstand feature (so it can't roll away). The stroller, which is less than 14 pounds, comes with a cup holder, which is a good thing, because parenting little ones requires a lot of caffeine (says this reporter/mom who's been up since 5:30 am, ahem).
BEST HIGH-END STROLLERS
The Babyzen Yoyo
 ($468.98) is among the most popular foldable strollers for NYC moms. It's tailor-made for small spaces—it's collapsible to the size of a carry-on, which also makes it the choice for frequent travelers, given that it's also the only airline-certified carry-on size stroller on the market at the moment.  
This isn't collapsible, but this multi-purpose stroller was most recommended high-end model. The Bugaboo Donkey is available in both a single and double—double shown above—and can be used from the newborn stage to the older toddler stage. Best yet, it's easy to maneuver down city streets—the all-terrain wheels can handle both sand or snow, so cobblestones and uneven pavements are cake. But it doesn't come cheap, so consider this an investment that'll last you through numerous babies: The single runs $1,398 apiece; the double, $1,854.
Related:
Strollers 101: How to survive vertical living with a baby buggy in tow
Can babies and walk-ups ever really get along?
Moving with kids? Three need-to-know tips for finding a family-friendly apartment
How to find a family-friendly building in the Financial District and beyond
To raise a family in NYC, you need a master's degree in real estate
The buyer's and renter's guide to the NYC elementary school game
Brick Underground articles occasionally include the expertise of, or information about, advertising partners when relevant to the story. We will never promote an advertiser's product without making the relationship clear to our readers.