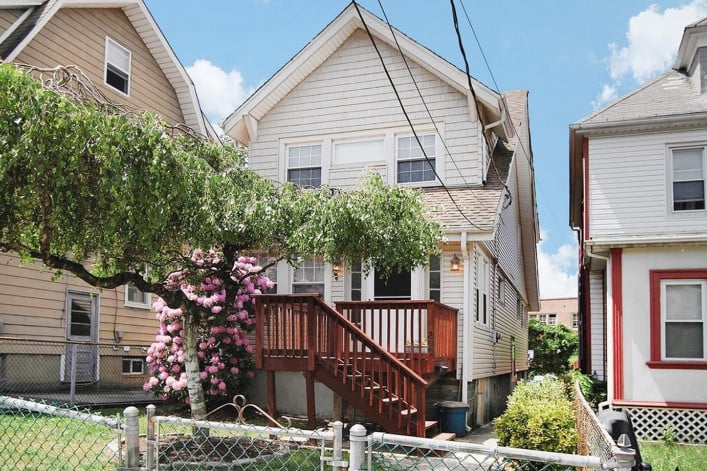 Staten Island's newest shopping destination, Harbor Commons, isn't scheduled to open until next year, but some buyers are already wondering if now's a good time to move into the neighborhood. In this week's Buy Curious, BOND's Jeanine Le Ny gives us the scoop on big changes in the works for this oft-forgotten borough.
THE WISH LIST:
I keep hearing a lot about this 100-store mall (Harbor Commons). I'm thinking now might be a good time to buy a house in that area. Can you tell me a little bit about it, and what I can find there?
THE REALITY:
Harbor Commons, a 340,000-square-foot retail complex that will feature 100 stores and a 190-room hotel, is currently being constructed in St. George, a neighborhood on the northeastern edge of Staten Island, and is tentatively set to open in late 2016. Stores that have already leased space include Gap Outlet, Banana Republic Factory Store, Walgreens, Starbucks, Krispy Kreme, H&M and Applebee's.
The mall will be located along the waterfront, right outside the ferry terminal, and will be close to the Richmond County Bank Ballpark (home to the minor league BOND's Jeanine Le Ny) and the site for the New York Wheel (a 60-story observation wheel, a la London Eye, opening in 2017). Both the mall and the Wheel are part of a larger downtown Staten Island revitalization initiative that also includes Lighthouse Point, a development that will include 65,000 square feet of retail, restaurant and office space, as well as 120 residential units and another hotel.
Since construction on all of these projects is along the waterfront, most St. George residents have thus far been spared having to deal with noise or dirt. "Traffic is a bit heavier along Richmond Terrace—the main thoroughfare along the waterfront—but is still tolerable," says Le Ny. "However, both Harbor Commons and the New York Wheel are former ferry and ballpark parking lots, so parking is a challenge."
The neighborhood has a wide variety of housing, including "Victorian mansions with stained glass windows, Arts & Craft style homes, as well as Colonials," says Le Ny. There are also newer single-family semi-attached houses, multi-family row houses and mid-rise co-op and condo buildings. According to the Staten Island Board of Realtor's MLS, there are currently about 20 listings for sale in St. George, ranging from a $149,000 one-bedroom co-op to a four-family multi-use building asking $1,525,000, says Le Ny. 
According to StreetEasy.com, the average price per square foot for the North Shore of Staten Island—which encompasses St. George, West Brighton and Tompkinsville, among other areas—is $214. The average price per square foot for Todt Hill, which Le Ny says "probably has the most expensive homes on Staten Island," is $366. And the average price per square foot in Mariners Harbor, one of least expensive areas on the Island, is $192. 
"St. George is an anomaly," says Le Ny. "The quality of the housing stock is so variable that you might find a $250,000 three-bedroom/two-bathroom around the corner from a beautifully restored Victorian that might sell for $650,000... How do you compare that?"
The area is "densely populated by Staten Island standards, but it remains a sleepy, quiet place to live," says Le Ny, though that will probably change once the construction of Harbor Commons, expected  to draw 4.5 million shoppers a year, is complete.
Those shoppers will mainly consist of tourists, she believes, since "many Staten Islanders are not thrilled with [the selection of] stores," most of which can already be found at the Staten Island Mall. "The project was first pitched as having high-end luxury brands to compete with [Central Valley, NY outlet center] Woodbury Commons," but since that isn't the case, she "can't see Staten Islanders traveling from other parts of the island to shop." Therefore, the only "apparent benefits" she sees for Staten Islanders are low-wage retail and service jobs. 
Many locals seem to agree. Indeed, a quick glance at the comments section of this recent SILive.com article about new stores leasing space at the mall include these remarks: "None of the stores mentioned excite me. We have an H&M in the mall," "Just what we need, another Applebee's! We have four already on Staten Island!!" and "What happened to the 'high-end' retailers that were bandied about at the outset of the plan?  There is absolutely nothing high-end about Nordstrom Rack or Walgreens. This is no reason at all for people to come from Manhattan to shop, including the tourists."
But of course, not everyone feels this way. In fact, this other recent SILive.com article quotes New York State Lieutenant Governor Kathy Hochul as saying that the "project provides an enormous breakthrough in the transformation and revitalization of Staten Island. More importantly, it offers an array of attractions and benefits for hardworking families in the borough and beyond." Added Kyle Kimball, president of the New York City Economic Development Corporation, the mall is "not just providing shopping opportunities, but also job opportunities" for locals.
"The Downtown Staten Island 'renaissance' has had its starts and stops over the years and many native Islanders have an 'I'll believe it when I see it' attitude about it all," says Le Ny. However, with these new developments underway and plans for more, there has been "a slight uptick in sales in St. George over the past two years—mostly of new condos"—not houses, she says. "Whether homeowners in St. George are holding out to see what happens with all the new construction is hard to say, but inventory of detached houses in the town is definitely sparse."
Regardless of all the new construction, Le Ny cautions prospective buyers that Staten Island will likely never be "the new Brooklyn," adding that "it's important to keep things in perspective... The ferry is great, but without a direct subway to link to Manhattan and the other boroughs, the North Shore of Staten Island" can't quite grab that coveted (and oft-handed-out) title.
Here's a sampling of places near the mall:
St. George three-bedroom, three-bath house, $439,000: Located at 33 Winter Avenue between Bismark and Westervelt Avenues, this Arts & Crafts-style three-bedroom Colonial features a finished attic and basement, hardwood floors, an open front porch, new energy-efficient three-zone gas heating and a new roof.
St. George six-bedroom, three-bath house, $449,000: This detached home at 45 Crescent Avenue between Westervelt Avenue and Daniel Low Terrace has hardwood floors, new bathrooms and an updated kitchen.
St. George three-bedroom, one-and-a-half-bath house, $330,000: Just a 10-minute walk to the ferry, this 1,200-square-foot home at 8 Montgomery Avenue between Fort Place and Victory Boulevard has an eat-in kitchen, a patio, hardwood floors on the first floor, central air and a brand-new roof. The basement is partially finished and has a washer and dryer. There's also a one-car garage (with room for a second car in the driveway).
St. George three-bedroom, three-bath house, $299,000: Located at 173 Beechwood Avenue between Crescent and Layton Avenues, this townhouse has a large living room, an eat-in kitchen and three nice-sized bedrooms.
Related:
I'm Considering Buying in Staten Island. What Should I Know?
The One That Got Away: A Staten Island Castle Too Small for the Both of Us
Brick Underground articles occasionally include the expertise of, or information about, advertising partners when relevant to the story. We will never promote an advertiser's product without making the relationship clear to our readers.