Neighborhood Intel
"Alien pod" developer explains how bad NYC contractors and angry neighbors have him heading to New Zealand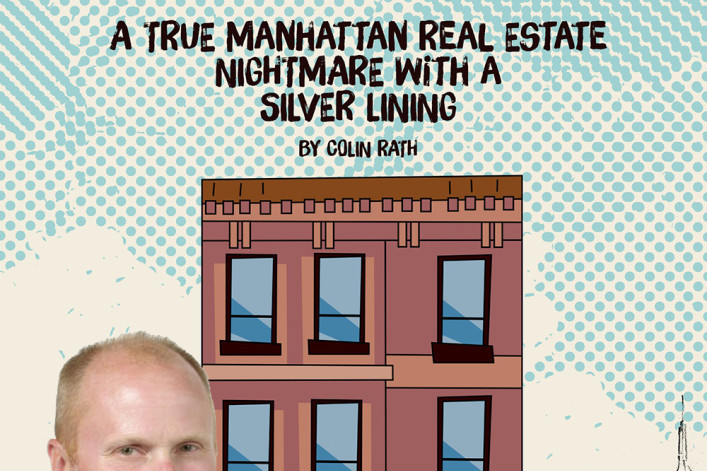 Colin Rath doesn't do understated. Take the condo duplex he built at 121 West 15th  Street in Chelsea with a scale replica of the Yangtze river in the living room and a ceiling constructed of thousands of marbles  (currently on the market),  to the fallout from his buying, developing and going millions into debt and finally foreclosure of the brownstone next door. 
Starting in 2006,
his plan to build  a "green design" condo building at 123 West
15th
Street, complete with a cantilevered penthouse,  geothermal wells (for heating and cooling) and a car lift to a private garage, raised eyebrows and made headlines. (Curbed called it an "alien pod" because of its unique design.) Now in Rath's self published book "
It Is What It Is
," he outlines
his version of what went wrong
— a cocktail he says of  contractor fraud, the housing market collapse  and vocal,  unhappy Manhattan neighbors.  
Can you explain the book title?
Once everything went south, when we were dealing with lawsuits and lawyers, if you said how frustrating the whole process of building in New York is,  90 per cent of lawyers would say, "It is what it is." That surprised me. I knew New York City was a hard place to do business, but you know the saying, if you can make it here you can make it anywhere? I thought people  in the industry would [be more honest] because the consequences are huge.
Besides financial and contractor troubles, your neighbors were vocal in their dislike of your design. Thoughts?
The whole thing with the design of  the  top floor solarium was that it was not visible from the street.
The images [that went public]
were  a marketing point, and then it was  something used against us. In New York we need innovation, this city  changes all the time, it's one of the best things about it.
Do you think your neighbors had any right to have input? 
I think everyone has an opinion in New York and that's fine.  But I don't think they should be able to dictate to the Department of Buildings  how to approve it. A lot of  these people were renters,  they didn't have any money in the game, and complained multiple times. To have the DOB listening to them over a property owner trying to bring added value to the city is ridiculous. 
You write you were not a professional developer. Do you think building here should be left to those who are? 
No. There are still small firms  that do renovations of brownstones or small condo developments that do well. Just before we got foreclosed on, our original  bank wanted us to find another developer to finish, but the bank couldn't approve them. 
You have hardly anything nice to say about New York contractors. 
Well, they are  not all bad, we found some good ones, but for a lot of them you are a  money machine, they don't care. 
Or the Department of Buildings.
We went through all the hierarchy of the DOB, they don't care if they delay you, you are just a number to them. Meanwhile your money is flying out the window. With the amount of building going on the city, why not get more inspectors to expedite things? 
What were the key lessons you learned from the experience?
Learn as much as you can about building in New York City  before you start. Get a performance bond from contractors, and it helps to have deep pockets.
Advice for a first time developer building in Manhattan?
Don't try to be innovative. Most of the stuff we were doing was totally unique —geothermal wells and modular construction on the roof. Find a design that someone already knows [how to build]  and don't try and do too many innovative things at a time, because the world isn't ready.
You and your family are now living on a boat, sailing around the world. Would you ever build again in New York City?
No.  We are planning on sailing around world for the next three-to-five years, then thinking about buying and building in New Zealand. We want something different.
Related:
Brick Underground articles occasionally include the expertise of, or information about, advertising partners when relevant to the story. We will never promote an advertiser's product without making the relationship clear to our readers.