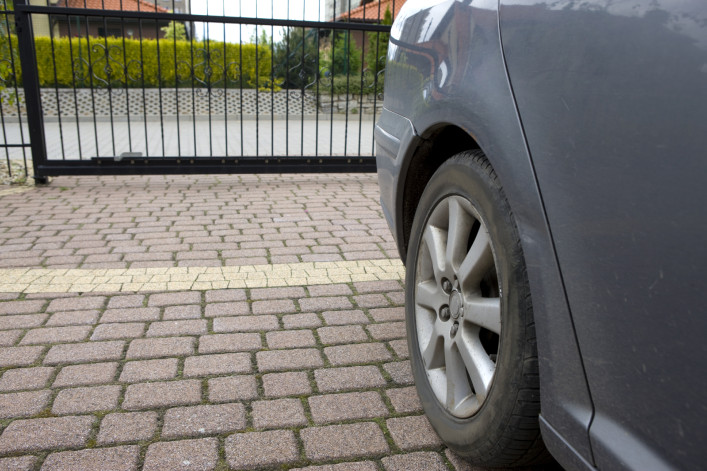 The only thing in NYC that's more mind-boggling than our real estate market  is our parking situation. Try to explain the concept of alternate-side parking to a non-New Yorker, and you'll see what we mean.
That's why we were intrigued to hear about a new app called Spot Pog, via DNA Info. The free app  — which is available everywhere in NYC — allows people to "swap" public parking spaces for credit.
You track open (or soon-to-open) parking spots within the app. Drivers earn  virtual currency, or "pogs," every time they alert another user that they're about to vacate a spot (the company suggests you let people know 15 minutes before you leave your spot). Credits can be used to claim a soon-to-be-free spot later on.
But the app is particularly useful to outer borough residents who own driveways, as it allows them to rent out a parking spot to drivers who may not want to pay garage prices, or simply can't find a garage in the neighborhood.
Spot Pog spokesman Evan Thies says he expects that feature to be most popular in parts of Park Slope, Boerum Hill and Fort Greene where parking options are minimal.  He also says that people with homes near beaches, parks and colleges are likely to make the most money from renting out their extra spaces.
If you're the owner of a driveway (and you have to be the owner to legally rent it out), you can charge anywhere between $1 and $50 (Thies tells us that between $2 and $30 has been the typical rate so far). Owners keep 70 percent of what they make and Spot Pog keeps 30 percent. (We played around with the app a bit, and had a hard time finding options in either Brooklyn or Manhattan, so at least for now, the system seems more useful for users hoping to make a buck renting out their parking spot, rather than for anyone desperately in search of a place to park stat. But we're not sure if that was a momentary hiccup on our test drive.)
All payment is done digitally and via credit or debit card (think Uber-style), so you never have to have cash on hand to get a spot.
In order to find out which neighborhood is likely to see the most Spot Pog activity, we asked our friends at AddressReport to crunch the numbers.
Here's what they found:
In Manhattan, 21 percent of households have at least one vehicle (unsurprisingly, the smallest percentage). In Brooklyn, 43 percent; in Queens, 61 percent (the largest majority) and in the Bronx, 39 percent.
Within Brooklyn, Park Slope and DUMBO have quite a few car owners, 44 percent and 43 percent respectively.
So Queens and Brooklyn brownstone owners: you might have just discovered a new way to make some money this summer. And it could mean less circling around for a spot for the rest of us.
Related:
Help! My neighbors keep stealing my parking spot
Free parking? How to get a space with your apartment (plus, how much it'll cost)
Startup offers monthly valet parking for New Yorkers—anytime
Brick Underground articles occasionally include the expertise of, or information about, advertising partners when relevant to the story. We will never promote an advertiser's product without making the relationship clear to our readers.