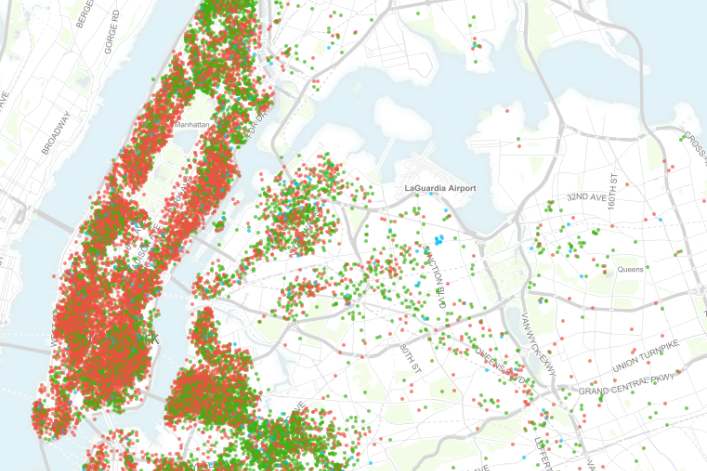 You've probably harbored your suspicions about your neighbors' rampant Airbnb-ing, but now you can see exactly how much the service is being used in your 'hood—and how much cash your neighbors are raking in. Thanks to an upgrade earlier this month, users of interactive data map Inside Airbnb can now see information based on all Airbnb listings within the five boroughs.
The site, run by a Bed-Stuy based photographer, according to Gothamist (who says he's unaffiliated with the company), touts itself as "the data Airbnb doesn't want you to see," and includes numbers on how many listings in your areas are for entire homes and apartments (as opposed to individual rooms for rent) and are run by owners who have multiple listings (a telltale red flag for hosts with highly illegal mini-empires), plus both the cost-per-night and a host's estimated monthly income. "How does the income from running a defacto hotel (an Airbnb room or apartment) compare to a long-term lease for an average New Yorker," the site asks. "And more importantly, what is renting to a tourist rather than a resident doing to our neighborhoods?"
For instance, here's a snapshot of the data for the East Village, which, unsurprisingly, has a particularly high density of lucrative short-term rentals:
The site also tracks Los Angeles, San Francisco, Portland and New Orleans, as well as several major cities abroad. But if you're anything like us, the real utility is to zoom in and click around the individual dots located on your block to figure out which of your neighbors is illegally renting out their place (and how much tourists are being gouged).
On my block, for instance, there's a lone, $200/night listing for a full apartment, by an "artist/musician" with a pic of a host named Guy. After nearly two years, I've never once seem him around the neighborhood, but I've probably seen his guests.
Related: 
New services eliminate the hassles of listing a short-term rental, but not necessarily the risk
What you need to know when looking for a summer sublet
That Airbnb orgy victim? He now says he's "homeless" and on the tenant blacklist
SF landlords sued by city pay $276,000 for short-term renting: are NYC landlords next?
There are probably going to be a lot more Airbnb sting operations
Brick Underground articles occasionally include the expertise of, or information about, advertising partners when relevant to the story. We will never promote an advertiser's product without making the relationship clear to our readers.