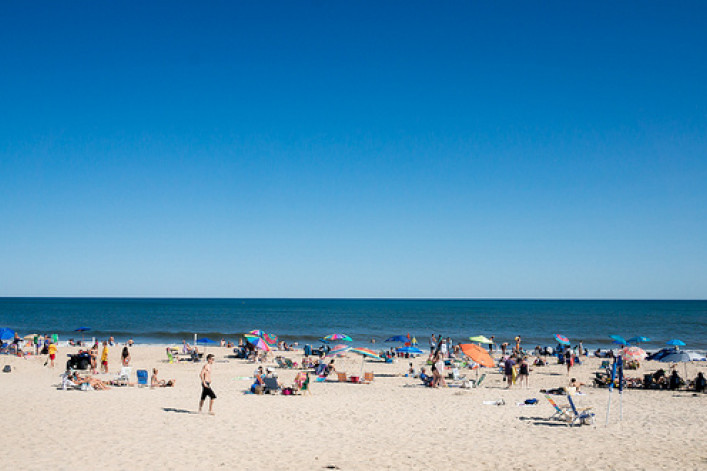 Summer is officially in gear, which explains why you and your family are longing to escape the city. A quick trip to the beach, mountains or lake is a no-brainer for those with wheels, but for vehicle-less New Yorkers—which, given the price of parking in the city, includes many of us—it's more of a puzzle and a hassle. Trains and Jitneys are fine if you're traveling solo, but less practical if you're schlepping bags of garb, gear (sun umbrellas, beach chairs, sand toys) and groceries—not to mention kids. Here, we explore some of the more reasonable options for getting the whole family out of town:
Car sharing
Zipcar and its car-sharing cousins, Hertz 24/7, Enterprise CarShare (FKA Mint) and Carpingo (serving Brooklyn), offer wheels on demand via cars parked in convenient neighborhood lots throughout the city. Reservations are made online or through each company's tablet- or smartphone-accessible app—reservations by phone incur a small fee—and rentals can be booked anywhere from one hour to up to nine days, depending on the company. There's an application fee (typically $25) and various memberships and plans (from free to $70/year) available.
Once you're joined up, expect to spend approximately $58  to $175/day on a car, depending on the level of membership you choose and the type of car your book. More expensive memberships tend to yield lower rates, but fancier cars will cost you more. With no long-term commitment and rates that include fuel, damage and liability protection and a designated parking spot when you return home, car sharing is a good deal for a quick trip. That said, weekend rentals can be hard to come by, especially at the last minute and car seats are generally not available. Trips are limited to 180 miles, which is problematic if your destination is, say Montauk (116 miles in one direction).
Car rentals
Hertz, Avis, Enterprise, Budget and the like offer cars by the day or week—and sometimes longer. Book online or by phone and expect to pay $240 to 290/day for a small SUV. The good news? There are often special weekly or weekend deals or free upgrades to be had. If none are listed, make sure to ask. Some discounts and upgrades are at the discretion of the attendant who serves you. The best thing about a traditional car rental is the unlimited mileage—a bonus if your travels take you further afield than the outer-boroughs or you want to drive around your destination once you actually reach it. Also, family-friendly extras, like car seats, are more readily available. On the downside, insurance and gas are not included.
Short-term leases
Many of the same big car rental companies that offer rentals by the day or week also offer short-term leases of 60 days or more, often at a discount over the daily/weekly rate. In a recent search of cars available from July 1 to August 31, for example, Hertz had a Ford Explorer (or similar) for about $3,238, Enterprise had a Toyota Rav4 (or similar) for $3,564, Avis a Ford Edge (or similar) for $2,513 and Budget a Ford Edge for $2,542. With no long-term commitment, no money down (as in a typical car lease), unlimited mileage, plus 24/7 roadside assistance (a must if you experience car trouble with a couple of cranky, hungry kids in the backseat), short-term leases sound like a decent deal. Keep in mind that insurance and fuel are extra, and you're responsible for parking hassles and costs if your travels take you in and out of the city.
Buying
For a bit more than the cost of a short-term rental, you can actually buy a decent second-hand car. According to Consumer Reports, some of the more reliable makes and models under $10,000 that will also accommodate a family, include the Mazda6 i, Toyota RAV4 and Volkswagen Jetta. A recent search of Craigslist.com turned up a number of Toyota RAV4s from 1996 to 2007 for $2000 to $9000. Insurance, fuel and parking are your responsibility, natch.  Of course, it's important to have any used vehicle inspected by a reliable mechanic. 
For a more recent model of car try Swapalease.com, which allows buyers to assume or takeover a lease that fits their payment budget as well as choose a lease term that suits their needs (in other words, someone else's burden of 10 months left on a lease payment could be your short-term rental). There, a search for the family-friendly Toyota RAV4 yielded a 2013 model with 10 months left on its lease and payments of $350/month, and a 2014 model with 15 months to go and payments of $256/month. Make sure the remaining number of miles left on the lease is in line with your own travel plans.
And as with anything else that requires you to sign on the dotted line and pay up, read the fine print and do your due diligence.
Related:
Help! My neighbors keep stealing my parking spot
A parking spot with your condo? It's going to cost you...a lot
See every co-op and condo with a parking garage in NYC
Startup offers monthly valet parking for New Yorkers—anywhere
Brick Underground articles occasionally include the expertise of, or information about, advertising partners when relevant to the story. We will never promote an advertiser's product without making the relationship clear to our readers.