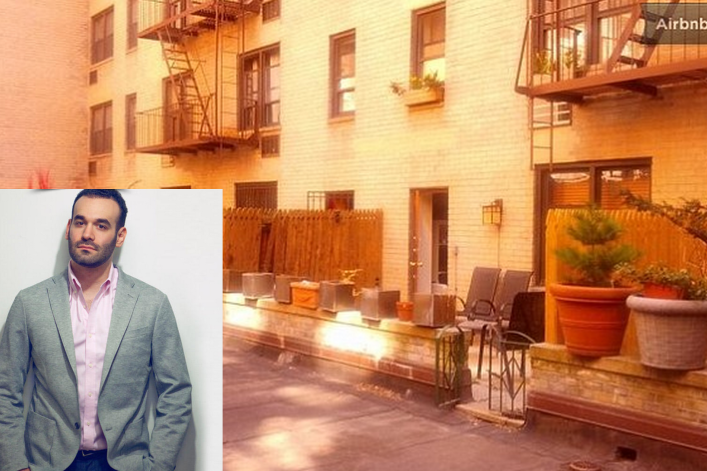 Imagine two of the worst New York real estate nightmares consolidated into one: Such is apparently the case for Ari Teman, the man whose Chelsea apartment made headlines last year after his Airbnb guests turned his rental into a "XXX Freak Fest orgy." Thanks to all that drama, Teman now says he's found himself on the city's infamous tenant blacklist, and is effectively homeless. Yeesh.
Teman says he realized he'd ended up on the tenant blacklist (which can happen even if you win your case in housing  court) when a landlord refused to rent to him. To add insult to injury, his broker at the time then dropped him as a client. "Once I was taken to housing court, I knew the writing was on the wall—which was probably better than any of the fluids the Airbnb guests left there," a nattily-attired Teman told us when he stopped by our offices earlier today. Since that initial rejection in January, he says he's had to sleep in over 20 different places, a combination of sublets, friends' couches, hotels, and his own office. (We reached out to Airbnb, and the company has no official comment at this time.)
In an open letter addressed to Airbnb on his Tumblr, he lays the situation out in full. In his own words:
I am homeless because you stuck a "XXX Freak Fest" orgy in my apartment and abandoned me to deal with the fall out. 

I'm not homeless because of finances – though the unimagined debt and massive amount of lost work caused by your orgy hasn't helped – but because thanks to Airbnb I'm on a blacklist and cannot get a legitimate lease in all of New York City. 

Brokers refuse to help me after looking me up and finding I'm on the blacklist. One building management refused to even accept a full year's up-front payment because I was on the blacklist. 

[...]

My life has gone from a luxury apartment in Chelsea to a hellish series of sublets, hotels, friend's couches, and suitcases stacked in my office. It's exhausting, humiliating, damaging to my life, my business, and everything I work on, and so it's costly. 

You need to fix this.

[...]

Airbnb brags about how it's growing fast. So does cancer. Airbnb is a cancer.
He also includes a Google map of all the places around the city he's had to bed down since January: 
In short: The situation isn't what you'd call good. And now we have an answer to the age-old question, "What could be worse than coming home to find a BBW orgy in your apartment?" Getting stuck on the tenant blacklist, apparently.
Related: 
Is this the worst Airbnb disaster of all time?
There are probably going to be a lot more Airbnb sting operations
Good news: your Airbnb host might be spying on you
Free insurance for Airbnb hosts—but with a catch (or several)
Brick Underground articles occasionally include the expertise of, or information about, advertising partners when relevant to the story. We will never promote an advertiser's product without making the relationship clear to our readers.