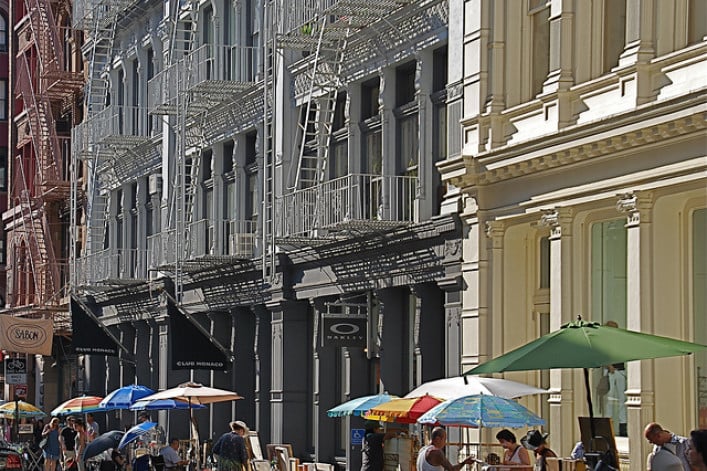 Getting a leg up on the rental market's challenging enough in this city. Finding a short-term apartment harder still. Plus, what should you do if you're renting it sight unseen and how can you be sure not to get scammed? First, be aware that it's illegal for anyone to rent their apartment to you for less than 30 days. But there are perfectly legal ways to get in done — and many other answers to your questions:
FINDING YOUR OWN PLACE
• Go back to the dorms.
If you're moving here to attend classes, the university you're affiliated with may very well offer summer housing in their dorms, so check on that first. But even if you're not here to take classes, some universities, including New York University and The New School, offer competitively priced summer housing for those with internships in the city. NYU dorms, for one,  start at about $800 a month (but those are shares without air conditioning).
• Search web listings.
You can find short-term rentals on StreetEasy. Click on "Advanced Search" and you can either type "short-term rental" into the "Description Includes" field or check  the "Sublet" and/or "Furnished" box under "Listing Amenities."
• Contact the big landlords.
Many big landlords offer short-term leases. For example, at the Columbus Square rental complex  on the Upper West Side, the management company offers an "early termination rider": after a minimum stay of three months, anyone who signs a 12-month lease can pay a $3,000 fee to get out early, as long as they give 60 days' notice.  Some apartments are furnished, some are not.
You can also go directly to large landlords like Glenwood, Related or Equity. Most have contact forms on their websites. ​Note: Most of these apartments will be unfurnished.
• Try a corporate apartment — but be prepared to pay.
Corporate relocation services are convenient, since everything from the electricity to furniture is already hooked up. Plus, they're usually located in business areas so any commute you have to a summer job/internship should be easy.) But the rent is about twice as much as you'd pay on a year-long lease. Prices at providers like Furnished Quarters, AKA Apartments and Churchill Corporate Housing range from $5,000 to $6,000 for a one-bedroom and around $9,500 for a two-bedroom. 
• Consider taking over someone's lease.
Leasebreak is a listings site that specializes in legal sublets, almost all of which are between one and 12 months. Most lease breaks, in which the new renter is taking over someone's lease before it expires, are posted by the current renter or a broker, and most are unfurnished.  
• Hire a broker.
Brokers can do much of the heavy lifting for you.  Many of the city's large brokerages have relocation departments stocked with brokers who specialize in short-term housing. Most firms charge one month's rent for a lease of up to six months. Anything over that is the standard 15 percent. But it never hurts to try and negotiate. 
SHARING AN APARTMENT
Another option is to rent a bedroom in a larger townhouse or apartment with other tenants. "At the lower end of the rental spectrum, you can find short-term furnished residences in multi-unit townhouses where the owner can simply provide a 'roommate agreement' for the apartment in question," Andrew Rose of brokerage Mirador Real Estate told us.
Craigslist, of course, hosts tons of posts from New Yorkers looking to share their space — brush up on ways to decode Craislist ads —  but there are plenty other websites that'll help you find roommates (start with these sites). But before you move in with a stranger, find out how to avoid freaks. Be sure to ask for references from your potential roommates, and trust your gut: If something seems off, it might very well be.
Another helpful tip: If you want to keep your rent around $1,000, start with three-bedroom shares.  
RENTING SIGHT UNSEEN
Ideally, you'd get to see any apartment you rent before you move in, but if you're coming to the city from another state (or country) you might not be able to. Luckily many brokers have become adept at Skype-ing and FaceTime-ing with their clients. Just make sure you ask the broker to show you details (e.g. under the sinks,  bedroom views, etc). If you have any friends in the city, you might want to ask them to check out the apartment.
When it comes to scoping out a neighborhood, between Google StreetView; real estate data sites like Address Report, Revaluate, PropertyShark and StreetEasy; and (ahem) BrickUnderground columns like Neighborhood Secrets and Transitions, it's easier than ever to get a clear picture of what different parts of the city are actually like to live in.
And Yelp can be a great resource for checking out reviews on management companies.
DON'T FALL FOR SCAMS
Avoid getting duped with some of these tips:
Try your hardest not to hand over any money without getting and trying keys first (though this is not foolproof).
If you have to, don't give more than one month's rent in advance.
Consider drawing up a sublease contract.
If subletting, ask to see the lease and confirm that the name matches the sublettor's ID.
Ideally, if you're subletting, get the landlord's permission. 
Google all names and addresses involved--checking for complaints by other people who've been scammed by the same person or anything at all suspicious.
Get to know the market so you can easily spot something that's too good to be true.
Related:
Considering a sublet? Read here first
From abroad and studying in NYC? How to land a rental
12 tips for renting a NYC apartment from afar
How not to get scammed on a NYC rental
5 shares,  6 months: A NYC sublet tale (and what she leaned from it all)
Brick Underground articles occasionally include the expertise of, or information about, advertising partners when relevant to the story. We will never promote an advertiser's product without making the relationship clear to our readers.