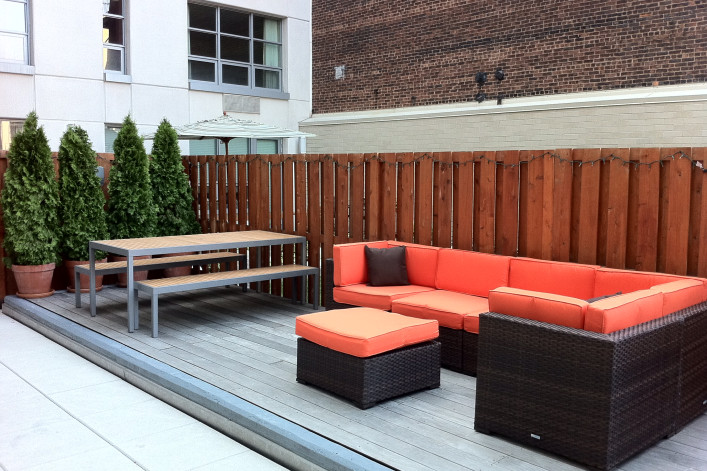 With plans to move upstate, Ethan Bull and his wife decided to try and sell their Long Island City two-bedroom, two bath condo, which they'd bought off a floorplan in 2007, without a broker. They priced the apartment, which has 1,087 square feet of interiors and 680 square feet of outdoor space (and a parking spot), for just under $1.4 million. They planned to list it before spring, but they didn't need to. A few days before they were going to put the apartment on StreetEasy, a neighbor made an offer on it. Here's their FSBO story.
Prepping it
Bull and his wife spent hours de-cluttering the apartment and moving lots of furniture and belongings into storage. They hired a stager, Sold With Style, for about $2,000; rented furniture (from one of Sold With Style's vendors, Churchill) for about $4,000,  and hired Gotham Photo Company for $240 to do the listing photos.
Bull expected to host four open houses, and hoped to get a bite within weeks, since he and his wife were expecting their second child soon.
Pricing plans
"We planned to offer it at $1.398 million. We wanted to be just under $1.4 million, figuring that was better than pricing it at $1.425 million and missing out on potential buyers who set their maximum price at $1.4 million," he says.
The highest price any apartment in the building had fetched was $1,177 per square foot and that was with a broker, and this would mean asking $1,285 per square foot (not including outdoor space or the parking space, which he says is worth $70,000).
Bull says he kept up-to-date with what neighbors in the building were fetching for their condos, and that's how he knew how to price it. "Anyone who's purchased a place becomes addicted to talking about prices. At the dog run and at the playground, talk always turns to real estate."
Going in-house
And it was a neighbor who ended up buying the place. One morning, Bull's wife was in the lobby and started talking to someone who lived in a one-bedroom. "He lived on the south side of the building, and said he wanted to face north because the sun was too hot in his apartment. Plus, he wanted a two-bedroom and some outdoor space."
They sent him the listings photos and floorplan.
Three days after that initial meeting — and before Bull could post the apartment on StreetEasy — the neighbors came to see the apartment and made an offer right away. 
Price negotiations
The couple offered $1.335 million. "My wife and I talked about it and wondered if we should test the market," Bull says, "but the fact that we had a baby coming just made us want to get moving."
Also, he says, the fact that the buyer didn't have a broker attached sweetened the deal (saving him at least 3 percent of the closing price).
Bull countered at $1.375 million, and the neighbors accepted the counter. They plan to put 30 to 40 percent down, but the deal is mortgage-contingent. "We made sure they got a pre-qualification letter from the bank before we signed the contract," he says.
They plan to close in June, but are still working on the contract. "Everything is on track," says Bull. "We just needed to get the condo offering plan to the buyer's lawyer to wrap things up."
An easy apartment to sell
"I wouldn't have gone FSBO if it was a straight two-bedroom, two-bath, but with all that prime outdoor space, I know we would get a lot of traffic," says Bull. "The great picture helps."
Related:
Get your head in the game: Psychological tricks to pricing your apartment right
How to sell a NYC apartment
I'm selling my apartment sans broker. How do I vet my buyer's mortgage-worthiness
Buy and sell like a NYC insider: Your guide to elusive whisper listings (part 1)
Buy and sell like a NYC insider: your guide to elusive 'whisper' listings (part 2)
Buy and sell like a NYC insider: your guide to elusive 'whisper' listings (part 3)
5 red flags that could slash your apartment's selling price (sponsored)
Brick Underground articles occasionally include the expertise of, or information about, advertising partners when relevant to the story. We will never promote an advertiser's product without making the relationship clear to our readers.