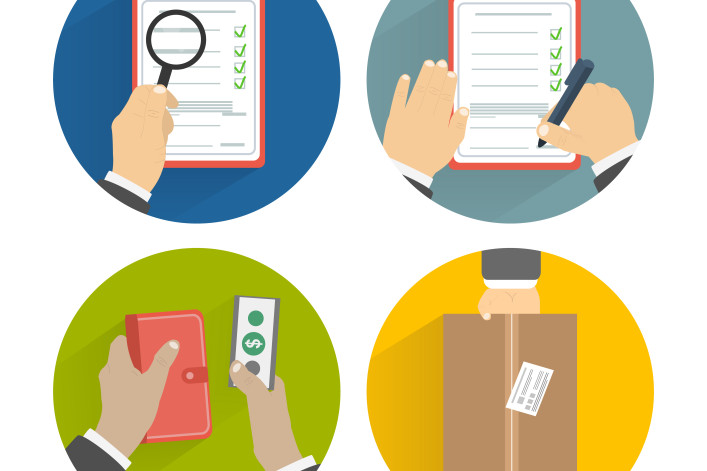 With the New York real estate market so hot apartments almost seem to sell themselves, and the whole DIY trend bigger than ever, the idea of selling your apartment by yourself holds some obvious appeal. After all, demand is high, so why shell out six percent of your sale price on commission—on a $500,000 apartment, that'd be $30,000—when you can likely find a buyer yourself? The abbreviation of For Sale By Owner—FSBO, pronounced fizz-bo—even sounds sort of fun.
"We see a lot more FSBOs now than we used to," says Steven Szczur, co-founder of listings site HomeCanvasr, which handles properties that haven't officially hit the market yet. (They're called "whisper listings" or "off-market" properties because they're not in the standard real estate database yet.) "Buyers and sellers are smarter and more tech-savvy. I think everyone asks, 'Can I do this myself?'" Plus, in the age of online listings, it's easier for buyers to find your FSBO, and harder for brokers to blacklist it (more on that later). "I think five years ago brokers wouldn't have shown a FSBO house," says Michael T. Malkasian, the president of FSBO.com. "These days, the buyers have so much access to the information that brokers are no longer able to hide those listings from them."
But then, there's a reason the entire brokerage industry hasn't gone out of business. Selling an apartment in this city—especially one you happen to live in—can be a time-consuming, frustrating process, and going solo isn't for the faint of heart. "We usually tell people that there's a commitment to doing it on your own, and it's not for everyone," says Doug Perlson, founder of RealDirect, a brokerage that frequently deals with FSBO listings. "You've got to have the extra bandwidth as far as time and energy are concerned, and be willing to act as a salesperson." 
Up for the challenge? Here's what you need to know:
​PRICING
Setting a price is easily one of the most important parts of a sale, and you want to get it right the first time around, lest your property languish on the market (and look like a wallflower) or go through a series of price chops (and look desperate). Your best bet is to check out the pricing on similar properties in your neighborhood or building (the "comps"), and set your price accordingly. You could bring in a broker to give you an estimate—many will do this in hopes that you'll change your mind and hire them to help sell it—but take these forecasts with a grain of salt. "Some agents will inflate the estimated price because studies have shown that the agent who gives the highest price tends to get the listing," says Perlson. For more help from the pros, RealDirect offers a free "RealPrice" estimate that comes up with an asking price for your home based on comps, opinions from agents, and factors like whether or not you aim to sell as quickly as possible or for the highest price possible.
PHOTOS AND STAGING
There's no way around it—we live in a visual world: You're going to have to clean, de-clutter and stage your place if you want it to reach its full selling potential. (We've got tips on staging SNAFUs to avoid here, and advice on getting your place camera-ready here.) More importantly, you're going to need some enticing listing photos, and this is one area where it's well worth spending a little extra to bring in the pros. "You'll need a floorplan, and you'll need photos," says Perlson, who adds, "We've done studies that have shown owners getting 60 or 70 percent more inquires after they list with professional photos." As we've written previously, professional photographers generally charge between $150 and $300 an hour, and Perlson notes that many of these companies will also put together a floorplan for an extra $100 or $200.
THE BUYER'S BROKER (AND THEIR COMMISSION) 
Before you list, consider carefully whether or not you're willing to work with a buyer's broker. (In  a standard sale the seller pays six percent commission, three percent to their own broker, and three percent to the buyer's broker. If you go FSBO, you'll save on the commission for your own broker, but may well still have to shell out to a broker representing a buyer.) Many brokers are already skeptical at the prospect of working with an unrepresented, likely inexperienced seller, and virtually no broker is going to show their client a listing that's not offering a commission. "A buyer's broker wants to make sure they get paid," says Sczur. Meaning that if you don't offer to pay at least some kind of fee for the buyer's broker, you'll only attract unrepresented buyers, and miss out on huge swaths of potential takers.
THE LISTING
In addition to your photos, you'll need to put together your own writeup  giving buyers the scoop on your can't-miss, one-of-a-kind! deal. "You want to write good, strong copy, and include details you know people will ask about, like whether there's a washer and dryer," says Perlson. Afterward, you can pay to list it on popular sites like StreetEasy, or in the New York Times' real estate listings. However, keep in mind: Unless you're working with some kind of licensed broker, your listing won't be entered into industry databases like the MLS and the RLS, which means buyers will see it, but brokers might miss it altogether when putting together a day of open houses, and it won't be automatically aggregated into other listing sites. (Even an experienced broker once told us his own FSBO failed for precisely this reason.)
A few alternatives? RealDirect offers an owner-managed listing option that, among other things, will get your listing included in the Real Estate Board of New York's database, for a one percent commission. For a flat $349.95 fee, FSBO.com will get your listing into the MLS, though Malkasian notes that this option requires you to offer some kind of commission for the buyer's agent. Elsewhere, HomeCanvasr, which primarily deals with Brooklyn townhouse properties, will connect you with its stable of direct buyers in exchange for a one-percent transaction fee if the sale goes through. 
FINDING AND PICKING THE RIGHT BUYER
When sellers are working with a broker, they're generally told to stay out of the way when the open house rolls around. But for FSBOs, the open house is show time.  "It's not just opening up your door," says Perlson. "You have to be willing to be a salesperson—be personable, be able to explain all the reasons why you chose the home yourself." An owner can shine in this role given their intimate knowledge of their own property, but Perlson notes, "if you're uncomfortable, that can really turn buyers off."
Once the offers start coming in, keep your cool. "A lot of FSBOs are inclined to accept or start negotiating with the first good offer," says Perlson, "But we generally recommend you have your apartment on the market for at least a week, with an open house and a few days after [for offers to come in]." And remember not to be immediately seduced by the highest offer, but to look for the most qualified buyer.
Related: 
Selling sans broker: advice from those who've done it before
Why you shouldn't always pick the highest bidder in a sale
Brokers share their tricks to spot a serious buyer
10 apartment staging mistakes that can cost you a sale
5 red flags that could flash your apartment's selling price (sponsored)
Brick Underground articles occasionally include the expertise of, or information about, advertising partners when relevant to the story. We will never promote an advertiser's product without making the relationship clear to our readers.