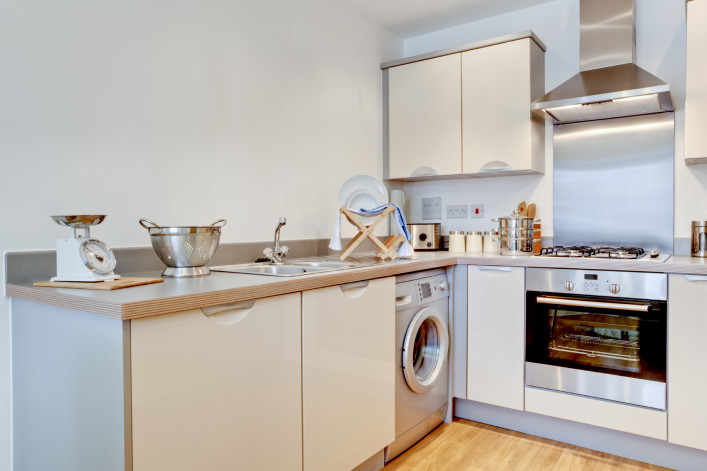 Laundry in the apartment, in the building, or better yet: somewhere else entirely. In honor of Laundry Week, we've asked six New Yorkers how they'd improve their laundry situation in a perfect world.
In-unit laundry, of course I'm craving a laundry set up in my apartment. Or even just in the building would be a huge help. I hate having to lug my laundry down all the way to the laundromat which is, I'm not joking, literally uphill. It sucks that I'm either stuck there waiting for it, or if I have to spend time walking back and forth which doesn't really leave much time in between, so it's not even worth it. I usually end up dropping it off and paying them to do it for me. If I could throw a load in the washer while I cook dinner or watch TV or whatever, it would be a dream. AND it would save me tons of time and money. — Brian, Astoria
Ideally, sending it away. In reality, a portable dishwasher Well, if I had the ideal fix, I would either be able to sneak one of those all-in-ones in my apartment in place of the dishwasher, because I'd rather do a couple of dishes [by hand] than have to haul my laundry up and down my walk-up just for a couple of clean skivvies. Or, in total dream scenario, I'd have an endless budget for a laundry service to pick-up, fluff 'n' fold, and then drop it off at my place. Because under normal circumstances, I don't actually like doing laundry any more than doing dishes. — Elizabeth, Upper East Side
Updated machines for the communal laundry room  As a board member, I know that laundry is a huge topic in our building. We don't allow laundry [machines] in the apartments, but we know some people have them anyway. Some have sneaked them in and some have de facto permission because they were in the building long before the ban went into effect. We have a laundry room and the building generates some income off of that, so I am in favor of keeping that. Besides, doing necessary upgrades to the plumbing that would allow in-unit machines is far too costly. If I could, I'd replace all the units in the laundry room. They've been through the wringer themselves! I'd make them all commercial grade, or at least add two more commercial grade ones. But then again, new machines get old real fast around here. Residents will overstuff the drums, they will put too much detergent, and they will wash comforters and rugs in these machines, no matter how often you tell them no to.  — Caroline, Harlem
Just some laundry room etiquette please I have no problem with going to the basement to do laundry. What I hate is when people leave their stupid laundry in the washer or dryer long after the cycle is done and I'm left with no machines at all. Have some consideration! Set an alarm! It really messes up the rest of my day, or even week. I never like to take people's stuff out the washer or dryer. First of all: Ew. Plus, it's not my job. And on top of that, I've seen one or two arguments break out between residents when someone is caught "manhandling" somebody else's laundry.  But now we have a sign that says if laundry is left for longer than 10 minutes, we can remove it. If I could change anything, it would be inconsiderate people's bad manners. — Alexis, Inwood​
A brand new, all-in-one machine I want a new machine. The LG washer/dryer all-in-one combo machine, to be precise. I need a new machine anyway, because my current set-up is so old, it's not really performing their best anymore. And also, my washer and dryer is in the kitchen (because who in the city has a separate laundry room?), taking up a lot of space. If I had only one machine, I could add some much needed counter space to the kitchen! — Gwin, Hamilton Heights
I'll take mom and dad's I don't have laundry in my apartment, and the next laundromat is kind of close by, but not really when you're hauling 20 pounds of dirty clothes around in a sack. But then my situation is kind of  the best of both worlds: I go home to my parents in New Jersey pretty often. So I just bring my laundry and do it there in the full convenience of a large, clean, laundry room with excellent machines, right next to the kitchen. The only thing that could make it better is if my parents still did my laundry for me. LOL. But seriously, considering the insane tolls on the bridge to get from Manhattan to NJ, I could almost pay somebody here in the city to do my laundry for me. But then I wouldn't have my mom's excellent food! — Rob, Harlem
Related:
Which would you rather have delivered: Groceries or laundry?
Would you rather live in an apartment with a washer/dryer or a dishwasher?
Brick Underground articles occasionally include the expertise of, or information about, advertising partners when relevant to the story. We will never promote an advertiser's product without making the relationship clear to our readers.