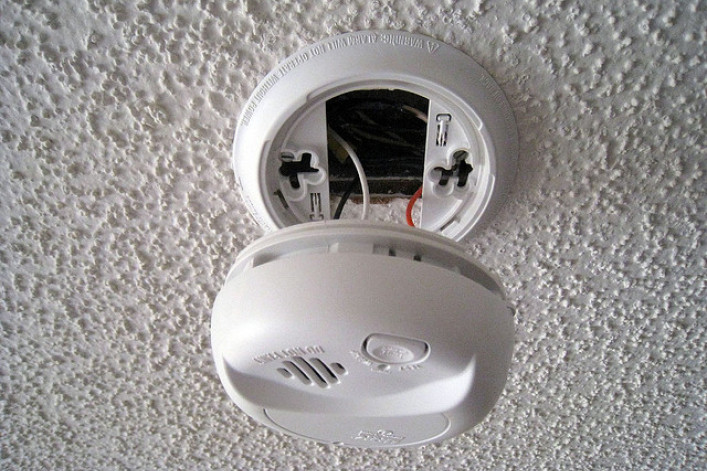 A fire in Brooklyn this past weekend -- the city's deadliest since 2007 -- took the lives of seven children from the same family. The cause, according to reports, was a hot plate kept on overnight.
As the city reels from this tragedy, we thought we'd go over some of the rules of fire safety (we also suggest giving the city's Fire Safety Guides a read):
Working smoke detectors are crucial. According to reports, the Midwood home destroyed in the fire only had alarms on the basement level, not on the first and second floor of the home, where the bedrooms were. Landlords in NYC must install smoke detectors within 10 feet of any room used for sleeping. Tenants may be asked to reimburse the owner up to $25 for the cost of purchasing and installing each battery-operated detector.
Unless the batteries work, those detectors are useless. A good rule of thumb: Every time you change your clocks for daylight savings time, change the batteries on your smoke detector.
Food should not be left unattended while cooking, the FDNY warns. Fifty percent of all apartment fires and a quarter of the fires in private homes start in the kitchen. Most home cooking fires involve the stovetop portion and one-third of these fires result from unattended cooking. 
If you suspect your fire escape may not be up to code, call 311, which can send out an inspector and, if need be, get management to make repairs.
Keep towels, sheets and anything flammable at least three feet away from space heaters.
Packed-to-the-gills apartments can up the risk of fires. If you suspect someone in your building is a hoarder,  reach out to the building management or call 311 so that they can inspect; they be able to issue your neighbor an order to clear out his or her place.
Don't leave too many devices plugged into one outlet. And make sure you're not overloading the voltage. Check how many amps of electricity yours supports (15 is standard, but varies), and don't put in a combo of appliances that takes the voltage over this amount. 
The FDNY advises against letting extension cords get pinched against furniture, hanging them from nails, or running them near especially flammable items like rugs or magazines.
If a fire breaks out in your building, your course of action should depend on what kind of building it is. If your building was built  after April 18, 1929, it's labeled either "fireproof" or "non-fireproof." Most buildings from the last few decades are the former because they use materials like brick, poured concrete and metal, not wood studs.  In a fireproof building, you only leave if the fire is in your apartment or very close to your apartment. If you live in a non-fireproof building, you leave no matter where the fire is.
Consider running drills in your home. Make sure your kids know what an alarm sounds like and how and where to get out if they need to.
Related:
After a fire in a cluttered Harlem apartment, how to protect yourself
Is your electrical outlet a fire hazard? Find out
It's the dead of winter: Time to talk about fire safety
Brick Underground articles occasionally include the expertise of, or information about, advertising partners when relevant to the story. We will never promote an advertiser's product without making the relationship clear to our readers.