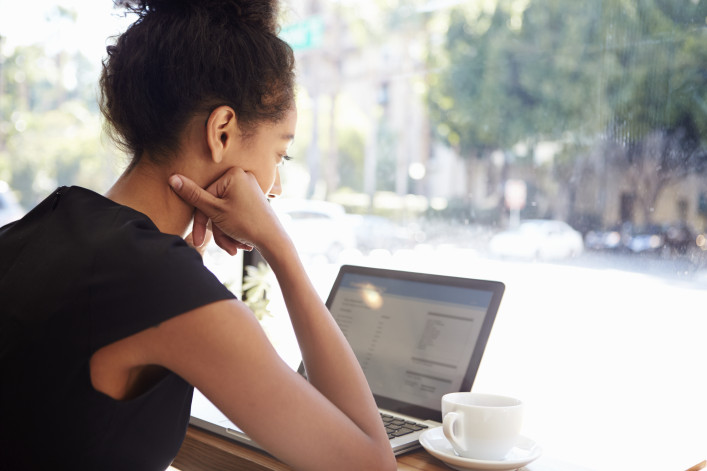 True New Yorkers know that when it comes to ear-to-the-ground news in your neighborhood, you'll sometimes need to look beyond the Paper of Record (or any of the other big dailies, for that matter). For that, you can turn to local bloggers—the committed ones, anyway—who nose out the news fast, no surprise given they're embedded in the community and care just as much as you do about that infernal pothole or shuttered pub.
This time last year, we rounded up some of the city's best, most beloved neighborhood blogs, and an update is in order. (A lot can change in one year! For instance, rest in peace, F'd In Park Slope and GowanusYourFaceOff.) We checked in with old standbys and got acquainted with new outlets, too—meaning, yes, more options in the Bronx and Staten Island.
2014 saw beloved businesses closing left and right, which meant that EV Grieve has been doing, well, even more grieving than usual. Nevertheless, this East Village watcher continues to churn out photojournalism, profiles of locals, and updates about new openings and new development in the neighborhood at an impressively rapid clip.
Another essential read for downtown denizens, Bowery Boogie's neighborhood coverage is so micro that you can actually search for news on the site based on street name—Orchard, Ludlow, Delancey, etc. (Brilliant, we say!) Everything from real estate to New York history to art openings to film shoots is fair game, and while some of their coverage overlaps with EV Grieve, it expands farther into downtown and the LES, netting some Chinatown news as well. Who else is going to comb Community Board applications to break the news that a "Vote For Pedro" restaurant might be coming to Essex?
One more entry for lower Manhattan: while it's not technically a blog, this thrice-weekly local newsletter first came to our attention with its exhaustive coverage of Southbridge Towers' controversial decision to exit the Mitchell-Lama system. We've kept reading ever since for in-depth updates on development (particularly around the rapidly-changing South Street Seaport area) that often has a ripple effect on the rest of the city. Sign up here for updates on housing, small businesses, architecture, and more delivered to your inbox every Monday, Wednesday, and Friday.
Having recently celebrated its 7th birthday (practically a century in indie blog years), Washington Square Park blog is still as vital as ever in coverage of its namesake park and the neighborhoods that surround it. And while it lost a longtime arch-enemy when Bloomberg left office,  with the ongoing local debate over NYU's planned expansion, let's just say they've got plenty to write about.
A lot has changed since former Budget Travel editor-in-chief Erik Torkells founded Tribeca Citizen in 2008—namely a dizzying stream of new construction and a never-ending drumbeat of delis and small businesses closing—but he's previously told us that he has no plans to leave his "lovely bubble" below Canal, however much the area transforms. And since we last checked in with Torkells, at least one thing has stayed the same: He's still waiting on a No. 7 Sub to materialize in his neck of the woods. 
This has been a particularly banner year for this trusty Upper West Side news source, which in between interviewing locals, keeping tabs on developing neighborhood stories, and launching a new live storytelling event series, did the important work of coining the now-ubiquitous phrase "poor door"  in its coverage of the controversial 80/20 development at 40 Riverside. (We're sure their thank-you note from the developer is in the mail.)
It may be the only  blog covering New York's most tram-centric neighborhood, Roosevelt Island, but it does a mighty fine job as reliable a source for community news, event listings, updates on retail openings and closures, and in-depth coverage of local controversies like a co-op's decision to chop down a bunch of historic (but dangerous) trees. 
A new addition to this year's list —and admittedly, an oversight from last year's—Harlem + Bespoke, is often focused on all things aesthetic about the neighborhood (its founder is a designer), with an emphasis on architecture and the local arts scene. Like any solid neighborhood blog, though, there's also plenty of real estate and small business coverage, or, as the site explains it, "Basically all things old and new that make Harlem unique and interesting."
Free Williamsburg
At this point, Free Williamsburg—essentially the granddaddy of Brooklyn blogs, having launched back in '99—is arguably the most dependable part of its rapidly-transforming namesake neighborhood. They continue to occupy the sweet spot between utter disillusionment and unquestioning boosterism in what seems like the world's most talked-about 'hood, and bring us important breaking news about things like the existence of a song called "Bushwick Girls."
2014 was a busy year for Greenpointers, which was sold for the second time since its 2007 launch, after owner Jen Galatioto moved out west to Oregon. But the North Brooklyn blog hasn't missed a beat, keeping up its eclectic food, drink, nightlife, and news coverage and expanding into the realm of events with a holiday market packed with local vendors.
Wisely, Bushwick Daily—the neighborhood authority on everything to community board meetings to "Boobs of Bushwick" parties—has recently expanded its reach from its North Brooklyn turf into nearby Ridgewood, along with droves of renters who've been priced out of L train territory and hopped the border to Queens (including the site's founder). They also spent the past year making an ambitious effort to crowd-fund a new digital platform called Village, which, while it fell short of its goal, is a good indication of the site's determination to keep charging forward along with the neighborhood's future.
Katia Kelly, a decades-long Carroll Gardens resident, still does an impeccable job keeping tabs on Carroll Gardens and Gowanus goings-on, usually with the help of large, bright original photos (a must for any savvy local outlet). As a community activist, she's particularly on top of covering neighborhood events and providing tidy summaries of community board meetings to help locals keep tabs on the dramatic amount of new development that's hit the neighborhood since she founded the blog in 2006. For Gowanus residents, her blog is also now the only game in town, with Gowanus Your Face Off having quietly shut down over the past year. 
In case the theme hasn't already become apparent, 2014 was a big year for Brooklyn blogs making major business moves. Perhaps the biggest change-up came from Corner Media, an entity that initially consisted of Ditmas Park Corner and Park Slope Stoop, but has now acquired  longtime southern Brooklyn stalwarts Sheepshead Bites and the Bensonhurst Bean, and has outlets covering South Slope, Kensington, and Fort Greene, as well. In other words, they've done a bang-up job of both creating and acquiring  reporters that are experts about their neighborhoods—Sheepshead and Bensonhurst founder Ned Berke is one of the borough's most dedicated beat bloggers—and putting them all under one stable management structure.
This no-nonsense neighborhood staple is essential for anyone living in "America's first suburb," with a steady stream of updates on real estate, local news, and events. Its authors also seem to have an uncanny ability to aggregate news from other outlets that's uniquely relevant to residents of (and visitors) to the Heights. 
Granted, the scope of Brownstoner's relatively new Queens outlet goes beyond any single neighborhood in the borough, covering everything from Astoria to Elmhurst to the Rockaways. But with many outlets not seeming to know much about the borough other than that it's supposedly poised to be "the new Brooklyn," Queenstoner is an excellent overview of development and news in the borough, as well as a handy source of history lessons and local event listings.
This one posts less frequently than some of its peers—generally twice a week—but what it lacks in quantity, it more than makes up for in quality, with sharp, informed commentary on everything from development (their counter-suggestion to de Blasio's Sunnyside Yard plan: "raze Queensbridge") to new sub-neighborhoods in the area (meet "Murray Square"). More to the point, any local blog that maintains a "rumors" category is a blog worth keeping an eye on. 
For more regular updates of goings-on in the Court Square and LIC area, we still love the Court Square Blog, which keeps particularly close tabs on construction work and permits filed in the development-happy waterfront nabe.
One perk to living in the media capital of the world: even small local outlets are staffed by some of the best writers in the biz. Such is the case for Sunnyside post, which was founded in 2009 by a Pulitzer Prize-winning real estate reporter Christian Murray, who has since launched blogs covering Astoria and Long Island City. Keep a particularly close eye on this one as the Sunnyside Yards debate heats up.
Lovingly written by three longtime neighborhood residents—Meg, Mackenzie, and Judith, a community activist, a local boutique owner, and a food blogger, respectively—We Heart Astoria is a necessity if for no other reason than to keep up with the neighborhood food scene's embarrassment of riches. (Though of course, they cover plenty of other local news and events as well.) The  blog also has offshoots to cover news in surrounding areas, including Long Island City, Woodside, and Sunnyside.
Queens Crap has been (anonymously) chronicling both the good and the bad of the borough's news and new developments since 2006, retaining both a "get off my lawn" stance and old school blogspot layout that are both oddly, unexpectedly charming. Having been in the neighborhood for over a decade, you'll find highly informed (if not necessarily upbeat) takes on all the borough's most important news. Somebody needs to stand up to nicknames like "Quooklyn," after all.
Rockawayist
While this beachfront blog has been on hiatus for the past month or so, the Queens native behind the whole thing tells us that he's already got plenty of coverage planned to start up again for the spring and summer—i.e. right around the time everyone stops plotting their next trip to Rockaway Taco.
Sitting under a banner that reads, "You think you know the Bronx—but you don't!", Welcome2TheBronx serves up a never-ending feed of both aggregated and original news on local arts, news, food, and more. Keep scrolling until you know everything about the borough better known as the Boogie Down (and while you're at it, check out their sister site, Welcome2Melrose).
For a specifically family-friendly take on all things uptown, BronxMama is a lifesaver, offering up links to local parenting resources, and plenty of event suggestions for anyone waking up on a Saturday morning with rambunctious kids and no set plans. They've even been known to throw events of their own, like a recent "paint and sip" workshop at a local beer garden.
Whether you're a die-hard Staten Island lifer who roots for the other Yankees or just thinking of boarding the ferry for the first time, Staten Island NYC Living is the borough's best resource for news and events, no matter if you're hoping to eat your way through the borough or spend a day seal watching. They've also got lots of environmentally-friendly "green living" coverage, all part of their stated mission to take Staten from "the Forgotten Borough to the Can't Forget Borough."
Related: 
Confessions of a neighborhood blogger
Moving to NYC? Here's a crash course in finding an apartment here
The 8 best websites for finding a no-fee apartment in NYC
12 of the best NYC neighborhoods for recent college grads: 2014 edition
Brick Underground articles occasionally include the expertise of, or information about, advertising partners when relevant to the story. We will never promote an advertiser's product without making the relationship clear to our readers.