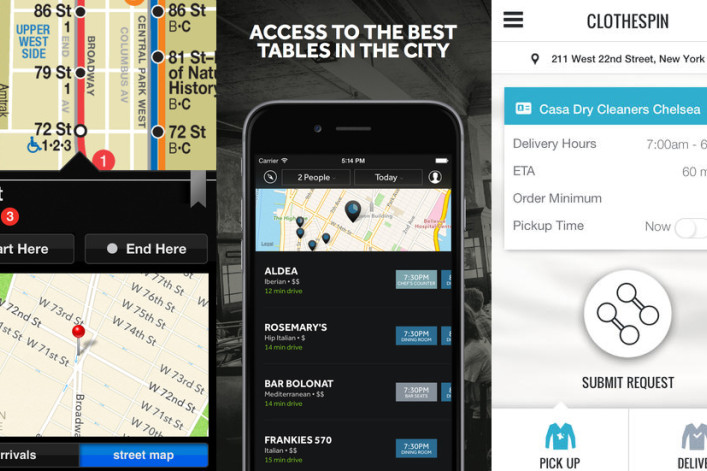 We're all stuck to our smartphones. Why not use them to make our lives a little bit smarter? Here, 10 apps geared toward making New York City living that much simpler, from getting around to getting a reservation:
Corner Starbucks getting a bit too rowdy? This app is a guide to the best local spaces to work while getting your caffeine fix, handpicked based on their noise level, atmosphere and amenities. Spaces range from libraries and parks to coffee shops and more. Besides, what's more New York City than free WiFi and a good cup o' joe? FREE at the Apple App Store.
2. DELECTABLE
This app takes the guess work out of finding a good bottle of wine—something besides that one brand of Chardonnay you've been drinking exclusively for the past year now. Just take a photo of a wine label, and instantly get tasting notes and ratings. Delectable also allows you to catalogue what you've been drinking, follow top sommeliers, wine critics and winemakers, and explore curated lists to see what's trending. If something strikes you, you can also order a bottle through the app and have it delivered to your doorstep. Better yet, it also works with beer and spirits. Imbibe on. FREE at the Apple App Store and Google Play Store.
3. RESY
​
Resy makes last-minute restaurant reservations a cinch by partnering with top restaurants to get you the best seats in the house, sometimes for a fee, which usually ranges from $10 to $30 for a party of two. And if the restaurant you're dying to go to happens to be all booked up? No worries, this app gives you a list of other nearby hotspots with spaces open, along with location, reviews and menu highlights. FREE at the Apple App Store and Google Play Store.
Forget the claim ticket. Have your local dry cleaner pick up and deliver your clothes with the tap of a button using Clothespin. This app connects you with local dry cleaners and lists prices per item, average response time, order minimums and hours of operation for each company. Depending on the cleaner, you can even pay directly through the app. FREE at the Apple App Store. 
5. BEST PARKING
Having a car in New York City is both a blessing and a curse. It definitely comes in handy when public transportation fails and when dealing with anything remotely heavy or bulky. On the flipside, there's the traffic, the upkeep and, of course, the parking. Here's where Best Parking comes in: this app helps you find the cheapest and most convenient parking, so you don't end up overpaying. It also provides on-street parking regulations, good-to-know info about parking facilities and even allows you to pre-pay for your reservation. No more circling the block. FREE at the Apple App Store and Google Play Store.
6. EXIT STRATEGY
We New Yorkers don't like to wait around. We like to be the first ones off the train and up the stairs on our daily commutes — just like the other 8 million people in this city. Exit Strategy gives you a leg up by showing you which subway cars are closest to the exit. The app also offers MTA official subway, bus and street maps. $3.99 at the Apple App Store, $2.99 at the Google Play Store.
7. SIT OR SQUAT
Sometimes you just have to go. Sit or Squat helps you find a nearby restroom for those emergency situations. If you have high potty standards, the app also offers reviews, ratings, features such as changing tables and handicap accessibility, and even pictures of the toilets. FREE at the Apple App Store and Google Play Store.
Finding a drink shouldn't make you need a drink. This easy-to-use app makes it simple to find happy hours using your location. Just select the day of the week and a list of all the drink specials happening nearby comes up, complete with times and addresses. You can even view all locations on a map. Now go do you. FREE at the Apple App Store and Google Play Store.
9. VENMO
​
Put down the calculator. Venmo makes it easy to pay your share of everything from meals to rent. As long as your friends or roommates are using Venmo, you can send them payments using a credit card, debit card or bank transfer. The app stores all transaction history, so it's easy to keep track of who paid what when. Most bank accounts and debit card transfers are free, while credit card payments are 3 percent of the total payment. FREE at the Apple App Store and Google Play Store.
10. EMBARK NYC
Navigating the subway system just got a whole lot easier. Embark NYC allows you to plan trips, see upcoming scheduled trains and get information on any current delays or reroutes, all without a cell signal. Some users have complained that the train schedules aren't always accurate, so daily commuters shouldn't rely too heavily on the information. But it's still an excellent resource for when you're venturing out to less familiar parts of the city—you'll never have to awkwardly lean over a stranger to read the MTA map like a total tourist ever again. FREE at the Apple App Store.
Related:
The 7 best real estate apps for New Yorkers
Test Drive: 6 expense-sharing apps for roommates
Stock your cupboards with your Smartphone: Our review of the new grocery delivery apps
Laundry made easy: Washing pods, laundry iPhone apps and more
Brick Underground articles occasionally include the expertise of, or information about, advertising partners when relevant to the story. We will never promote an advertiser's product without making the relationship clear to our readers.