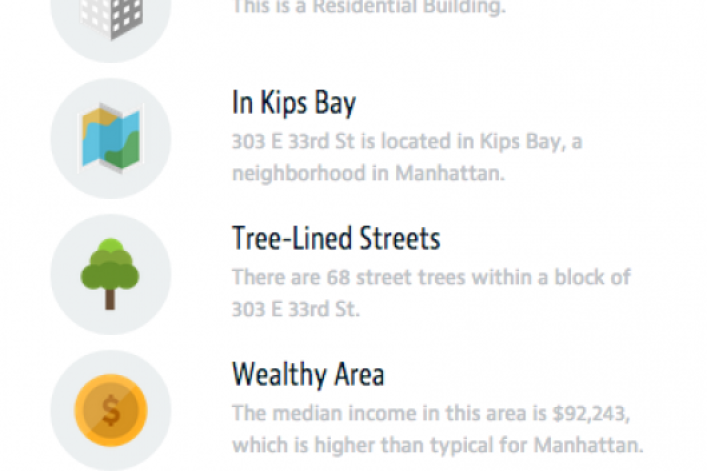 Even if you go into your apartment hunt armed with a checklist of questions and hours of internet research under your belt, there are some things you may not know about an apartment (or a neighborhood) until you move in—and it's too late to change your mind.
Sure, you've scoped out which deli is the "good" deli and exactly how long it'll take you to get to the nearest train, but is there any easy way of knowing whether your block is a dead-zone for cabs, a late-night hangout for noisy teenagers, or a soon-to-be construction zone, complete with day-and-night jackhammer noise? Well, yes!  If you're looking in Manhattan, you can find out all that and more in just a few seconds via a detailed, free report from apartment and neighborhood database  AddressReport and luxury real estate brokerage Engel & Volkers NYC.
"The more you know about the building and surrounding neighborhood before you buy, the smarter investment decision you'll make and the happier you'll be in the long run," says Stuart Siegel, the president and CEO of Engel & Volkers NYC.
To get started, click here to enter the address of the building you're considering moving into to retrieve a detailed, interactive dossier measuring these 10 quality of life issues and more:
1. Noise
Your home is your haven from the hustle and bustle of the city, but it's not likely to be a sanctuary if it's constantly thrumming with the sounds of construction, loud music from the bar next door, dogs barking and the like. Check the report for a quick overview of what types of commotion you'll be dealing with and where it's likely to be originating from. 
2. Demolition/Construction
Demolition and construction are signs of development (tear something down to make room for something new and better) and generally considered a good thing in terms of property values. That said, living near a demolition/construction site can result in years of issues related to scaffolding and its safety, noise from industrial machinery and street complaints dealing with side walk and road conditions (we're looking at you Second Avenue Subway construction). An AddressReport includes info on demolitions in the last year and scaffolding that's been erected with the last 90 days so you can get an idea of how much construction is underway. 
3. Crime
With violent crime at its lowest point since 1963 (when reliable stats were first kept) New York City is safer now than it's ever been, but it's still a good idea to know about the safety of your new neighborhood and what types of crime are most prevalent. The report points out the most common crimes in the last year within three blocks of a given address, marking them with conveniently color coded dots according to types of crime.
4. Subway, Taxi & Citibike Access
There's almost no point in living in the greatest city in the world if you aren't taking advantage of all it has to offer—and that comes down to transportation. AddressReport helps you assess your potential building's options by listing the nearest subway and CitiBike stations, plus taxi stats like average wait time for a yellow cab and the number of such cars that pass your corner in a given hour. 
5.  Commute Time
Knowing how long it will take you to get where you're going, not to mention the most popular time of day for your neighbors to come and go can help you plan your most efficient commute. AddressReport highlights the busiest commuting time of day for a given neighborhood so  you can plan accordingly. 
6. Cost of Living 
You might be tempted to buy a small apartment in an expensive neighborhood, but if everything from the cost of food and beverages to entertainment and healthcare are similarly high, that's going to put a lot of pressure on your bank account. AddressReport evaluates the cost of living for every neighborhood, so you get a sense of how affordable (or not) it will be to live there.
7. Street Trees
In a recent study of London boroughs, those with more trees were associated with fewer prescriptions for antidepressants! Indeed, a little greenery does seem to have a calming and joy-inducing effect on its residents, so the more trees in your 'hood (a typical Manhattan street has 77), the happier you will be living there. Your AddressReport includes NYC tree census info that lets you know how many trees are likely to be on your new block.
8. Litter Complaints
Nobody enjoys graffiti and rubbish buildup outside their front doors. AddressReport makes it easy to choose the cleanest nabes with block-by-clock details on litter complaints made to the city in the previous year.
9. Rodents
Rat sightings are a part of big city living but some parts of the borough seem to have more than others. AddressReport includes reports of rodent sightings around a building and compares them to the borough's norm.
10. Services
If you have a dog, hit the gym daily, get a weekly mani/pedi, rely on a good dry cleaner or just need to be able to buy milk at midnight, it's helpful to know what services are available in your area. AddressReport is teamed with Yelp.com to  help you uncover the best (and the worst) of what your neighborhood offers. 
---
Enter any building address and AddressReport will generate a free, on-demand "background check" revealing the unbiased truth about that co-op, condo or apartment building and its neighborhood.  
Brick Underground articles occasionally include the expertise of, or information about, advertising partners when relevant to the story. We will never promote an advertiser's product without making the relationship clear to our readers.