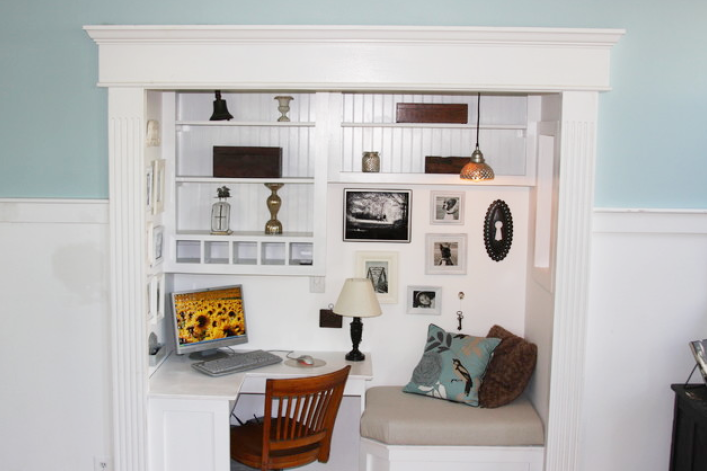 Making space for a "cloffice," an endless list of kitchen improvements, and unwelcome guests (the long-tailed kind): Five New Yorkers tell us what's got them fed up about their NYC homes.
Rodent-proofing, stat! Well, we just had a gigantic rat in our apartment. So, I'd really like to improve whatever conditions sent him up to our fourth-floor apartment! That rat would not die, despite repeatedly eating the poisoned cans of tuna I laid out for it. It outsmarted every trap we set while  terrorizing me every day and night. It took imported African-brand rat poison to kill it. It was as big as my foot. I hope never, ever to have to experience this again. - Anna, Harlem
A closet that really works: I would love to carve out an office/work space for myself somewhere in our apartment. I've been trying to figure out if I can do one inside one of the closets. Seems everybody is doing it nowadays. It can be done, but it would mean so much sorting out and de-cluttering and throwing stuff out. I can't face it! - Wendy, Upper West Side
Everything but the kitchen sink: I have a kitchen that has been on the decline for the past two years. For starters, the dishwasher has broken down twice, was repaired, and now kind of works again. But only kind of. The fridge is loud and makes strange sounds and blows hot air. Nice in the winter, not so much in the broiling hot summers. The range just plain sucks: broken knobs and the oven is always somewhere between 25 and 50 degrees off the mark. The cabinets are salvageable, but need a facelift with paint and new pulls. I could go on, but yeah, this kitchen is so done in so many ways. - Gwen, Hamilton Heights
The windows blow: The windows in my co-op are horrible. They leak like mad. I can feel the wind rush through as if there was no window at all. So that makes it unpleasant to sit right by the windows, which is where our sofa and dining table and chairs are all placed. On the other hand, we have a really hot apartment too, because we are on the top floor and all the heat rises. Of course we can't control the output of our massive, ancient radiators. Because, why should you be able to, right? So heat blasts even on days where it's  a little less cold. So the window by the radiator is always open, just to let some of the heat out. I'm so unhappy with the temperature situation in our place right now. - Sandy, Upper East Side
All about that bath: I'd love a proper soaking tub. A clawfoot one! I love baths, but sadly had to give that up when I got this apartment with only a shower. I miss my baths especially in this freezing cold weather. Is there anything better than soaking in a hot, fragrant tub? - Melanie, Bushwick
Related:
Room for improvement: A separate home office, a dumbwaiter-turned-powder room, and more
Which is the best January upgrade: moving or gut renovating?
New Yorkers' biggest home improvement delusions
Brick Underground articles occasionally include the expertise of, or information about, advertising partners when relevant to the story. We will never promote an advertiser's product without making the relationship clear to our readers.