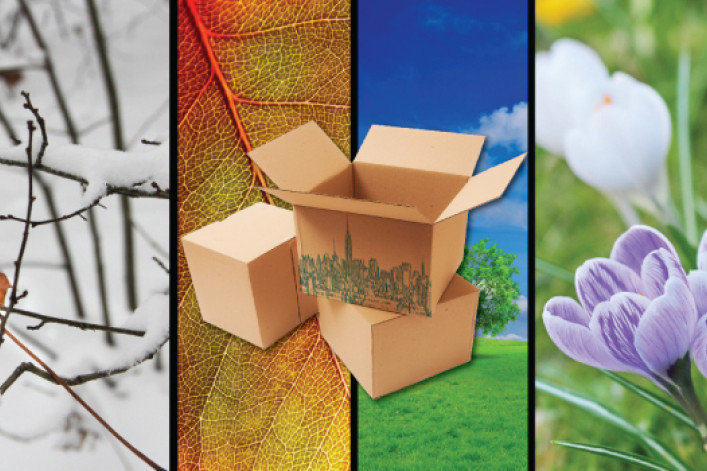 There's no better time than January to start strategizing on saving cash throughout the year—especially if your bank account is still smarting from holiday tipping season. (If that's the case, there's also no better time than January to ask your doorman or super for a few extra favors.) Mercifully,  real estate in New York is all about seasonality, and if you time things right, you can land serious discounts on goods and services that command premium prices during the rest of the year, from renovations to home decor to your apartment itself.
Below, seven ways you can save by going seasonal:
1. Signing a lease. It's no secret that New York rents spike in the summer, then cool off along with the weather. "The same thing happens pretty much every year," says Jay Heydt, Senior Managing Director of the Citi Habitats Gramercy office. "Depending on the apartment or neighborhood, you can see rent reductions of 10 to 15 percent, sometimes even as high as 20 percent" starting in the fall.  
But you should look for more than just a break on rent. When there's less demand—usually between late September and February, says Heydt—some landlords are willing to pay "most if not all of the broker's fee," or offer concessions like a month or two in free rent. (Read up on how to find them.) If you're on the hunt for this kind of deal, says Heydt, look in areas where there might be a long, cold walk to the train affecting demand—think Yorkville, Midtown East, and oh-so-windblown Battery Park City, and farther flung sections of Brooklyn and Queens.  You're most likely to find a gratis month or two in pricey buildings where the landlords don't want to lower the monthly rent, but are still looking to lure in tenants. And regardless of where you're looking, it never hurts to just ask if any of these things are negotiable.
2. Moving. With fewer people finding new apartments in the cold months, movers are likely willing to negotiate on their fees, too. However, while the dead of winter will always be your cheapest option, this is one industry where there's a certain degree of flexibility year round—the key is moving during a time of the month when moving companies are less in demand, which can save up to 10 to 20 percent,  says Keith Snode, vice president of sales and marketing for FlatRate Moving.  "I always tell my friends that the middle of the week and the middle of the month are great," he says. "Anything after the 26th, and things start to get busy." Even if you do have to move on a weekend, says Snode, opt for a Sunday—most people prefer to move earlier in the weekend, so they'll have time to unpack.
"I would encourage people when they call movers to have alternative days in mind, or just ask, 'are there other days I could move that would save me money,'" notes Snode. Another way to approach savings is to roll in extra services, such as packing and unpacking. "I've had several times where I've said 'for only $50 more, we could fully pack you if you just moved three days earlier,'" he says. "This year, we had someone who moved on New Year's Day. It was probably our lowest pricing of any possible time." If the movers don't have anywhere else to be, they're likely to add in the extras for far less than they'd usually cost.
One more fee you might avoid this time of year? The move-in and move-out charges that usually come along with renting in a co-op or condo building. While the building itself is unlikely to offer a discount, says Heydt, the apartment owner may foot the bill. The winter "is always a great time to negotiate with a condo or co-op owner to see if they'll absorb some or all of the costs, other than the application fee." Just like landlords, any owner renting out their unit in the slow season is likely willing to spend a little extra cash in exchange for locking down a renter—and a steady stream of rent checks.
3. Working out. Urban legend has it that most gyms offer deals in November and December, only to hike prices in January when most people are atoning for excess Champagne and Christmas cookies. (And I did find myself flooded with coupons for ClassPass and Crunch during the holidays, only to have things quiet down come 2015.) But there's still hope for the new year's resolution crowd: "Bigger gyms like Equinox and New York Sports Club tend to do introductory offers that save you the sign-up fee in January," says Brooke Stone, founder and CEO of GYST, a company that provides personal assistants by the hour. Indeed, Crunch and Equinox both have heavy discounts on enrollment fees right now, and David Barton is offering free enrollment until the end of January, to name just a few examples. 
And if you live in a family-oriented neighborhood, keep an eye out during back-to-school season. "September almost feels like a second new year in New York because all the kids are going back to school; it's a renewal moment," says Stone. "With some gyms, there are discounts around this time—the idea is that the kids are back in school, and you have time to work out again." 
4. Storing your stuff. Another win for the winter move: though prices always vary, storage units are costliest in the summer—when students flee the city and need a place to stash their stuff—and fall and winter see prices come back down to earth. But when it comes to storage, your best bet is to plan ahead: companies like Manhattan Mini Storage, a BrickUnderground sponsor,  will often offer a discount of up to 20 percent if you commit to keeping your storage unit for four months or more. The longer your lock down the space, the better the deal.
5. Parking. When the streets are covered in snow and ice—and alternate-side parking becomes a huge hassle—indoor parking is all of a sudden much more in demand. Rather than spring for an expensive pass or a year-round space, cruising sites like Groupon and Gilt City for discounts at NYC garages, Stone recommends. "There are almost always deals," she says, so "if you know you're going to have to park your car for a series of months, start stockpiling them, as long as you're mindful of the restrictions." Currently, there are deals on Groupon for 24-hour or monthly parking in Icon garages, which have locations all over Manhattan.
If you live in a building with a garage and need a spot for yourself or out-of-town guests next time the holidays roll around (or during the summer) , post on the internal message board (whether electronic or in the hallway)  to ask if anyone is heading out of town, and interested in renting out their spot to you, Stone suggests. "That way you can get a spot in the building when you need one without paying an annual fee," she says. 
6. Renovating—within reason. As any New Yorker who's suffered through a muggy July full of scaffolding and jackhammer noise can tell you, summer is construction season. As such, "painters, renovations, any of these types of services are likely more negotiable in the winter," says Kathy Braddock, the managing director of William Raveis' New York City office. While she warns that full-scale overhauls do need to happen during the warmer months, fall and winter are the perfect time for touch-ups like a paint job or a cabinet replacement.
"Don't try to hire a contractor or painter during the summer," concurs Stone. "They'll be all booked up working on big jobs for people who are away in the Hamptons." If you're planning on doing any work in your apartment, schedule the project for the off-season—when contractors are hungrier for jobs. And if your place needs work that absolutely has to happen in good weather—upgrades to balconies and backyards, for instance—postpone the job until after Labor Day, "when the weather is still good but a contractor's time won't be so in-demand," says Stone.
7. Decorating. On the hunt for home decor, the big sale seasons in September and January can be key. Buy next year's summer furniture during the post-Labor Day rush, says Stone, "and do your research during the holidays for what you want" so you can be ready when the new year's sales start roll in.  She recommends setting up Google alerts for coveted pieces so you know when they see a big price cut. "For instance, I was dying for this hunter green desk from West Elm, and I had a Google alert that I had all but forgotten about," she tells us. "All of a sudden, it flashed up 18 months later—they were discontinuing the color, and I was able to get it at a fraction of the price. If you can be patient and you know exactly what you want," she says, you can find savings that are well worth the wait.
Related: 
9 questions to ask before renting a mini-storage unit in NYC (sponsored)
Building move-in fees: are they necessary, and why?
Free parking? How to get a space with your apartment (plus, how much it'll cost)
Startup offers monthly valet parking for New Yorkers—anytime
Brick Underground articles occasionally include the expertise of, or information about, advertising partners when relevant to the story. We will never promote an advertiser's product without making the relationship clear to our readers.