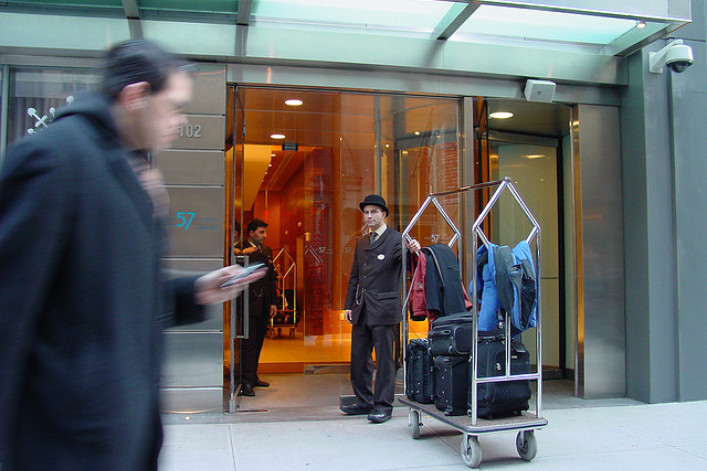 With tipping season in full swing, you may have  noticed your doormen becoming a whole lot more helpful.
And while it's okay to ask him to water your plants while you're away or even make a quick run to the store for you (provided you tip for the service), there are some things you probably shouldn't ask for, according to the New York Observer.
No-nos include asking the doorman to haul your Christmas tree up to your apartment and requesting that he bring an 800-pound slab of marble upstairs (both of which have happened, according to real NYC doormen). And if you're getting him to check in on an elderly tenant, try to be fairly sure ahead of time that they're still alive.
"Finding dead people happens more than you would imagine," one Greenwich Village doorman tells the paper.
Technically it's up to the building's management to decide what extra work doormen can do for residents (the union has no strict rules), and sometimes it'll depend on the individual doorman. Some may be fine walking tenants' dogs, for example, while  others refuse.
In any case, cash is king. If you want your doorman to do anything extra, tip him for it (in addition to the annual Christmas tip).
"It's all about money," one doorman tells the Observer. "If you let me know that you are going to take care of me at the end, I'll do whatever the f--k you want."
One Midtown doorman says a visitor once asked for five packs of cigarettes and a tub of Vaseline -- two nights in a row. But the strange request came with a $100 tip...  and service with a smile.
Related:
Tipping the building staff: BrickUnderground's 2014 guide
Doormen Speak: What's a fair tip, who gets the best tip, best tip alternatives/supplements and more 
Tip, tip hooray: Your holiday tipping dilemas solved

A Doorman Speaks
Brick Underground articles occasionally include the expertise of, or information about, advertising partners when relevant to the story. We will never promote an advertiser's product without making the relationship clear to our readers.