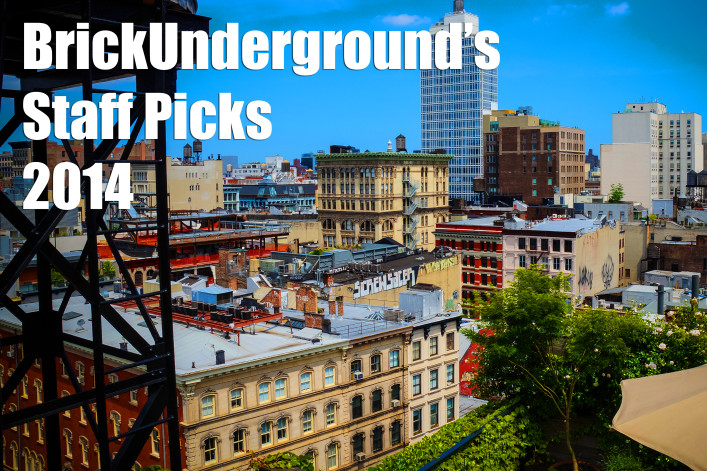 One of the perks of city living in what is arguably the nation's most insane real estate town are the myriad products and services that help make it better: countertop washing machines, roommate-matching apps, aquarium-herb garden hybrids, meal delivery services, and a flood of new apartment search sites.
In 2014, BrickUnderground's editors had the chance to cover a whole host of companies in the business of making apartment life better, as well as test drive some of their products, services and inventions. Not all of them were winners, and a few won't debut until 2015. But others stood out as being particularly innovative, useful or just plain cool.
We share our favorites from the last year (and if we've forgotten anything, let us know in the comments):
Back in April, we tried out the Casper Mattress for a weekend, and found it to be springy, dense and supportive—in other words, the foundation of a great night's sleep. The makers of Casper are hoping to upend the traditional mattress store by selling their wares online, shipping them in a 90-minute window via Uber and bike messenger, and offering buyers a 100-day return policy. The idea is to cut out the middleman and other costs to offer a quality mattress—a combination of memory foam and latex—at a price cheaper than high-end models. 
TEMPORARY WALLPAPER
Removable wallpaper isn't new, but in July, we took it for a test drive and were delighted to discover that it lives up to the claims. Not only is it an easy and relatively inexpensive way to bring flair to your walls—guests frequently comment approvingly on the raccoon-and-bear print in my living room (above)—but it peels off without damaging the surface.
Parcel launched a year ago with a simple pitch for New Yorkers who lack a doorman: ship your packages to their address and the company will deliver them to your door within a convenient one-hour window for $5 each. No more telecommuting to wait for the UPS guy; no more lugging your Amazon purchases home from work. Last month, the service expanded to Brooklyn. We've tried it twice now, and both times found it reliable and hassle-free.
GOOGLE SHOPPING EXPRESS AND INSTACART
This city's a delivery town, so it was only a matter of time before competitors launched to challenge Fresh Direct's supremacy in the grocery-delivery market. Back in September, we gave the newbies a spin, and were happily surprised with the customer service at Instacart (which also lets you order from Costco without a membership) and the breadth of shopping options available from Google Express. Neither is perfect—you'll pay a markup on Instacart items, and Google's service is still confined only to Manhattan—but they both provide a solution for the New Yorker loathe to lug home groceries in the snow.
Sometimes the simplest things are the most profound. The Untitled Rail, an unadorned steel clothes rack, doesn't look like much, but it's a stylish, minimalist solution for any apartment dweller lacking a closet. Bonus: it's easy to store or move when broken down into its four component parts.
Every year, the city reportedly gets more than 200,000 complaints about landlords skimping on the heat. Heat Seek NYC is trying to change that with a WiFi-enabled thermometer that logs temperatures in at-risk buildings to better enforce the law (and help landlords identify inefficient heating set-ups). With $15,000 raised on Kickstarter, Heat Seek can now start manufacturing the sensors; the goal is to get them into 1,000 apartments this winter. Doesn't it warm the heart?
Combining portability and flexibility, the ZestDesk is a standing desk that packs up into a case like an oversized laptop. It was invented by an Australian doctor, and met its Kickstarter funding goal of $10,000 in just six hours. Perfect for anyone who has to work in a tight space, and an even more convenient option than all the other standing desks out there.
In a quest to provide New Yorkers with ever more building specs, AddressReport in July launched an elevator tracker, with information on the number of machines in buildings across the city, plus rush-hour wait times, and commute times broken down by floor. Relying on city records and computer simulations, the tool is just one instance of putting publicly available data to work, and shedding light on all the weird little challenges New Yorkers face. Plus, in a test ride at an Upper East Side rental, we found it to be pretty accurate.
Picture this: a carpet with a wrinkle so big, it doubles as seating and storage. Inspired by the act of tripping over a rug, the "Stumble Upon Sofa" is the brainchild of Italian architect Alessandro Isolda, and a multi-purpose piece of furniture that combines functionality and whimsy in equal measure. It's not being mass-produced (yet!), but this item embodies the kind of inventive thinking necessary for any small-space dweller.​
Related:
The 7 best real estate apps for New Yorkers
Kickstarter inventions to liven up your apartment
Brick Underground articles occasionally include the expertise of, or information about, advertising partners when relevant to the story. We will never promote an advertiser's product without making the relationship clear to our readers.