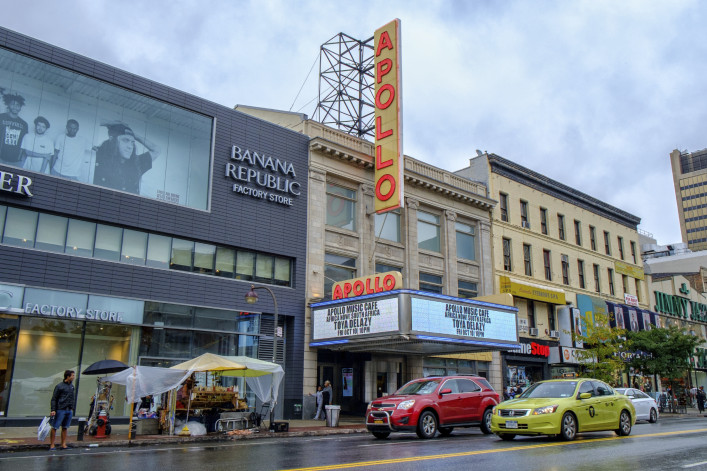 One of the best ways to get a feel for a place is by reading a neighborhood's blog. In our Confessions of a Neighborhood Blogger series, we spoke to the writers who chronicle the controversies, preoccupations and happenings of their chosen slice of the city. Now, we're checking in again to see what's changed, what's stayed the same, and what's the story dominating every street corner. 
If there's one Manhattan neighborhood emblematic of the frenzied pace of change in the city, Harlem would be a top contender. One of the area's most thorough chroniclers of said change is HarlemGal, the anonymous writer behind the blog of the same name, who moved to the neighborhood in 2006. Two years later, she launched the site, posting regularly about new neighborhood businesses, arts and culture, events and local news. 
We last spoke with HarlemGal in November 2012 about the explosion of new apartments and upscale restaurants moving into the area. The development has continued unabated, and we thought we'd check in to see what's new on the ever-evolving Harlem streets. 
What's your advice for people thinking of moving to Harlem?
For some on a budget, consider parts of Harlem on the East Side and above 135th Street. It's still less expensive than Central and South Harlem, but probably not for long. Be open to experience all things old and new in Harlem. That's what makes it an interesting place. Dine at Sylvia's or dine at Silvana, an Israeli restaurant!
What major changes have taken place since we spoke two years ago?
Central Harlem is becoming extremely LGBT-friendly. More gay men are moving into Harlem. Now almost every business on Harlem's restaurant row has an LGBT mixer. From Aloft Hotel to Lido in Harlem, they all plan mixers dedicated to this market. Maybe Harlem is becoming the next Chelsea. There are a lot more coffee shops opening along Frederick Douglass Boulevard. Silvana has a cafe on the first floor, Double Dutch opened across from Starbucks where Society Cafe use to be.
What recent business closures shocked you?
One of my favorite pizza places closed. Il Forno on 116th. And the bodega on 114th and FDB closed, and it's now Tribeca Pediatrics! Who would have thought? Of course, now I take my 11-month-old daughter to Tribeca Pediatrics. It's so close and oh so convenient.
What new places should we check out?
The Cecil for food. Silvana downstairs for music, Barawine on Lenox and The Park112. Apparently, Denzel stopped by there. There's a new place opening on Frederick Douglass Boulevard between 114th and 115th called Amaretto Espresso Bar. Marcus Samuelsson is opening a new restaurant on FDB in 2015.  And when Whole Foods  [on 125th & Lenox] is open, everyone will be checking that out.
What new developments seem out of place?
That Karim Rashid building on Pleasant Avenue in East Harlem that will have purple and turquoise decks outside. Why would any developer do that?
What is Harlem missing?
A 24-hour diner. There's none nearby. And IHOP does not count.
What could the Harlem do without? 
Harlem doesn't need another fancy mid to high-end restaurant.  We need a 24-hour diner!
Any plans to leave the neighborhood?
Now that I'm a mom, where I educate my daughter is going to play a huge role on how much longer we stay in Harlem. I've heard from local Harlem parents about the schools here and by their account there are good options in or close to Harlem. We'll see.
Related:
The next Park Slope: A Harlem resident describes a neighborhood in flux
Brick Underground articles occasionally include the expertise of, or information about, advertising partners when relevant to the story. We will never promote an advertiser's product without making the relationship clear to our readers.