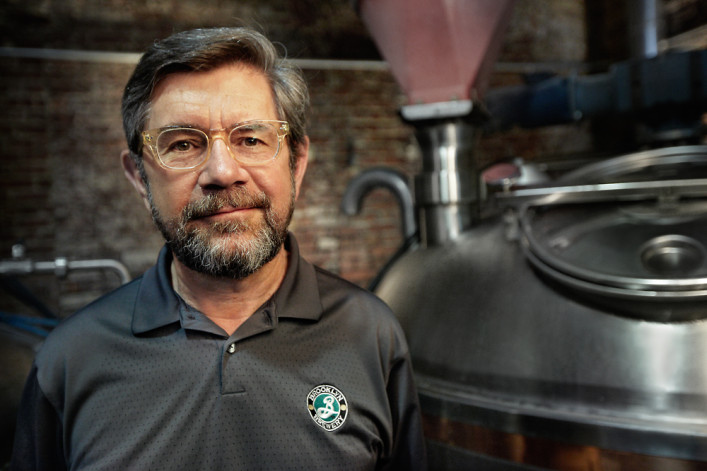 Steve Hindy, co-founder of the Brooklyn Brewery and Gowanus resident, was first inspired to make his own beer while covering the Lebanese Civil War for the Associated Press in Beirut and Cairo. So it's fitting that one of the most prominent objects in his home—​a three-story house where he's lived with his family for 20 years—is a relic of that time in his life. 
While in Egypt's capital, Hindy got to know American diplomats who had worked in Saudi Arabia and were driven to home brewing by the country's alcohol ban. Hindy returned from the Middle East to Brooklyn in 1984 and, four years later, opened the brewery. Below, he tells us about a wood stove from Beirut which, in addition to the beer on tap in his kitchen, often attracts the attention of guests:
It's a little wood stove, and I bought it 30 years ago in a section of Beirut called basta, an area where antiques and old furniture and furnishings are for sale. It's actually not too far from the Green Line where there was a lot of fighting going on at that time during the civil war, but I bought it on a day when there was a lull in the fighting and the market was open.
Knowing the time and my budget, I suspect it was not more than $100. It's cast iron, and it's coated with a blue enamel. It's actually made in France; the brand is Phebus Resc. It's got little windows made of mica so when there's a fire in it, it lights up, and it does a great job heating our kitchen.
[We live in] a wood frame house built in 1840. It was originally a two-story house on a 300-acre potato farm. A third story was added in 1888 with a one-story wing on the back, and that's where the kitchen is. We have a little front yard and a front porch with rocking chairs on it.
When we bought the house in 1994, the Gowanus area was considered kind of dangerous and out of bounds by most people. My wife discovered this house, and we just fell in love with the house and thought it'd be a great place for us and our two kids. And a lot of our friends said, "Are you crazy? It's dangerous." And we said, "We lived in Beirut during the war and we lived in Cairo; I think we can handle this." And so we bought it.
People are surprised by the house because there are larger apartment buildings on either side. It kind of looks like, you know, the crazy old lady who wouldn't leave her house. And then once inside, they're kind of surprised at how grand it is. There are fireplaces in the living room and the dining room, and the wood stove is an attraction. People are interested to hear the story of how we got the wood stove. So far [this year] we haven't turned on the heat; we're just using the wood stove every now and then, and for the weekends.
Related:
John Buffalo Mailer's fave antique: the typewriter his dad used to write "The Naked and the Dead"
Peek at Dotty Attie's "mountain man with dementia" home decor in Gramercy
Russell Whitmore, owner of Red Hook antique shop Erie Basin, picks his most attention-grabbing objet
Brick Underground articles occasionally include the expertise of, or information about, advertising partners when relevant to the story. We will never promote an advertiser's product without making the relationship clear to our readers.