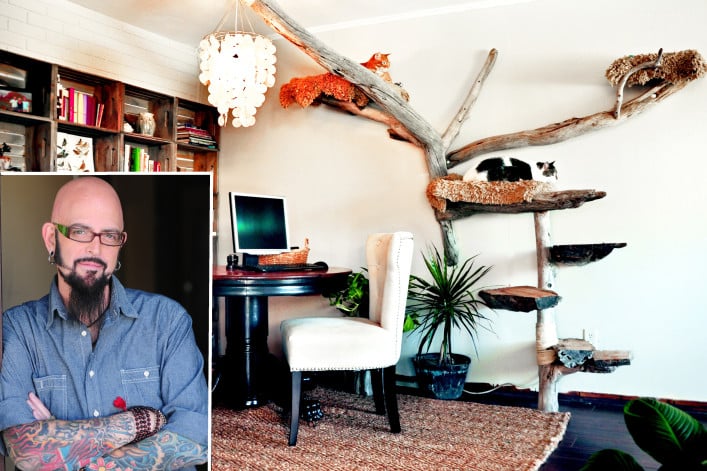 Cat behaviorist Jackson Galaxy is a self proclaimed Cat Daddy, star of the TV show My Cat From Hell and evangelical about the art of "catification," creating a home that is stylish and stimulating for felines and humans alike.
Catification also happens to be the title of his new book, out now, written with Kate Benjamin, creator of Hauspanther, a cat design website. Here, Galaxy (who legally changed his name in his 20s) explains why your four-legged friend needs vertical space, how to save your sofa from becoming a scratching post, and the wisdom of investing in cat furniture.
What is catification?
Catification is basically the art of making your house both cat-friendly and acceptable for you. When I talk to people about catifying, they immediately panic, thinking it's going to look like the crazy cat lady's house. And we say, with a little imagination and elbow grease, you can turn your home into something appealing. ... Especially in a multi-cat household, it's not even a luxury, it's a must. Cats define their sense of security by territorial ownership. ... I tell people to approach your house as if you're a designer, and the cat your client. Watch your cat walk into a room. Do they go to the couch, or up high? Give them vertical access or space on the floor and they have security, territorial ownership, and "mojo."
How much does it cost? 
Honestly, you can spend as much as you want to, or you can put a two-by-four between your mantle and TV console, paint it or wrap it in sisal [so they can scratch], and you are catified!
In New York City, space can be tight. Are cats affected by living in small apartments?
This is why it's important to understand the way cats see space [floor to ceiling]. They don't see small, they see 600 square feet on the floor, and 600 square feet vertically. If you open up that vertical world, they're great. 
Best way to catify a small space?
Successful living with cats means compromise. It means clearing off space, like the top of the TV console. I found what works well is a window-mounted kitty sill [a shelf attached to the window, complete with a cat bed]. There is no better place  for a cat than a window, because what goes on outside is endlessly interesting to them. It's Cat TV. 
You advise to look for cat "hotspots" in your home. Explain.
Conflict happens in multi-cat homes between cats, dogs and cats, even kids and cats. A "hotspot" is where territory is being heavily contested. In my practice, I use painter's tape every time there is a fight. Put an X on that spot, and within a week you will see a pattern. Once you figure that out, put up a cat tower [a laddered climbing tower so cats can be on higher ground], and make sure your cats have multiple exit routes [from that trouble spot], so there are no dead ends.  
What cat furniture is worth the investment? 
There are some great scratchers, and then there are some little traffic-cone scratchers with no weight to them, and your cat won't use [them]. One reason cats scratch the arm of your couch is they need strong support.
How do you stop your cat from scratching the furniture?
Cats want to own space, and they do this by leaving their scent and markings. When your cat scratches your couch, that is a backhanded compliment, because it smells of you. Put double-sided tape around the leg of your couch, and they will walk up to it and walk away. But next to it you need a sturdy scratching post with a texture they like, so they can leave their scent and their mark right next to you.
You live in Los Angeles. How many cats do you have?
We have five house cats, two dogs and five feral cats, so we feed them and they live outside. I moved in here [his wife's two-bedroom home] about a year ago, and then got married, and we are in the process of getting to know how each cat works in the space.
Related:
For animal lovers: How to find a pet-friendly building and live happily ever after
HGTV's Property Brothers on the unfixable fixer-upper and buyers' biggest pet peeves
Good Morning America host Lara Spencer's shortcut to cheap (but luxe) design
"Tiny House Nation" host John Weisbarth on living large in a (really) small space
The Real Housewives' Luann de Lesseps on summer hosting and where to shop home decor
Brick Underground articles occasionally include the expertise of, or information about, advertising partners when relevant to the story. We will never promote an advertiser's product without making the relationship clear to our readers.