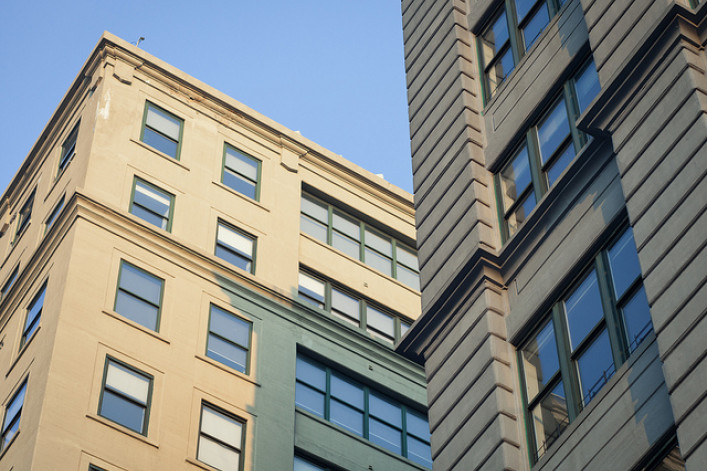 Dumbo underwent a transformation in the 1990s, as real estate developers converted old warehouses into luxury apartments, creating a residential neighborhood "Down Under the Manhattan Bridge Overpass." These days, the area is seeing another wave of change, with the ground-up construction of more high-end condos, rentals and even townhouses (60 Water Street, One John Street, Dumbo Townhouses) and the conversion of the Jehovah's Witnesses headquarters into a massive office complex known as Dumbo Heights.
With some of the highest real estate prices in Brooklyn, the spot is coveted for its location one subway stop from Manhattan, along with its picturesque cobblestone streets and city and water views. Two famous pizza joints, Juliana's and Grimaldi's, lure scads of tourists over the Brooklyn Bridge daily. But what is it like to live in the neighborhood? Find out what to love and loathe about Dumbo, straight from locals' mouths.
---
Neighborhood boundaries: From the Brooklyn Bridge east to Bridge Street and from the East River south to York Street.​
Median sales price: $3.1 million
Median rent: $4,500 per month
---
This ain't brownstone Brooklyn: "The buildings are very different than the brownstone landscape that is common in so many other neighborhoods. The cobblestone streets add a touch of beauty and old world charm. ... It's very seasonal over here. The neighborhood explodes in the summer but really slows down in the winter, when there are fewer visitors and it becomes very relaxed and laidback, with almost a ski-town like vibe." - Elise, who rents a two-bedroom and co-owns Dumbo restaurant Gran Electrica. "Architecturally, Dumbo is pretty different because it's all big buildings and no primarily residential streets. And also the Brooklyn Bridge and Manhattan Bridge make it visually pretty awesome and grand!" - Margaret, who rents in a two-bedroom
The best restaurants are on four wheels: "My favorite place in the neighborhood is the Calexico food truck to pick up and then eat by the water in Brooklyn Bridge Park, but it is only around certain seasons so I always have to check Twitter. - Margaret [Editor's note: check @DUMBOFoodTrucks.] "Vinegar Hill House is our favorite place to eat. Our favorite place to drink wine is Atrium without a doubt. There is also a great food truck culture in Dumbo. The Morris Grilled Cheese truck is a particular treat. Almondine is a must for fresh breads and baked goods." - Elise 
Dodging tourists is a necessity: "So many tourists. All the time." - Katie "Since the park opened, the neighborhood has certainly gotten busier. Tourists used to walk up ... half of the Brooklyn Bridge, take photos, and walk back to Manhattan. Now Brooklyn is much more of a destination, so they're walking all the way over and hanging out here." - Elise
Transportation options are myriad: "Even if you have to take a walk from Brooklyn Heights, you'll have an amazing view of the Brooklyn Bridge and downtown Manhattan!" - Jen, who rents a one-bedroom "The F, A, C, 2 and 3 are all very close, and it's so convenient to be one stop away from Manhattan. My favorite mode of transportation is biking over the bridge. It's less than ten minutes over the Manhattan Bridge and it's absolutely stunning." - Elise "I love the East River Ferry—I will often go out of my way to take the ferry to and from Dumbo. The view is so awesome going under the bridges and it always reminds me how lucky I am to live in NYC." - Margaret
Hail a taxi with your pizza slice: "Cabs are everywhere in Dumbo. It's so easy because tourists often take cabs from Manhattan to stand in line at Grimaldi's." - Elise "Hailing a cab is always very easy at the intersection of Front Street and Washington Street." - Margaret
Buy earplugs (but not for the nightlife): "Well, it's pretty noisy with the trains running over the Manhattan Bridge. That's not so awesome." - Elise "There are not really any good bars in the neighborhood for going out for drinks after work. It's pretty dead at night." - Margaret "A hidden gem is the new roller rink in Brooklyn Bridge Park." - Katie, who owns a two-bedroom
Break free of the chains: "It's not exactly hidden, but Powerhouse Books is an amazing place to shop and browse, and they are always hosting great events and book signings there. I especially love that there are very few chains. Other than a Starbucks, a new Pinkberry, and Shake Shack, the focus here is on small independent businesses, which really creates a unique feel." - Elise "It's a ton of artist owned shops, expensive organic bodegas, etc. There are no chains besides the one Starbucks here, and our closest grocery store is Gristedes in Brooklyn Heights." - Katie "Along Front Street you will find anything from bagels [at] La Bagel Delight to AlMar [an Italian restaurant] to Pinkberry. There is also Forager's, an upscale grocer that also has a cafe and smoothie/sandwich bar. I also love Brooklyn Roasting Company, which is huge and has great pastries like doughnuts from Dough. My spin studio, The Fitness Guru, often has a spin bike set up that is hooked up to a coffee grinder for customers to hop on and grind some beans!" - Jen 
Related:
Dumbo's got history and cool lofts, but don't expect deals, says DumboNYC.com
Is this Dumbo two-bedroom worth $4,600 a month, even after a $250 discount?
All cash deals, rent relief in surprising areas, and more: what buyers, sellers and renters can expect this fall
Brick Underground articles occasionally include the expertise of, or information about, advertising partners when relevant to the story. We will never promote an advertiser's product without making the relationship clear to our readers.